Game developers are building a community to foster creativity
A 15-year-old girl stood with an Xbox controller in hand, lips pressed together in concentration as she navigated a virtual ocean, collecting garbage to become the biggest trash island in the Pacific Ocean. She carefully manipulated the left joystick as the timer counted down, narrowly reaching 500 pieces of trash. When she collected the last piece, the concentration on her face transformed into a wide smile, and victory music boomed over the speakers. The game on screen is Cluster Junk, the most recent creation of Two Scoop Games, an independent game studio based in Louisville.
What the girl playing the game didn't realize is that weeks, even months, of carefully calculated work have gone into just that one level. The game's creators must code and recode lines upon lines of hypertext and wrestle with character design until the image in their heads matches the one on screen. Even before the game was released, they have played it thousands of times. All of that and more happened in a small, three-roomed building tucked on the backside of Main Street: Warp Zone.
Established in late February 2016, Warp Zone serves as a workplace for the game development community. Inside, the space is small, but not cramped; a handful of collaborators sit tapping away on the keyboards of their sticker-laden laptops, quietly chatting with one another. A massive TV monitor is stationed at the front of the work room, projecting Warp Zone's constantly updated twitter feed. Posters of classic video games hang around the room alongside promotional material for some of the games the members themselves created: "Stanley Squeaks and the Emerald Burrito," "Birds!," "Lab Escape."
"The idea is that we want to have a space where people can come and develop games, and make a living off of that," said Cara Smith, a member of the board of directors at Louisville Makes Games!, the umbrella organization that created Warp Zone. "You don't have to know how to code. We have people who are artists, who are musicians, storytellers, writers – we just want to have a bunch of creative people come and make stuff together."
Currently, Warp Zone has around 20 members. The fee to become a member is $100, and includes a key to the building which gives them 24/7 access. Members must be at least 18, but they can invite guests of any age to the facility and host events in the classroom space. While $
100 is a hefty fee for most youth, Warp Zone hosts free events open to the public as well.
Louisville Makes Games! created Warp Zone to be a physical space for what's normally online. Instead of bonding through IMs and coding forums, developers can gather and work on their games in real life, moving the digital community into the physical world. To build the community, Warp Zone hosts events like Hack Night (an evening dedicated to coding and learning together) and bi-monthly meetups on Sundays. But the biggest events are game jams, held every three months in the workspace.
"It's kind of like a 48-hour film festival where teams of people get together and work on one project for the entire weekend, start to finish, making a game from scratch," said Alex Bezuska, president of Louisville Makes Games!.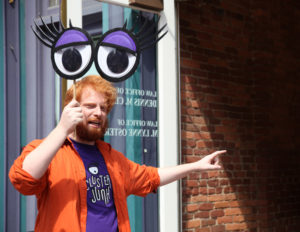 During a game jam, Warp Zone's classroom space is packed with small groups of people, clustered in their respective teams formed prior to the actual event. Teams stake out their space and spend hours exchanging ideas – verbally, physically, and electronically. While one team member uses a dry-erase marker to sketch the game's visuals on a whiteboard, other members hastily type notes about the game's narrative. By the end of the game jam, each team should have the basics of a full game laid out, ready to be transferred to the virtual world.
Events like game jams hold another purpose: adding members to Louisville's ever-expanding web developer community. In fact, a game jam is what drew Ben Wiley to Warp Zone.

Wiley, a 23-year-old freelanc
e web developer, had recently returned to Louisville after completing college out of state. He discovered a game jam at LVL1 Hackerspace, a community workshop for everything from software to hardware. As a sociology major, the idea of a physical space for a digital community appealed to him, and that evening not only did he meet future Warp Zone creators Smith and Bezuska, but he started to create his own game.
"I'd played video games, but I didn't know anything about making them," Wiley said. "I didn't think I had any aptitude for it, but I knew I could make websites. We started this game over a weekend and I suddenly realized I actually was able to program games."
But the actual programming is only one of several components that make up a good game: art, storytelling, and characterization are equally important. If the creators don't have an engaging, visually appealing, and well-planned idea, no one will want to play their game.
"The main thing we're trying to do is get over the stereotype that game development is all about code," Bezuska said. "There are a ton of people who started coming here and realized that they could do all art or all music; it takes everything to make games."
In fact, it's not uncommon to be new to coding at Warp Zone. Every first and third Wednesday of the month, informal meetings called JavaScript Louisville (JSLou) Learn and Hack Nights occur, where community members, whether they are a part of Warp Zone or not, can come and work through problems they're having with a specific program. You don't have to be a member or a guest to attend any of the public events on the Louisville Makes Games! calendar. There are usually about 10 people with ages ranging from late 20s to early 60s. During a brief introductory meeting, those who came shared their names, what projects they were working on, and what they needed help with.
A sort of bartering system began to emerge. When one visitor announced he needed help with angular set up, another developer was quick to offer assistance on the condition that the other man teach him Cordova, one type of mobile app development software. The collaborative aspect of Warp Zone is only one alluring aspect.
There are also formal training sessions for youth and teenagers who are interested in learning how to code. These classes are less regular – Warp Zone has held 12 since December 2014 – but are a chance to teach kids computer skills they don't learn in school.
Students from ages 8 to 18 gather in the classroom space to learn game development from instructors like Bezuska, who teaches a programming basics class. After he goes through a PowerPoint of the fundamental components of what makes a video game good, he sends the kids to an online site where they can practice writing code and manipulating their own game.
The most recent game Bezuska uses to teach code is called Egg Catch. The objective of the game is to catch as many falling eggs on a chicken before the timer runs out.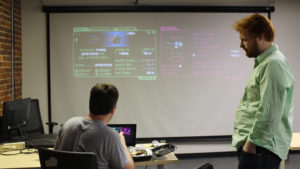 "All the code to make the game is right in browser, like the timer for the eggs that are falling down," Bezuska said. "So I can change the timer from every second to 10 times a second, and a bunch more eggs start falling down. The kids in the class like to change all those variables or swap out the pictures for like Tootsie Rolls, or hamburgers, or whatever."
Warp Zone is particularly important for Bezuska as it is the physical headquarters for the game development team that he and his friend Eric Lathrop created, Two Scoop Games. The company started in 2014 with a game called Apartment 213, and since then Lathrop and Bezuska have created 11 more games.
Their most recent project is Cluster Junk, a game conceived in December 2015 during an online game jam known as Ludum Dare. Since then, Bezuska, Lathrop, Smith, and Wiley have been working together to make their idea come to life. Bezuska and Lathrop animated the game, while Smith designed the trash-filled oceanscape and the pair of eyeballs that serve as the main character. Wiley's nautical melody, complete with classic video game sound effects, fills the background as a player navigates the sea and purposefully tries to collect garbage to become an island of litter. It debuted at the Louisville Maker Faire on Sept. 10, 2016.
Lathrop sits in the darkened Warp Zone classroom, clicking back and forth on his laptop keyboard. The only light comes from a projection of the game, illuminating the 13-foot-long screen in the classroom. While Bezuska, Smith, and Wiley have helped come up with the ideas, Lathrop's job as the main programmer is to work out any problems a player might have.
"I want some kid to be able to walk up to our game, pick up the controller, and automatically know what to do," Lathrop said. "My goal is for this game to be like the latest FIFA or Call of Duty, where someone doesn't have to explain to them how to play the game, they just instinctively know."
In September, Two Scoop Games released Cluster Junk to the public, and kids across the globe now have the opportunity to play it on their desktop and eventually in app form. As they click away absentmindedly, they're unaware of all the hours Lathrop spent to make it perfect. Two more strokes of the left key, one click up. Almost there, but not quite.