Emboldened by the presidential election, white supremacists are recruiting youth under the guise of the "alt-right." Here's what you need to know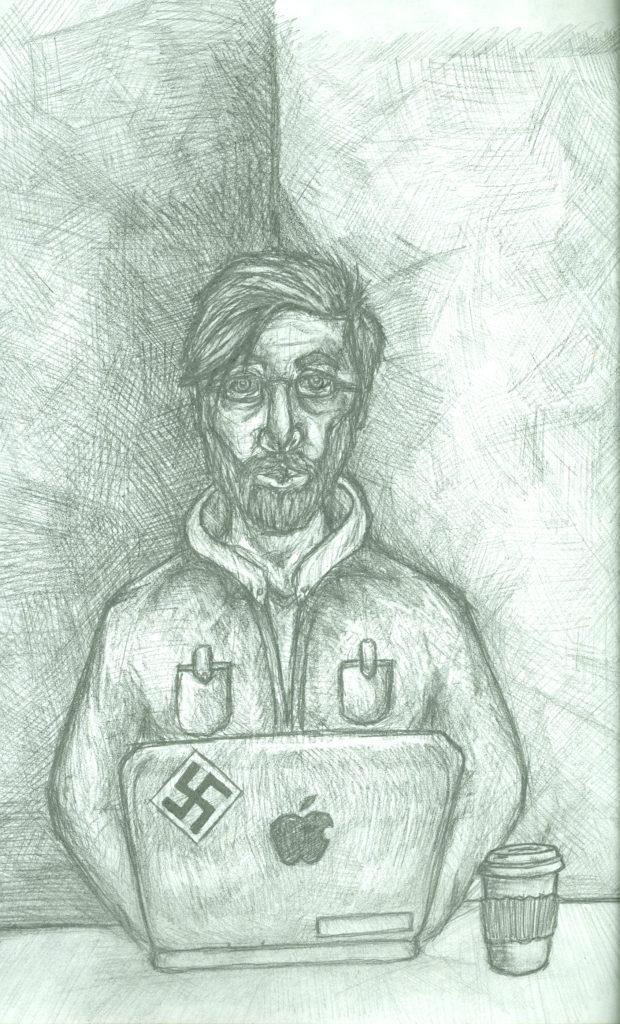 Words by Karac Medley
May 30, 2017
For anyone who hasn't seen Pepe, the cartoon is a green blob that vaguely resembles a frog, a bizarre figure that I've encountered from time to time passively browsing the internet. The character has been placed into a wide variety of seemingly random situations through a series of memes known as "rare Pepes."
Over time I saw Pepe grow more and more grotesque as it became synonymous with hate. Variations of the meme were produced and spread from sites like 4chan, 8chan, and Reddit which combined the image with racist, sexist, homophobic, and overwhelmingly anti-Semitic imagery and words. Through the posting of this popular meme, many teenagers have unknowingly contributed to raising the profile of a hateful ideology.
"Though Pepe memes have many defenders," said the Anti-Defamation League (ADL), an organization devoted to combating harassment against minority groups, "the use of racist and bigoted versions of Pepe memes seems to be increasing, not decreasing."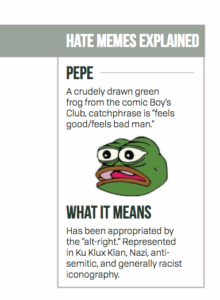 How did this happen to this beloved cartoon character? Pepe's original creator Matt Furie entirely disavows the use of the meme in service of hate, even creating a campaign with the ADL known as "#SavePepe."
The real culprits are part of a movement calling itself the "alternative right," or "alt-right," an unofficial coalition of right-wing extremists and trolls interested in attracting young people to an abusive ideology. "Trolls" – and the act of "trolling" – refer to people who make use of memes and provocative language in order to get a desired reaction.
The loosely-defined group's presence online tends to obscure the dangers of their ideology and mindset. A major tactic of the "alt-right" is normalization ­— making themselves and their hateful conceptions seem acceptable by way of memes and other public relations strategies. Even the name "alt-right" is a public relations term coined by Richard Spencer, the president of a white nationalist think tank known as the National Policy Institute. In fact, white nationalist or even "radical-right" would be a much more accurate name for the "alt-right." White nationalism is an ideology which defines the white race as a nation which must be protected from "genocide," referring to interracial marriage and the undermining of white cultural dominance.
Overall, the greater composition of the "alt-right" either explicitly aligns with white nationalist rhetoric, or at the very least supports what is described in its definition.
As an umbrella term, the so-called "alt-right" includes groups like the Traditionalist Youth Network (TYN), who sympathize with the ideologies of more recognized hate groups such as the National Socialist Movement and the Ku Klux Klan.  
However, white nationalists are not nearly as exclusive as those older, more recognized hate groups. White nationalists target conservatives and libertarians as well as Protestants, Catholics, and even atheists for potential membership. The only things their members have in common are that they are white, very conservative, and live in Western countries.
If you use sites like Twitter, Facebook, Reddit, or Tumblr, it's not unlikely that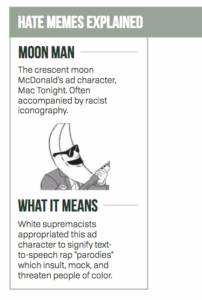 you've encountered a post by a white nationalist or white supremacist under the banner of the so-called "alt-right." While somewhat varied in regards to positions on issues, people using Spencer's PR-friendly term to describe themselves almost unanimously voice white nationalist sentiments and racial hatred. Hate groups have always existed to a certain extent in small niches of the internet, but after the chaotic 2016 election, the movement has been able to find a much more mainstream foothold.
Despite some engagement with white nationalist personalities on Twitter ­– including the account
@WhiteGenocideTM, which had 22,000 followers before its suspension from Twitter and listed its location as "Jewmerica" – President Donald J. Trump eventually tried to distance himself from the movement in an interview with the New York Times on Nov. 23, when he stated that he doesn't want to "energize the group" and that he disavows it. Yet it is undeniable that he, his cabinet, and at least some of their policies have been quite popular with the movement. For example, two members of his cabinet, White House Political Adviser Steve Bannon and Senior Counsel and Director of Strategic Affairs Ken Klukowski both worked for Breitbart News, Bannon being the former chairman.
Breitbart News, a far right American news and commentary website, has employed writers affiliated with white nationalism and published articles favoring the movement, including "An Establishment Conservative's Guide to the Alt-Right." The article described the movement as having "a youthful energy and jarring, taboo-defying rhetoric that have boosted its membership and made it impossible to ignore."
The article defended white nationalist leaders, including Richard Spencer and Jared Taylor, both of whom have consistently voiced hateful and racist sentiments. Breitbart has also employed the popular "alt-right" figure Milo Yiannopoulos, who is most famous for the riots sparked by his speaking engagement at Berkeley University. (Yiannopoulos later resigned from Breitbart after conservatives found a video of him apparently endorsing pedophilia.)
This past February Yiannopoulos appeared on the popular talk show "Real Time with Bill Maher" to defend himself and the so-called "alt-right." This is not the only recent instance of mainstream media boosting these perspectives, and the movement has capitalized on this public exposure.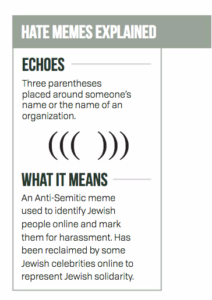 The Los Angeles Times reported post-election meetings and rallies of white supremacists with no added scrutiny. Along with this, many publications like the New York Times and the Washington Post have used the word "right populist" when discussing the movement, a term which fails to acknowledge the extreme nature of its views. Media criticism groups like Media Matters say the press further normalizes the role the movement is playing in our politics and culture by covering the movement without diligently drawing attention to its racism and extremism.
Normalization is the greatest tactic of modern white nationalists, and success in this area is the most dangerous aspect of the so-called "alt-right." As the movement becomes part of everyday discussions, they are treated with greater political legitimacy and their ideas become part of the mainstream. Your neighbor, your coworker, or your friend could all be white nationalists who you never question since what they believe is no longer "extreme."
Alternet's Kali Holloway recently criticized NPR host Steve Inskeep's interview with Joel Pollak, senior-editor-at-large for Breitbart News, for not challenging Pollak's counter-narrative denying Breitbart's role in the movement. This was despite the fact that Bannon, a Breitbart founding member, famously called Breitbart a "platform for the alt-right" in an interview with Sarah Posner.
"Pollak's segment was a master class in obfuscation and a primer on how to flip the script and turn totally justified accusations of bigotry, misogyny and anti-Semitism into 'reverse racism,'" Holloway said.
Inskeep allowed Pollak to recite white nationalist talking points and non-factual information without challenge. Allowing the far-right to have its say and propel its narratives means that the far-right is controlling the conversation, not just participating in it. It is the duty of journalists to prevent the public from being misinformed, and in many recent cases regarding white nationalists they have failed to do so. Extremists are bleeding into the mainstream media, in addition to their exceedingly large platform online.
On Twitter, Yiannopoulos and a number of white nationalist personalities have been instrumental in appropriating the Trump campaign for their own purposes. In a study of the "Pro-Trump, Alt-Right Twitterverse" by the Southern Poverty Law Center (SPLC), an anti-hate group education and legal organization, many of these influencers and their hashtags were revealed.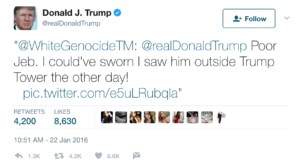 "These accounts frequently used the platform to disseminate speech advocating for ethnic cleansing, racial separatism and acts of violence against minorities, as well sharing openly racist, xenophobic, and anti-Semitic imagery," SPLC warned in an article published on their website on Nov. 7.
Richard Spencer is a major personality among white nationalists on Twitter. Spencer himself became a meme unwillingly after being punched in the face by a protester during a live television interview at the 2017 inauguration in Washington, D.C. Spencer has made comments on Twitter which push forward "race realism," a pseudoscientific study of "racial superiority" that attempts to justify hate, especially against Jewish people and people of color.
By way of targeting youth and the political mainstream, Spencer and his associates have led initiatives to convert harmless hashtags and memes on Twitter into propaganda for the "alt-right." He has been involved with the hijacking of 2016 presidential campaign hashtags along with memes like Pepe in order to stimulate support without the knowledge of other users.
Reddit, the social news aggregator and discussion forum site, has also been popular with extremists. The site is divided into user-created forums known as subreddits, or "subs." "The_Donald" is a popular sub on Reddit that was created by users to endorse the campaign of President Trump. It's also one of the largest hubs for the white nationalists.
While it is not officially connected to the Trump campaign or administration, MSNBC has noted that the sub receives over 10 million views per month, with its highest peak occurring in November 2016, the election month, at 100 million views. In an interview with MSNBC on April 4, 2016, the top moderator of "The_Donald," going by the user name Ciswhitemaelstrom, attributed this overall popularity to the strategic application of "trolling." His community and ones similar alienate Muslim users, trans and nonbinary users, and "Social Justice Warriors" (or just "SJWs," a pejorative term against those vocal in supporting social justice issues).
The subreddit "HateSubredditOfTheDay" was created to archive hateful posts from subs around Reddit and urge the site administrators to take down hate subs. The sub was founded under the belief "that Reddit, through one of its most popular subreddits, was celebrating hateful ideologies by shining a spotlight on them," said "Minn-ee-sottaa," an activist and top moderator of HateSubredditOfTheDay. "I've gotten positive feedback from leftists and even left-liberals, but generally all the criticism is the same rehashed 'over-sensitive SJWs' nonsense."
Then there's doxxing, the practice of obtaining another person's personal information without permission and posting it publicly. It is a common tactic of political activists online to undermine the anonymity of others as well as to bully and harass activists or political enemies.
Recently the sub "Altright" was banned from Reddit when the administrators discovered that many members were doxxing ideological opponents.
"The alt-right has served to normalize racism, bigotry, and ignorance whether ironic or sincere," Minn-ee-sottaa said. "On Reddit they've driven away many PoC (people of color) and contributing users who no longer want to deal with the barrage of hate. In the world, they help romanticize reactionary, hateful beliefs for younger people."
But the danger that looms is real. White nationalists aren't confining their tactics and abuse solely to the internet.
"I was actually at the Black Lives Matter protests in Minneapolis when alt-righters fired at and hit five people in the crowd," Minn-ee-sottaa said.
In February, CBS Minneapolis reported that one of the shooters texted "Cool – the gun I'm getting is proven to kill black guys in a single shot" right before the attack on the protest.
But that was not the only event where protesters were openly attacked by assailants clearly associated with white nationalism.
Matthew Heimbach was caught on video at a March 2016 Trump rally shoving a University of Louisville student named Shiya Nwanguma, then 21. In a lawsuit, Nwanguma accused Heimbach and two other men of assault, along with President Donald Trump of inciting the violence by shouting at the crowd to "get them out." Local activist Molly Shah, along with a 17-year-old Louisville Collegiate School student, Henry Brousseau joined Nwanguma as plaintiffs in the lawsuit.
At press time, the lawsuit was still moving forward, and Kentucky police served Heimbach with a criminal summons related to the assault.
Heimbach runs the white nationalist organizations Traditionalist Youth Network (TYN) and its political wing, the Traditionalist Worker Party (TWP).
TYN and TWP stickers have appeared around the city, and their recruiters have distributed their propaganda on college campuses, but local activists are organizing in opposition.
In one instance, protesters confronted a group that included Louisville resident Scott Hess, a TYN organizer close to Heimbach, celebrating at the Irish Rover on Frankfort Avenue on April 20, Adolf Hitler's birthday. They had publicly called for the celebration beforehand on a white nationalist message board, according to screenshots released by Anti-Racist Action, who organized the protest.
A video of the event shows restaurant patrons joining the protesters in chanting "Nazis out." The owner of the restaurant demanded that the white nationalists leave, which they did.
Hess isn't a private citizen; he keeps a high profile. In a Google search, Hess turns up alongside Heimbach in feature stories about the TYN and the TWP in multiple respected media outlets.
In the New Republic's "When the White Nationalists Came to Washington," Heimbach explained that his organization helped form the Nationalist Front, an alliance of far-right groups that includes the Nationalist Socialist Movement, which the SPLC calls one of the nation's largest neo-Nazi groups.
"We have to work together," Heimbach said to the reporter in reference to the Front's allies. "And we have to realize that the violent, white supremacist rhetoric of old only hurts us."
The group's strategy to tone down the image of white nationalists and mainstream the movement was evident in WAVE-3's interview of Hess concerning the Irish Rover incident.
"I spoke with his group and they told me they were just having dinner among friends," WAVE-3 reporter Kasey Cunningham offered at the beginning of the news segment published on April 21.
In spite of his group's formal alliance with a neo-Nazi organization, Hess makes a point to distance himself from neo-Nazis, preferring to align himself with Trump supporters in two separate quotes, and accused the protesters of attacking reporters and "anyone who's not a radical anarchist."
Not only did WAVE's reporters not fact check these statements, they didn't mention Hess' affiliation with the TWP or TYN. Without providing any background information on Hess, viewers were left to decide if the gathering to celebrate Hitler's birthday was actually just a group of Trump supporters enjoying a quiet dinner.
But journalists should take this dangerous movement seriously.
The extreme right has been a powerful and violent force in America. Timothy McVeigh, a Gulf War veteran with ties to white supremacist groups, committed the Oklahoma City bombing, which was the deadliest terrorist attack before 9/11. However, the Trump administration is planning on renaming "Countering Violent Extremism," an FBI initiative meant to combat domestic terrorism, to "Countering Islamic Extremism," which could obscure much of the danger that white nationalists and other right-wing extremists pose.
Although anti-fascist protesters have a reputation for brawling with white nationalists — and white nationalists enjoy depicting themselves as victims — there are no instances of white nationalists being murdered by anti-fascists, and numerous examples of white nationalists (Dylann Roof, Frazier Glenn Cross, and James Wenneker von Brunn, just to name a few) going on shooting rampages against minorities. And in January 2017, a Milo Yiannopoulous supporter shot an anti-fascist protester at an event in University of Washington, Seattle where Yiannopoulos was speaking.
"Yiannopoulos and Breitbart News, where he is a celebrity editor, attempted to cast his supporters as the martyrlike victims in the shooting," reported the Southern Poverty Law Center. "However, Hatewatch's eyewitness version of events is precisely the reverse: The shooter was a Trump-supporting man who had been acting as a provocateur in the crowd all night, while the victim was an anti-fascist liberal who had been acting as a peacekeeper in the moments before he was shot."
Despite their growing mainstream appeal, the so-called "alt-right" and their violent encounters have not been accepted by some of the young, moderate right.
"'Alt-right' is a movement I, and I as well can speak for all of my members, that we do not approve of," said Savannah Futrell (22), a student and the chairwoman at Murray State University's chapter of the Kentucky Federation of College Republicans. "These ideas are unattainable, unnecessary, and a setback to the bettering of this nation."
"We have not been approached by anyone 'alt-right' and most likely will not be," Futrell said, "as our campus thankfully is a respectful campus and makes sure, with the help of faculty and leadership, that politics is handled in a mature and professional way. Murray, Ky is a place that consists of people with a kindness and understanding many aren't used to. Radical things like this aren't common where we are located, and I am very thankful for that."
Although white nationalists have gained notoriety and influence on the internet and beyond, there are also powerful forces combating them. The Anti-Defamation League and Southern Poverty Law Center, both mentioned before, are devoted to keeping track of iconography used by these groups and their adherents.
As a high school journalist, as a user of the internet, and as an engaged citizen, the ongoing normalization of the so-called "alt-right" has left me deeply disturbed.
My research into this movement has led me to one unassailable conclusion: the so-called "alt-right" is not alternative anything. They are not an offshoot of any mainstream Republican or conservative line of thought, and as such they do not deserve a voice in our national discussion or a seat at the table. They are not noble activists fighting "political correctness" run amok, they are white supremacists. They are the ideological descendants of hate groups old and new. They find their heroes in the villains of history, from Klan founder Nathan Bedford Forrest to Adolf Hitler himself. It is my responsibility, and yours, to push back against this insidious way of thinking.
When online, flag and report anything that falls into the category of white nationalism. When you see a reporter or talk show host give one of these people a platform from which they can spew their hate, criticize them for it. Call and email their stations, their producers. Refuse to allow hate speech to become a part of the daily conversation, because those who advocate for racial violence and ethnic cleansing don't deserve to go unchallenged. •