Music Monday #14: Faith Lindsey
Faith Lindsey shares a playlist of her favorite songs that bring her warmth, lift her spirit, and fill her with pure joy. Listen along as she describes each song's deeper meaning to her.
More stories from Faith Lindsey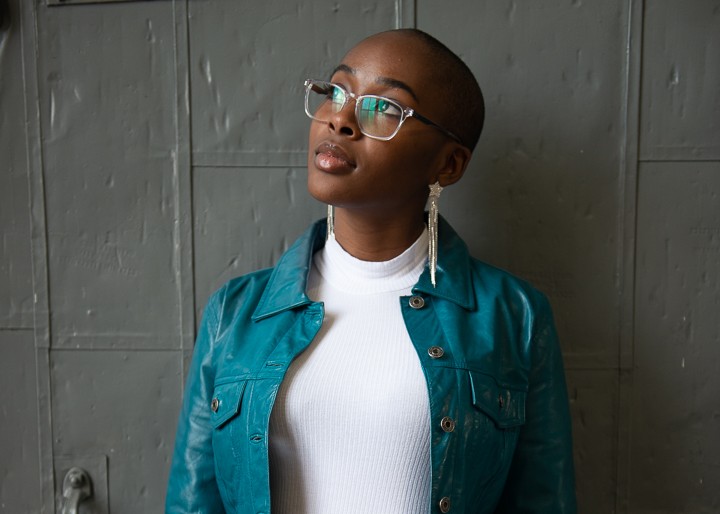 My best memories with music are connected to black rock legends and neo-soul artists, like Erykah Badu and Jill Scott. It's the type of music played throughout the house on a sunny Sunday afternoon with the windows open and the candles burning, where the sounds cover you with nothing but pure joy. For my Music Monday, I wanted to highlight some younger artists who give off that same energy of warmth and spirit and leave you feeling like all of your problems have been lifted… We can all use some of that right now. Enjoy!
"Nayhoo" by Chon, Masego, Lophiile
You can't help but feel like you're floating on a cloud when listening to this song. It is an instant mood booster that transports you to better times where troubles are minimal. "Nayhoo" has eased my anxiety on even the roughest days. The collaboration of Chon, an incredible progressive band, Masego, a musician and vocalist whose artistry reminds you of the artistry of icons like Prince, and Lophille, a record producer who mixes funk and electro beats with R&B and soul, make this trio a cosmic pairing. Simply magic!
"Drive and Disconnect" by Nao
The foundation of this song is its energizing afrobeat that gets you dancing as soon as the song starts. It definitely belongs on your summer playlist to have on hand for long car rides, kickbacks, sunset watching, or just for those times when you're longing for music festival vibes but you're stuck in the house. Nao speaks of the importance of being present in moments where you escape from madness and allowing yourself to explore the endless amount of possibilities that the world offers when you disconnect from things that may be holding you back. 
"Sunday" by Eryn Allen Kane
Timeless. That's the word to describe Eryn Allen Kane. Her gospel and jazz influences are abundant in this record. She takes you to church with her spirit and leaves you wishing the service was longer by the end of it. The lyrics of "Sunday" hold a sense of struggle and tragedy, yet, ultimately, it feels triumphant.
"Why iii Love The Moon." by Phony Ppl
This song is the definition of "feel-good music." There are very few songs that I can have on repeat and never get tired of and "Why iii Love The Moon" is one of those songs; I  find a different reason to love it each time it's played. It's a piece of art that fuses different genres of music so seamlessly that it seems foreign but familiar at the same time. The band "Phony Ppl" is composed of 4 musicians, a rapper, and a vocalist from Brooklyn, New York and are professional genre-benders. I absolutely love that for them!
"Funeral" by Miguel
Since 2017, Miguel has held me in the palm of his hand. Of course, we love early 2010's Miguel with songs like "Sure Thing" and "Adorn", but he reinvented his sound with the release of his 2017 studio album "War and Leisure" and it became one of my most played albums of 2018 and 2019. It was in constant rotation for me, so when "Funeral" was released in 2019 I was blown away to hear its heavy electro influence. Listening to how Miguel's music has evolved over time, from classic R&B love songs to dark experimental sounds and much more, excites me.
"Bloom" by bLAck pARty
"I hope your flowers bloom/ I hope you grow up to be/ Everything that you want to." "Bloom" can be a self-affirmation to yourself or a blessing that you bestow upon someone you love. It is an anthem for self-love and kindness that is dreamy, and aspirational, and cool.
"Buying Time" by Lucky Daye
I love some good acoustics and "Buying Time " indulges me in everything I love about tender chords. This song feels like a long warm hug from someone you never want to let go of or a dream that you don't want to wake up from. It is gentle, effervescent, and fresh. You can catch me listening to Lucky Daye while I'm daydreaming and dancing in my kitchen. Try it for yourself; I promise you won't regret it.
"Do U Wrong" (feat. Syd) by Leven Kali
"Do You Wrong" is a song basically about the grievances and thoughts many of us share when it comes to getting to know new romantic interests in our lives. In the song Syd says, "Tell me what you like/ I can't read your mind/ Bad as I want to, I really want you, so." You can't tell me that that isn't relatable. Levan Kali and Syd made this song so smooth and funky that you almost forget about how aggravating the subject matter can actually be.
"Innamission" by Smino
Energy is what this song gives. You have no choice but to get hype when this song plays. Smino has grown to be one of my favorite rappers of all time for his lyrical ability and unique sound and tone. When you hear Smino you know it's him and that there will never be a sound like his again.
"All Day Long" by Chance the Rapper, John Legend
This song is full of joy and bliss. It feels like a celebration of life no matter where you are on that journey. Music is a healer and this song is like you swallowed a pill of delight, that's exactly why I placed this song at the end of this playlist. 
I hope that when you listen to any of the songs on this list that they bring you peace, solitude, and joy!
Leave a Comment
On The Record relies completely on sponsorships, advertisements and donations to produce and distribute each issue. Please consider donating to our cause, and helping the student journalists of OTR amplify youth voices for years to come.