Women's History Month: Annie May's Sweet Cafe
This month, we celebrate the impactful women in the Louisville community, one of these being Annie May, a local bakery owner.
Annie May opened her business, Annie May's Sweet Cafe, in 2010. Leaving her 10 year teaching career, May explored a unique passion: baking for those with food allergies. 
After being diagnosed with celiac disease, May saw a need in the Louisville community for baked goods free of the top allergens. May's childhood dream, among other passions, was to open her own bakery. She graduated from duPont Manual (YPAS) and attended University of Kentucky for her undergraduate teaching degree. She also attended the University of Louisville for her Masters in Assistive Technology. After beginning her PHD and teaching elementary school, May started up her business in a shared kitchen. May started on a small scale with online orders to see where things would go. 
The food allergy community of Louisville caught on to May's bakery very quickly. She moved into a retail location only nine months after opening. Her bakery is a safe place for those who have to be extremely cautious at any other type of restaurant, especially bakeries. When the covid pandemic hit, the bakery was forced to make a few adjustments. Closing the dining room and shifting to online orders were only some of the problems May faced during the height of the pandemic. Supply chain issues and a slowed process of receiving ingredients shifted the bakery's schedule and order process. May adjusted her hours and restructured the bakery in order to survive through the difficult times. 
Other than dealing with the pandemic, the biggest challenge May has faced while running a business is finding a unique combination of employees that have a background in baking and employees that have dealt with food allergies. "I want bakers that elevate the bakery," May said, "but you also want people with food allergies so you can feel comfortable." Some of her employees have allergies but don't know a lot about baking or vice versa. It's important to find this balance to ensure that the kitchen is free of allergens or restricted ingredients. May's business has grown over the past few years, because she has developed a strong customer base. She credits word of mouth advertising to her bakery's presence in the food allergy community and to her success throughout the years.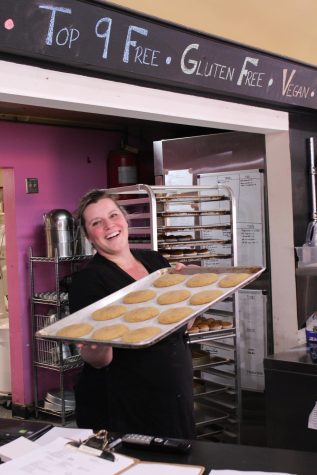 As a small business owner, May prefers to see herself equal to any other. She doesn't like to see her business as a "Woman-owned business" because she feels like that puts her into a stereotyped category of being a 'woman' who owns a business. She wants people to recognize her as a baker as opposed to anything else. 
As far as her bakery goes, May has stuck with a consistent menu for several years. She rotates in seasonal treats, but wants her loyal customers to be able to find the treats they love. "Our #1 seller is the Oatmeal Cream Pie and the Classic cupcake," May commented. The toaster treats and super cookies are also popular menu items. They are allergen friendly alternatives to the items you would normally find on the shelves of grocery stores. Annie May plans to keep the bakery up and running for as long as possible, reaching as many people with food allergies or dietary restrictions as she can. 
Annie May's Sweet Cafe is located at 3110 Frankfort Ave, Louisville, KY
or  @anniemayssweetcafe on Instagram.