Bellarmine students fight local food insecurity, donating uneaten cafeteria food to people in need.
Tonya Summerlin and her crew strode briskly through the University Dining Hall's double doors and out into the fading daylight, a tray of red potatoes in hand. After carefully packing the goods in her car, they were off to the next location. Pairing the potatoes with a main course could easily stretch the meal to feed, say, 30 people. It would all depend on how many bagels the Bellarmine students hadn't eaten that day. Probably around a hundred, give or take.
The volunteers entered Café Ogle, the other main campus eatery, just as it was beginning to lock up.
"They prepared way too much today," one of the employees said as she lifted a white garbage bag filled with bagels. The bagels go stale after less than a day on display.
Summerlin, a 20-year-old sophomore at Bellarmine University, handed the bag to another student and then followed the employee behind the counter to the kitchen where the staff had put together boxes of unsold pizza. The pizza "goes bad" after about 20 minutes in the warmer. That's the limit, at least.
The five of them loaded all of the food onto a cart and carefully wheeled it out from behind the counter. As they began to pack the food into the trunk of the car, one of the servers ran out of the building holding a bagel.
"There was one left," he said. "I didn't want to have to throw it away."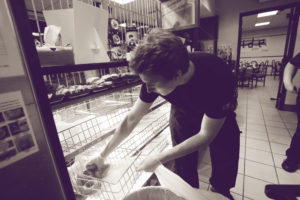 The Bellarmine students drove 15 minutes downtown. As they walked through the doors of Hotel Louisville, they could hear people cheering.
"Pizza! It's the pizza man!"
"They could be out having fun," said Chaplain Mike Blunk, the official chaplain of Wayside Christian Mission. "They could be going out to eat, going to movies, going to dances; they could be doing homework, but they load up their car and bring food over here."
For senior Austin Adam, the president of Bellarmine's Food Recovery Network, bringing the food to Wayside is hardly a chore.
"It's really rewarding," Adam said. "I've definitely cried on some of them. It's just really empowering. I grew up well off, to where I could drive down the road to get a pizza from Pizza Hut any time I wanted. It's just really eye-opening to see how much something means to people."                                                                                                         
Adam founded the Bellarmine chapter of the Food Recovery Network at the beginning of his sophomore year with fellow Bellarmine students Corbin McGuire, Jessica Bacallao, and Delaney Deely, all 19 years old at the time. Although they were interested in the organization for different reasons, they were all passionate about solving the issue of food waste.
The Food Recovery Network is a national organization working to reduce food waste through universities and colleges that donate cafeteria leftovers to local homeless shelters and nonprofits. Founded in September 2011, the Food Recovery Network is now "the largest student movement against food waste and hunger in America," spanning 191 chapters nationwide, according to the Food Recovery Network website.
Since its beginning, the organization has reported that it has recovered over 1.5 million pounds of food nationwide. Bellarmine alone saved well over 5,000 meals during the 2015-2016 school year, recovering 6,504.5 pounds of food. The leftovers are going to Wayside Christian Mission and Volunteers of America instead of adding to landfills around the country.
By "food waste," the Food Recovery Network is referring to the 37 million tons of uneaten food that made up 21 percent of municipal landfills in 2013, according to the U.S. Environmental Protection Agency's most recently updated data. Food takes up more landfill space than any other trash material.
Currently, Bellarmine's program recovers food from the University Dining Hall and Café Ogle, an on-campus dining facility home to Pizza Hut, Einstein's Bagels, and other small restaurants. Volunteers collect food that has been cooked and not served, or food that will expire before the kitchens have a chance to use it.
Dalton Baker, a 19-year-old sophomore who works at Einstein's Bagels, explained how much the Food Recovery Network helps the cafeteria businesses.
"Without food recovery, we have to throw away everything," Baker said, estimating that the total amount of money Café Ogle loses in leftovers amounts to somewhere around $400 per day.
According to Baker, before the Food Recovery Network began collecting food this year, he was throwing away about 100 bagels a day.
"I would try to take them home and give them away to the students in the dorms, but there's not enough kids that want bagels to eat that," he said.
Now that the Food Recovery Network has begun collecting, Baker emphasized that the relationship is symbiotic: the recoverers get leftover food, and the restaurants save on valuable trash space.
"We have a limited amount of space we can put in our dumpster for trash and a limited amount of organics that we can put in the organic trash," Baker said. "Today we filled it up so anything left over tomorrow we have to put in the dumpster unless the dumpster fills up. Then we're out of luck."
Food waste isn't just an issue at the point of sale; it's also a problem in the early stages of the distribution process, beginning with where the food is grown.
According to the National Resources Defense Council (NRDC), a New York City-based nonprofit international environmental advocacy group, produce may go unharvested due to pests, disease, or weather damage.
Economics also play a part.
According to the NRDC's 2012 Issue Paper, "If market prices are too low at the time of harvest, growers may leave some crops in the field because they will not cover their costs after accounting for the costs of labor and transport. In addition, growers may plant more crops than there is demand for in the market in order to hedge against weather and pest pressure or speculate on high prices."
When entire fields of fruits and vegetables don't meet commercial standards, they don't bring in a profit, so rather than waste the effort in harvesting, the farmer may leave them to rot. "Walk-bys" are what the NRDC has dubbed these entire fields of food that are left unharvested and plowed under.
Any food that does make it off the farm goes straight to a facility where it is carefully examined, or "culled," to test each product on specific appearance criteria.
"If it's a banana they're gonna make sure the curvature is right," Adam said. "They're gonna make sure the color, the weight, the size and everything is perfect – how grocery stores want it."
From there, food is sent to grocery stores and companies that distribute to universities. Any food that doesn't make the cut is labeled "ugly produce" and is sent to a landfill.
According to the NRDC, "A large tomato-packing house reported that in mid-season it can fill a dump truck with 22,000 pounds of discarded tomatoes every 40 minutes. And a packer of citrus, stone fruit, and grapes estimated that 20 to 50 percent of the produce he handles is unmarketable but perfectly edible."
Overall, the NRDC estimates that 40 percent of food in the United States, the equivalent of $165 billion every year, goes uneaten. That in mind, Feeding America, a nationwide nonprofit network of food banks, reports that one in seven Americans struggles to get enough to eat. According to the NRDC, reducing losses by just 15 percent could save enough food to feed over 25 million Americans yearly.
Of course, the Food Recovery Network as a whole, including Bellarmine's chapter, only addresses a tiny fraction of nationwide food waste; however, it's a model of a system that may eventually work in other areas of food production. The Environmental Protection Agency's "Food Recovery Challenge," which urges organizations to pledge to improve their "sustainable food management practices," exemplifies how food recovery can stretch across institutions.
Grocery stores make up one platform in need of more efficient tactics. Any time a product is nearing its expiration date, grocery stores may throw it away in order to keep shelves stocked with the freshest food possible.
And any food that makes it all the way to the cooking and serving stage could end up in the same landfill as ugly produce and expired food if someone decides not to finish a meal.
"With Pizza Hut stuff, usually they'll throw away half their breadsticks, or with Francisco's, they'll throw away half of a burrito," Baker said of the average Bellarmine customers. "But it's mostly Flex Dollars, so most students don't care, because it's not actual cash."
Indeed, according to Baker, "Flex Dollars," or student meal plan money, account for overspending and subsequent increased waste. According to Bellarmine's 2015-2016 Residence Hall and Meal Plan Contract, students must forfeit all unused Flex Dollars, which can buy food at Café Ogle or other à la carte venues, at the end of the spring semester. Thus, many students may buy more food than they need in order to "spend" Flex Dollars that might otherwise go to waste. In reality, the result is a student population that buys more food than it can eat, actually increasing waste in terms of food and distorting restaurants' calculations regarding how much food they should prepare.
"We try, but you can't really tell how much food is going to be sold throughout the day," Baker said. "We'll have random rushes depending on events, and there's no way to keep up with all the events around campus, because students are always doing something. But we do stock every night and we try to mete it out so that our waste is minimum."
Jennifer Skoney, the retail manager for the restaurants in Café Ogle, emphasized how difficult it is to calculate the exactly "right" amount of food. Even after estimating how much food students will buy based on the previous day's statistics, Skoney has to pad each batch of food in case of unplanned rushes. No matter how much the restaurants would like to end the day waste-free, they can't risk running out of a popular order.
"I pad production, because I know that at some point in the day I'm gonna throw out a pizza," Skoney said. "I'll add a number of waste to make sure that I have those pizzas to throw out so I don't run out, because we wanna keep our windows full as much as possible and make sure there's always something for somebody to purchase. You don't wanna be out of cheese pizzas just because you only made what you sold."
One pizza will last about 20 minutes in the warmer before getting too old to sell, and Skoney accounts for this.
"So last week if I sold 100 pizzas, then I'll do 100 plus I'll pad our production for whatever we waste," she said.
Of course, thanks to Bellarmine's Food Recovery Network, the food that is made to be thrown away isn't really "waste."
"I feel better about the stuff I have to throw out… I feel better that it's going to somebody who could use it and feed the homeless, or feed people who can't afford to eat the way we all do," Skoney said. "To me that's an awesome thing to be able to give back. I'd rather do that anyday than see it get thrown out in the garbage."
Students like Adam do more than combat food waste by making use of leftovers.
Once a semester, the Bellarmine Food Recovery Network hosts a "Scrape The Plate Night," during which students scrape the uneaten food from their trays into large trash bags. Later, the students get to see how much their waste weighs.
Adam believes that having the students scrape their own plates forces them to think more about how much food they throw away.
"Students get really frustrated with us because sometimes they feel bad when they waste their food, but it's pretty eye-opening for most," Adam said.
Adam and the other members also have students complete a survey with questions such as "What do you think food waste is?," "What is food insecurity?," "How many people in this area do you think are food insecure?," or "Can you name an effect of wasting food?"
"It's really more just to get students thinking 'Wow, we waste a lot of food,'" Adam said. "Some people didn't comprehend and would be like 'Oh, I ate half my piece of pizza, that's not food waste,' so we had to explain to them, 'That is food waste. You didn't eat it all and if you don't eat it all, it's waste.'"
Within the next few years, Adam hopes to have students scraping their own plates every day. Currently, Bellarmine students do not regularly scrape their own plates; instead, they put their dirty dishes on a conveyor belt for the University Dining Hall staff to clean in the kitchen.
"If you don't like what you got, you just put it on that conveyor belt that disappears behind a wall and you don't have to think about it," Adam said.
However, the cafeteria staff at Bellarmine sees student food waste firsthand, and, with the food recovery program bringing such issues to light, they are able to directly affect change by reducing unnecessary production.
"The staff also does a great job in identifying food that could be reused instead of thrown away," said Steve Santo, the General Manager of Dining Services at Bellarmine.
The Bellarmine Food Recovery Network reaches further than the campus boundaries, however. In its goal to educate the larger community, the Bellarmine Food Recovery Network shows a documentary and holds a discussion every spring; this past year, the volunteers showed "Just Eat It," a film about a couple in Vancouver that lived exclusively off of recovered food for a year. Around Halloween, Food Recovery Network volunteers also pass out short and easy-to-understand fliers to children at Bellarmine's yearly "Hall-O-Treats" – an event in which children and families from the community come to trick-or-treat at the Siena residence halls.
"We have food costumes and we dress up and we hand out candy, and we have a little facts sheet that's like 'This is what food security is,' 'This is what food waste is,' and it's in terms that kids would understand," Adam said. "Though I'm sure not all of them read it, the ones that do are becoming socially conscious at such a young age about a big issue, and I think it's great."
Bellarmine's food recovery process is just one of the ways that youth can work to solve the issues of food waste and food insecurity. Some larger universities have been working to effect change earlier on in the system.
Schools with enough student involvement in food recovery programs will send volunteers to farms where food is being left to rot and have them bring the produce to communities that are food insecure. This process, called "gleaning," isn't something Bellarmine takes part in according to Adam, mainly due to the lack of large or commercial farms in or near the city of Louisville.
In some cases, the fight against food waste is left to larger organizations than student groups. Many nonprofits are collecting "ugly produce" from the distribution sites before it's taken to the dump. Even some grocery stores have stepped up their game in the fight against food waste; Wal-Mart now sells weather-dented apples and potatoes nationwide at a discount.
"There's been entire grocery stores and companies that have started selling ugly produce, because it's fine," Adam said. "Maybe there's a tomato that's not perfectly round, or it's got a little dent in the side of it. It's still edible."
Because the Bellarmine students and other organizations that donate food to Wayside Christian Mission don't always have much fresh produce, Wayside is working to start its own gardening program. This initiative is meant to both emphasize healthy eating and the importance of self-sufficiency among the women and families who live at Wayside's transitional shelter at Hotel Louisville.
With the help of Bellarmine's Food Recovery Network, Wayside is restoring its tenants' faith in themselves so that they can actively contribute to society. When Bellarmine students bring leftover pizza to Wayside, they are providing more than just a midnight snack.
"When these students bring in stuff like that, they're validating them as human beings," Blunke said. "A lot of our ladies have been told that they're worthless, they don't count, they're useless. They're not."
Hotel Louisville tenant Nadine Terrell came to Wayside in October 2015 and has since found a support group, gotten a job, learned how to save money, and started school. The Bellarmine program at Wayside has been a highlight during her own recovery.
"They [the Bellarmine volunteers] are not afraid to be around somebody that's homeless… They're very kind, so they're someone that I can feel safe around," Terrell said. "They make us feel like somebody else cares and we are not alone."
Adam can relate.
"It's really important to know that if you're not as privileged as some of us or don't have some of the opportunities we have, someone out there cares about you and wants to make sure you're getting some food," Adam said.
According Blunke, when the Bellarmine volunteers bring food, the whole place buzzes with a party-like atmosphere.
"The whole place lights up when they come," Terrell said in agreement. "Everybody is basically waiting for the pizza."
The Bellarmine chapter is currently the only Food Recovery Network chapter in Kentucky, though there are many other areas within the state that are suffering from food insecurity. According to Feeding America, throughout Kentucky, food insecurity rates range from 9.0 percent in Oldham County to 22.8 percent in Eastern Kentucky's Wolfe County. Not only is Kentucky in need of reducing food waste, but programs like the Food Recovery Network make it easy to get involved. On the Food Recovery Network's website, foodrecoverynetwork.org, prospective chapter founders need only click the "Start a Chapter" button to see chapter application forms.
"You don't have to come up with something new; all you have to do is take what's already out there and keep it from going in the garbage," Blunke said. "It's good for the environment. It's good for people. I mean, it's a win-win-win situation."
Adam hopes to expand Bellarmine's services this school year by encouraging grocery stores and restaurants to donate close-to-expiration food to homeless shelters like Wayside Christian Mission instead of throwing it away. But it can be difficult to convince potential participants. Businesses may be hesitant to get involved because they're worried about being sued; however, donors are legally protected from liability.
"There's something called the Federal Bill Emerson Good Samaritan Food Donation Act and that protects the donor and the organization that serves the food from being sued if someone gets sick from it," Adam said.
One of Adam's goals is to make sure any potential donors are aware that they are protected so that the Bellarmine chapter can continue to grow and help the community.
Sometimes the Bellarmine volunteers bring a feast and sometimes they're just a few bagels shy of empty-handed, but the recipients don't seem to mind.
"My first time was last year and it was just with Austin and we didn't have that much food, but when we came to Wayside they were very happy," said sophomore Katie Vulich on her second recovery earlier this year. "We didn't have a ton, but just a little bit made them really happy."  
And that night they'd had a whole tray of red potatoes. A trash bag full of bagels. A tall stack of cooled pizzas. Summerlin walked back to her empty car trunk smiling.
"We know them when we see them, yeah we know them, because they're always smiling," Terrell said. "They always ask us, 'Are we doing a good job?' Yes they are. On that I will give them 100 percent."