Not for Sale- Louisville's sex trafficking industry meets its biggest threat — its victims.
We were waiting on a porch in southern Louisville to interview someone for this story when it actually unfolded before our eyes.
On the sidewalk nearby, a man that appeared to be in his thirties shouted at a woman walking next to him. With eyes on the ground, she asked him to lower his voice. As if on cue, a van pulled up and half a dozen women spilled out, hauling groceries to the back of their house — the Kristy Love House.
The woman raised her head to admire the women walking into the back door of the house. "That's the hope house. That's where I need to be." The man with her immediately grabbed her hand and ushered her away.
After this all unfolded, Angela Renfro, the Executive Director of the Kristy Love Foundation, ensured that we — including the women from the van — were inside the house before saying, "That man out there, that was a pimp."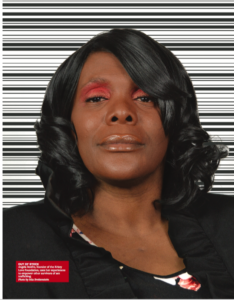 And she should know — she's been through it all before. Angela Renfro is a survivor of sex trafficking, not a victim. She made the difference very clear: "Once you walk through my door, you are no longer a victim. You are a survivor."
At a young age, Renfro was sexually assaulted and raped numerous times by family members and people in her home state of Ohio. Renfro recounted how, around age nine, she was gradually groomed into forced prostitution. Her first pimp gave her the name Kristy Love, hence the name of her organization. She was sex trafficked from Ohio to Georgia until age 29; she was forced to have sex with multiple men per day and kept in chains at night.
"One of my prayers was that if I ever got out of that lifestyle, I would provide a safe place where girls could come and live with me," Renfro said. In 2011, she did. The Kristy Love Foundation is a house in Louisville that provides a safe home for trafficked women. It provides the girls with food, medical treatment, and most needed, support.
Human trafficking is the exploitation of a person through force, fraud or coercion. It's modern day slavery, and can take the form of sex trafficking, forced labor, and domestic servitude.
According to the National Human Trafficking Hotline, in 2017, there were 8,524 cases of human trafficking reported in the United States. Of those people, about 7,000 were female, about 1,100 were male, and 80 were gender minorities. Approximately 5,300 victims were adults and almost 3,000 were minors. These numbers are the only available demographics.
Trafficking is not a niche problem; perpetrators and victims are found among all demographics. We had convinced ourselves that human trafficking only happens in poverty-stricken areas. We never expected it to take place in Louisville, let alone two miles from our houses. Hotels are major hot spots for sex trafficking. According to Jessie Eaton, a sex trafficking survivor, hotels along Hurstbourne Parkway are the center of the sex trafficking industry in Louisville.
It's a common misconception that human trafficking only takes place in developing countries or big cities like Los Angeles and New York. However, The National Human Trafficking Hotline found that in 2017 there were 33 cases of human trafficking reported in Kentucky. Nineteen of those cases were sex trafficking. These were only the cases that law enforcement could address. Several advocates and researchers expect that many human trafficking cases in Kentucky, and Louisville specifically, go unreported and unresolved.
In the past decade, there has been a monumental shift from people being sold off the streets to the online market. Technology has made it extremely easy and quick for just about anyone to buy sex from a trafficked woman.
Backpage and Craigslist, websites that are traditionally used to buy and sell goods online, began to sell something much more serious. Craigslist officially suspended its "adult services" page in 2010, causing much of the industry shifted to Backpage. After facing several lawsuits from victims trafficked through Backpage, the website refused to change any of their rules and regulations surrounding their so-called "dating" tab, which was a cover for sex trafficking. On Backpage, women were pictured next to pimps' phone numbers, often nude or wearing very little clothing. After clicking the link to the "dating" tab, you would have been alerted with a disclaimer explaining that the page would contain adult content and that if you saw any evidence of human trafficking, you could report it.
After relentless backlash and protests from the public, the only change Backpage implemented was the addition of "moderators." The moderators review the sex ads for possible signs of sex trafficking, like explicit photos of minors or any pre-specified, red-flag words. These moderators viewed hundreds of ads daily.
On April 6, however, the Federal Bureau of Investigation, U.S. Postal Inspection Service, and the Internal Revenue Service Criminal Investigation Division seized Backpage. The seizure left the website shut down. Now, all that appears when you type Backpage into your browser is a seizure notice from the U.S. Department of Justice.
Dr. Theresa Hayden, a criminal justice professor at the University of Louisville, recently introduced a class surrounding sex and labor trafficking. With this class, she conducted research on the rise and fall of Louisville sex trafficking on Backpage during different parts of the year. The class found that at the time of big events in the city, like the Derby, the rate of trafficking and the number of women on the site went up.
Hayden and her class found that the highest number of ads were put onto the website in February at the end of college basketball season. At that time, there was an average of 50 ads per day.
When more people come into town, there is bound to be a higher crime rate. But what Hayden and many other researchers found is that, more specifically, when more people of power come into town, the sex trafficking rate goes up.  
We often don't stop to consider that women who are trafficked are normal people with hopes, desires, flaws, and character. They generally cannot control their situations and are tricked or forced into the industry, perhaps by being offered a job that would provide a place to live and food to eat.
According to Renfro, the rate of sex trafficking also gradually increases during the winter months, due to homelessness combined with harsh weather. Going into the sex trade will give them a roof over their head and food on the table. Other women are tricked into the industry, unaware of the nightmare that awaits them.
Eaton, a 22-year-old survivor, grew up around Outer Loop and went to Moore High School. When she was 18, she started using drugs, specifically heroin. She met a drug dealer who was 35 years old, and they became romantically involved. She didn't know of his past in trafficking and coercive nature. She recalled how he began by forcing her to go out to dinner with random men, which at first did not bother her. Then, forced dinner turned to forced sex.
"He would post my information on Backpage. They'd contact us and that's how we'd get business. All the money would go from the guy to me and then straight to my pimp, which is exactly what he wanted," Eaton said.
A common tactic among pimps is to force the trafficked women to use drugs, which can lead to addiction that makes it harder for the women to escape. This makes the victims feel trapped or stuck with the pimp, because if they tried to run away, they wouldn't have access to the drugs that satisfy their addictions.
Eaton's pimp supplied her drugs while she was working for him. This kept her close to him and made it harder for her to escape. She said that if she had not been been caught by the police, she may not have gotten out. If she would've tried to get out, her escape wouldn't have been without a fight.
"I probably would've got locked in somewhere or beat up. I'm not really sure. He always carried a gun," Eaton said.  
Her pimp forced her to sell drugs and sex all over the city, but mostly in hotels in the East End. She recalled one situation in which she wasn't comfortable with a buyer's request, so she refused. Following her "disobedience," she faced the consequence of a beating from her pimp.
"You do what the customers ask you to do and that's the end of that," Eaton said.
In 2013, Kentucky legislation called the Safe Harbor Legislation Law changed to state that victims of human trafficking who have committed crimes while being trafficked are not criminally liable for those crimes, including stealing, illegal drug abuse, and others that the victims could not have prevented because they were being forced. The Safe Harbor Legislation Law was the first step to decriminalizing the victims of human trafficking and seeks to punish those purchasing the sex or labor. In 2017, Jeff Sessions introduced a law to the United States that asserts that people who are convicted of condoning or supporting sex trafficking by purchasing or supervising must be added to the sex offender list. Step by step, people are searching to change the way that people look at victims of human trafficking.
Despite the change in legislation, many victims of sex trafficking are still treated as prostitutes. Eaton's pimp repeatedly sold her to men, and her body became an object. When police arrested her at a Days Inn on Hurstbourne Parkway, she faced similar charges as her perpetrator, and was sent immediately to jail after the trauma she faced while being trafficked. She was charged for heroin trafficking, marijuana trafficking, and prostitution. Her pimp was charged for drug trafficking and promoting prostitution. These charges ignore the new Kentucky law that states that victims of trafficking should not be charged for the crimes they commit while they are under the influence of their pimp. For example, if a victim is told by their pimp to go steal condoms, she can't be charged for theft because she was not in control of the situation.
"We have to arrest and charge the people who are buying and paying for the sex and not criminalize the girls," Dr. Hayden said.
When the demand for sex trafficking decreases, so will the supply.
Nationwide, people are beginning to shift the way they think about survivors of sex trafficking, seeing them no longer as the instigators, but as the survivors. This is the first step, and together, we can bring freedom to those hidden in the slavery that is human trafficking. Places like the Kristy Love House are taking initiative in this fight against trafficking.
After we closed the door of the Kristy Love House, the previous feeling of discomfort was gone. We were welcomed with many gracious hellos and introductions, along with the smell of fresh fried chicken being prepared in the kitchen. We could see how supportive the environment of the house was for the survivors. We sat down in the front room at a small table to listen to Renfro's story. After that, she gave us a tour of entire house, showing us all the rooms lined with bulletin boards covered in photos and art that the girls helped make. The Kristy Love Foundation is the only home for specifically sex trafficking survivors in Louisville. We need more homes, laws, and people to stand up for this overwhelming issue. This is the beginning, and our generation will bring the end. «