For Our Future – Why I protested on Capitol Hill for a Green New Deal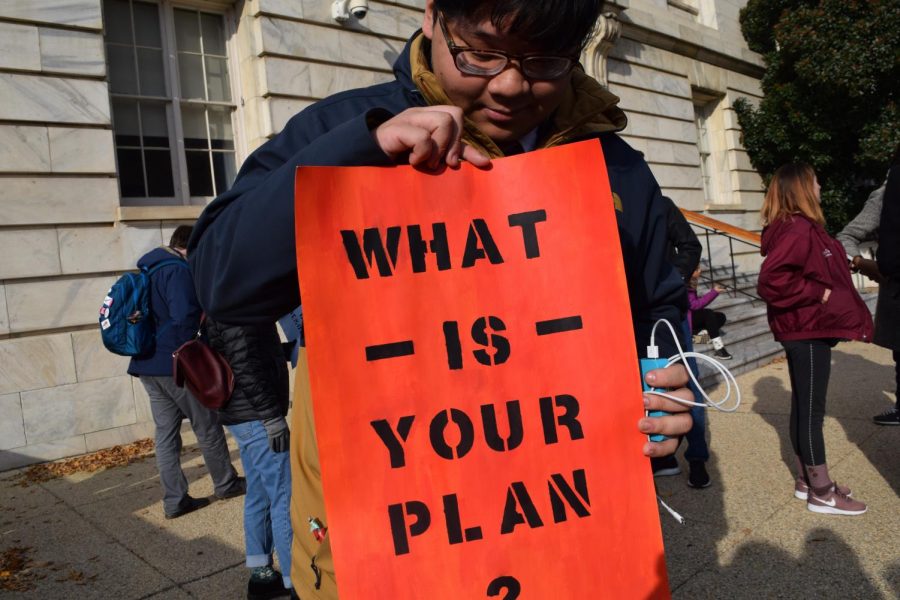 Words by Maggie Mitchell, News Editor
December 17, 2018
"Clear eyes! Full hearts! Green jobs! Can't lose!"
Hundreds of young voices join in chanting; a sea of winter coats and hats cover the park's grass. A movement organizer with a megaphone gestures for us to yell louder, and I do, until I can hear my own voice even among all the others.
We're here with the Sunrise Movement, an organization that was formed in 2017 with the goal of fighting the climate crisis. One of Sunrise's central philosophies is their commitment to nonviolence — it's included in their list of principles — therefore, all of the action we will be taking today while protesting will be peaceful. First on the agenda is lobbying democratic representatives in the House in an attempt to gain their support for the historic Green New Deal.
Essentially, the New Green Deal would establish a special committee in the House of Representatives to address the climate crisis. It attempts to address two main problems in our society: climate change and poverty, hence the 'New Deal' part.
I crane my neck, searching the park for familiar faces from the Kentucky delegation. There are around 60 of us lobbying John Yarmuth — the representative for Kentucky's third Congressional District and the only Kentucky Democrat in Congress — and I find myself wondering if we're all going to fit in his office. Most of us are high schoolers or college students, and all of us care about making a change. As we begin our march to the office building, we start to sing:
"We are standing for our futures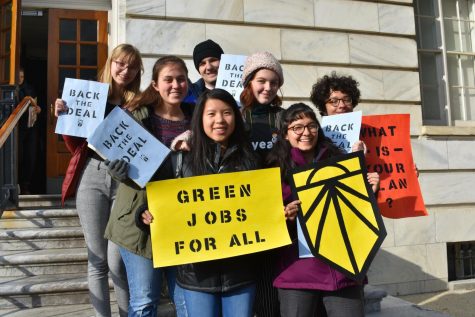 We are healing what is wrong
We are standing for our futures
And together we are strong"
With every lyric, our breath billows out around us in clouds. Our teeth chatter and we shiver after a few particularly bad gusts of wind, but we keep singing. We keep marching.
The details haven't all been hammered out yet; the resolution just serves to create a committee that can then handle the specifics of writing legislation. There are some goals for the committee to reach, such as America to relying 100% on renewable energy by 2030 and becoming carbon neutral.
Moving America to 100% renewable energy would represent a pretty big shift in our economy, and a shift that big is an opportunity to help provide jobs for Americans in poverty. The Green New Deal proposes a job guarantee program that would offer every American the chance to get training in a new renewable energy job.
As we get to the steps of the Yarmuth's office building our trip lead, Lijah Fosl, tells us to pause before going in. They climb up to the top step and looks out over the 60-something passionate young people watching them expectantly before asking how many of us have been told that our state doesn't matter, that it's backward or unimportant. Our mittened hands shoot up into the air and I am reminded of all the times people have doubted Kentucky's ability — my ability — to make change.
They tell us that Kentucky has brought more people to the protest than any other state in the country, and our group erupts in cheers. When we walk into the office building in search of Congressman Yarmuth, it is with a renewed sense of purpose and a renewed belief in our power.
We find our way to Congressman Yarmuth's office, and I find the answer to my question: we do not all fit. In fact, we don't even go inside — we fill the hallways instead. Capitol staff chides us for blocking the walkway and we attempt to hug the walls as we share our stories. In an ironic twist of fate, while we were lobbying in D.C., Yarmuth was back home in Louisville, and we voice our concerns to his environmental legislative assistant instead.
"I've lived in Louisville for as long as I can remember. My family has lived here for generations and I've known no other home, but I am afraid I can't stay in Kentucky unless we make great strides toward a sustainable future," Emma Stuber said a junior at duPont Manual High School. She described how coal's prominence in Kentucky's economy had harmed Kentucky's atmosphere, her friends, and her faith in our state.
She's not the only one concerned about coal's prevalence in Kentucky's economy and political landscape; Galen Zavala, a senior at Atherton High School also voiced his concerns.
"I understand that Congressman Yarmuth is interested in making Kentucky globally relevant and not just maintaining the image that it already has of being a backward state, and I think that one way we can really go about doing that is reversing this legacy of coal having a stranglehold on our politics," Galen said.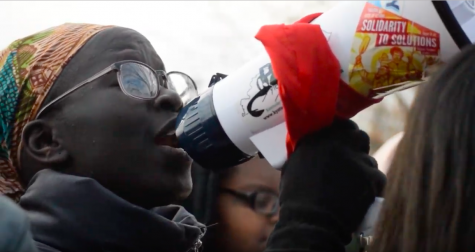 I left our lobbying meeting hopeful. I was unsure of whether or not we had changed Congressman Yarmuth's mind — even as I write this paragraph, a group of students and I are preparing to meet with him in Louisville and continue our efforts. As we walked away from his office, though, I hoped we would be leaving behind the impression that young people cared and demanded to be listened to. I hoped we would be leaving behind awareness of the reality that we must take quick, decisive action toward a solution before more people and communities are harmed by a problem we have the power to stop.
My brief stint as a lobbyist for the day had ended, but the action was just beginning. The next step: a protest in the halls of the Congressional office building in an attempt to convince members of Congress to sign on in support of the Green New Deal.
I walk down hallway after hallway lined with protesters, all holding blue envelopes with letters to their representatives. The letters would be delivered later in the day, but right now they served as signs in the protest.
"Dear Democrats" they read. "No excuses." "Back the deal."
I clutch a similar blue envelope in my hands. It will become crinkled throughout the day, creased and folded from all the times I raised it in the air or gripped it a little too tight.
As I make my way to my spot in the halls of the capitol, a marshall from Sunrise warns me to stay as close to the walls as possible, keep my hands to myself and not give the police any reason to mess with me. Since I am a minor, I am not risking arrest, but before the day is over more than 140 people will be arrested as a form of peaceful protest.
Capitol police pace up and down the hallways where I'm standing. Each time I watch them walk by, I see the zip ties hanging from their belts. The protesters who will soon be wearing those zip ties are never far from my mind, and as I watch the police pace, I think about the bravery and dedication they possess.
As I stand in the hallway, I feel powerful. As cheesy as it sounds, I feel like I'm a part of something greater than myself, and looking at hallway after hallway packed with protesters, I think that we might just be able to make something happen.
*****
In the 24 hours after the protest, 13 more members of Congress signaled their support of the Green New Deal, bringing the total number up to 35. At the time of publication, that number has become 37, with prominent members of Congress such as Senator Cory Booker (D-NJ), Senator Bernie Sanders (VT) and Jim McGovern (D-MA) in support.
Louisville may not be afflicted by floods or wildfires (yet), but it does rank among worst of the country for air pollution and urban heat. The American Lung Association ranked Louisville as 21 out of the 25 worst cities for year-round particle pollution, and Climate Central ranked Louisville as the fifth worst urban heat island in the country.
Last year in Hot and Bothered, we told you about the impact urban heat islands have on our lives, our health, and even our electrical bills. We told you that if we don't reduce emissions, the urban heat island will continue to grow. Now, there is a piece of legislation that would do something about it.
These problems aren't going to get better on their own, and they're certainly not going to get better if we don't act fast to stop climate change. We need to fight to protect our home — not just Louisville, but also the entire world. There is no one easy solution to heal our dying earth; a problem this momentous requires a solution just as big.
So baby steps aren't going to cut it — according to a recent report by the Intergovernmental Panel on Climate Change, we as a planet have 12 years to limit the impact of climate change before catastrophe. It's not enough to just turn the lights out when you leave the house or keep the thermostat low in the winter.
Don't get me wrong — individual actions can be powerful, but we also need to address the actions of corporations and fossil fuel companies. We need the type of comprehensive and coordinated action the Green New Deal would provide, and we need it now.
Everyone has their own reasons for why they hold issues close to their hearts.
"
Me, I protested for this resolution on Capitol Hill because I live here, and so do you, and so does everyone I've ever known or cared about."
Me, I protested for this resolution on Capitol Hill because I live here, and so do you, and so does everyone I've ever known or cared about. Sure, there are other reasons, such as my belief in the importance of science or how I was moved by the stories of families being torn apart by floods and wildfires. At the end of the day, however, the only reason I really need is that I live here.
I'll admit, I haven't always been the most passionate about climate justice myself. I would shrug off reminders of the issue's urgency because I assumed that it was a problem for scientists to handle, not anything I could play a large role in. The problem with that logic, however, is that we're not waiting on new technologies to save our environment. We're waiting on political action — that's where we, the young people, come in.
I know the constant urging to contact your representatives can be tiring, but in this case there's really no way around it. The support of the House is absolutely essential in getting the Green New Deal passed — for this issue, we need to urge our elected representatives to be our voice.
John Yarmuth is the representative for Louisville's district, and at the time of publication he has not signed on in support of the Green New Deal. You can reach his congressional office at 202-225-5401. Call him; show him you care. Remind him that the future of our generation rests on the actions he and his colleagues take to resolve the climate issue. Don't let yourself fall into the trap of thinking your actions are too small to possibly make a difference; don't let yourself wake up in a day, or a week, or a year wishing you had done more. Our earth is counting on us to take action today.