Beyond the Spires
Learn how this Churchill Downs-based nonprofit lifts kids from one of Louisville's hidden communities over their everyday hurdles.
January 23, 2020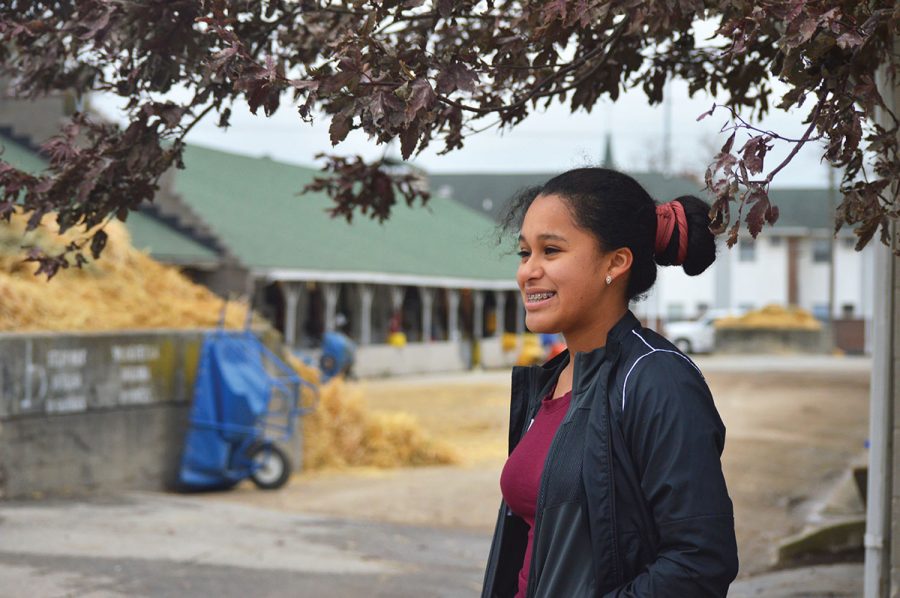 Photos by Mia Breitenstein
Eleven-year-old Merlin Cano didn't know what to expect as she walked into the chapel nestled between stables on the Backside at Churchill Downs. Lately, it seemed not knowing what to expect had become her new normal.
A girl approached Cano with a cheerful expression.
"Do you wanna play?" she asked.
Cano's eyebrows furrowed. The words were gibberish to her.
She tried to reply but the problem was, having recently emigrated from Guatemala, Cano didn't speak enough English to understand what the girl had said, let alone play with her. All she could do was look at the girl with a blank expression.
"They brought me here. I always say that because they didn't ask if I was okay with it," said Cano, now 18, laughing and referring to her parents. "Like, I didn't know what this country was."
Unfortunately for Cano and many other immigrants in the United States, this disconnect is
all too familiar.
Cano had imagined the entire country would be four million square miles of New York-esque skyscrapers, crowds of people, and bright, colored billboards.
Instead, as she got off theplane and set foot on American soil for the first time with her mom and siblings, Cano was greeted by the dreary parking garages of the Louisville airport and commotion of the concrete highway. For the first time, she met some of her much older brothers and sisters — most of whom she'd only ever seen in pictures.
"I remember thinking that she looks so different from the picture," Cano joked, laughing as she recalled seeing her older sister for the first time. "Like, she looks better in the picture."
Most of her family had already moved to the United States and gotten jobs as equine workers at one of Louisville's greatest attractions, Churchill Downs.
But for Cano and her family, rather than oversized hats and mint juleps, the track is a place filled with dirt roads, stables, baby goats, and horses. Tucked just off Fourth Street, this community is known as the Backside.
When we — the writers, Annie and Katie — set foot onto the Backside, people greeted us with smiles and waves. We watched as workers groomed horses, cleaned out stalls, and people zoomed by on bicycles. A goat was perched near the corner of the stables. We immediately had our phones out to take pictures, but the workers paid no mind to the animal. They continued on with their work.
Many of the workers at the Backside are immigrants who came to the United States seeking financial stability. A good amount of them come to Louisville not speaking any English, and because of this, it is hard to adapt to life that occurs outside the track. That's why many of the workers find themselves turning to a program that helps them in any way they can to succeed: the Backside Learning Center (BLC), an independent non-profit.
Nestled right behind a giant jumbotron and just steps away from the track, the BLC offers English as a Second Language (ESL) services, basic social services, and provides educational resources. Sometimes their clients need everyday things that many people take for granted, like translation services at a doctor's appointment, help communicating with their child's teacher at a parent-teacher conference, or legal support.
"There's just this relaxed, open, friendly exchange that takes place. Even if it's just somebody coming in to pick up their mail — we receive a lot of mail for the Backside workers. I like the community aspect — just the social aspect of it," said Mariah Levine Garcia, the Family Resource Coordinator at BLC. Levine Garcia's warm smile is often the first thing people see when they walk into the BLC.
Originally called the Klein Family Learning Center, the BLC opened its doors for the first time in 2004 and they have remained very, very busy. In 2019, 90 adults enrolled in ESL courses, 80 children and youth received homework help, and, since opening its doors, four students have gained U.S. citizenship. These statistics are great achievements for the BLC, but to people like Cano, these numbers represent more: their friends, their coworkers, and their community.
Cano and her family were introduced to the ESL program when she was 11, although she wasn't able to attend their programs regularly until she was able to drive. At that point, Cano's parents also started attending ESL classes.
Cano would attend the class with her parents, aiding both the teacher and her parents.
"I was the youngest in the classroom, just sitting there helping my parents," Cano said, pointing to the bigger classroom across the hallway as we interviewed her.
These classrooms are adorned with Spanish-to-English dictionaries and walls of vocabulary like "balcony" or "receipt" — words so mundane many people don't even remember learning them. This was in sharp contrast to what she encountered at Thomas Jefferson (TJ) Middle School and Iroquois High School, where she found the language barrier harder to overcome.
Despite spending a year at Newcomer Academy (see "Come As You Are" on page 52), the transition to TJ and Iroquois was still rocky. The combination of meeting some of her immediate family for the first time and adjusting to Louisville's culture was close to overwhelming for Cano.
"At first it was really hard for me," said Cano. "I felt really sad and everything, but then I started to like it."
Once Cano got her driver's license, she was able to appreciate little things like going out after school with her friends and trying restaurants all around Louisville.
"We would actually go to one of our teachers to ask, like, opinions about different places to go," Cano said. "Good ones, and cheap."
However, eating the ropa vieja at Mojito Tapas with her friends wasn't always her top priority. Driving meant more familial responsibilities, like driving her parents around and translating for them at things like legal appointments. Cano also worked two jobs while attending Iroquois — one at Walmart and one on the Backside at Churchill Downs with the rest of her family.
So, while most high schoolers find themselves still in bed well into the morning on the weekends, Cano is wide-eyed and awake at 5 a.m., walking thoroughbred horses.
"Oh my god, I get ready in like five minutes and I would just take something to eat," Cano giggled. "When I get to the barn, I eat it there. And we usually finish by nine with horses."
Often times, Cano was straddled with responsibilities that many high schoolers in Louisville aren't prepared to cope with. She was stretched thin between two worlds, but one place where she was able to find solace was the BLC.
As Cano got older, she realized that those classrooms — the same ones that she had spent countless evenings in, helping her parents learn English — could be a resource for her, too. So when the time came for her to start thinking about college, she knew exactly where to turn.
"I came here to ask them if they could help me with applying to colleges and maybe doing my FAFSA and all of that," Cano said, referring to her college federal financial aid forms . "Because like, I had never done that before, and I couldn't get the help at home."
They helped Cano get into Jefferson Community Technical College (JCTC), where she is currently studying to become a nurse.
Cano kept returning to the BLC, not only to receive help, but to volunteer. Once she graduated high school, Cano was offered a job working as the Youth Activities Leader. Now, she works as a thoroughbred walker in the early morning, goes to classes at JCTC in the middle of the day, and helps lead the Front Runners program at night.
Front Runners is an after-school program that offers academic support and assistance to the children of the Backside workers. Annie, one of the writers of this story, is a current volunteer for this program. 
Like Cano, the kids from Front Runners face the challenge of having to learn English while speaking mostly Spanish at home and translating for their parents. Front Runners aims to address these problems while still making sure the children are able to play and act like kids in a friendly environment. The program fosters curiosity, literacy, and mindfulness through group reading, drawing, and games.
"I love watching them grow and learn, and their curiosity, and just really learning from them and them learning from us. It's a good feeling," said Levine Garcia.
During one Front Runners meeting, the volunteers led the kids in a call and response. An energetic volunteer in her early 20's cheered at the crowd.
"TARZAN!"
The kids giggled while repeating the name in a high pitched voice and trying to flex their scrawny arm muscles.
"SWINGIN' FROM A RUBBER BAND!"
Their arms swayed above their heads, smiles stretched across their faces.
As the kids started entering each classroom, they were greeted with volunteers who helped them with whatever they needed. When we visited in early December, one group practiced times tables while others sat on the couch listening to a volunteer dramatically read "If You Give a Mouse a Cookie."
In another classroom, one girl, Victoria (5), was focused on designing a colorful birthday card for her friend, Karen (6), at the next table filled with hearts and rainbows. She bounced from her seat, getting the exact color of pink she needed to make the card perfect — to make her friend's birthday perfect. When she gave the card to Karen, Victoria was practically beaming. Karen lit up as her friend grinned. (Due to a request from the BLC, we have elected not to include the last names of minors.)
After homework and reading time, there's snack time — the kids' favorite. Here, the kids can munch on oranges or other fresh foods. But the most important part of Front Runners is the last 45 minutes: group time.
Group time usually starts with a check-in activity from Levine Garcia, where they practice mindfulness and reflection. Students are broken up into four groups: "Pre-K," "K-2," "3-5," and the youth room (6th to 12th grades).
The youth room, normally filled with laughter and excited energy, was unusually quiet and dark the night we visited. Rows of computers illuminated the students' faces. In the youth room, a local organization, Peace Education Program (PEP), was establishing their first after-school pilot program, called Youth Influencers, made for the students at Front Runners. According to Lijah Fosl, the program director, the program teaches students how to utilize social media in order to "challenge prejudice and have a positive influence on their communities through their personal stories."
The BLC, including Front Runners, works with many local organizations to support the equine workers and their families who call Louisville home. This comes in the form of after-school programming that helps students discover their artistic side among other things. The BLC has also worked with well-known local foundations like Kentucky Shakespeare, Kentucky Refugee Ministries (see "Kickin' It in Kentucky" on page 60), and the Food Literacy Project.
This youth room is where you'll find Cano every Tuesday and Thursday evening. Everyone at the program knows Cano — she's basically Front Runners royalty. She always seems to be talking to someone, sometimes with parents, sometimes with students, and other times, like when we visited Front Runners, talking to Levine Garcia.
A group of six kids have started to call her "Tía" (or "aunt" in Spanish). She calls them her adoptive nieces and nephews in return. Because Cano is closer to their age, she was in their position just a couple of years ago. She understands their thirst for independence and she understands what it's like to be in their shoes.
"I feel like if I go up to any of the girls, they will just trust me and tell me how they feel, what's bothering them and everything. But with the boys, it is a little harder. I don't really know why. They probably need a male to talk to," Cano said.
During a Front Runners session, when we asked Andira (15), a sophomore at Iroquois High School, if she wanted to participate in our interview, she looked at us like we were crazy.
"Are you sure? My English isn't that good," she said, blushing.
"She's lying," Cano, who had overheard, said. "Her English is very good."
Andira only blushed harder.
The Backside at Churchill Downs is made up of immigrants and their families, supporting each other, just like how Cano cares for Andira. The BLC only bolsters that strength.
Cano can now help the kids at Front Runners who remind her of herself, walking into that chapel, unsure and unrooted. She helps them find their voice. She helps them find a setting that's their own with others that will support and uplift them. She helps to build bridges between them — to inspire and connect their community.
Cano is not the same little girl sitting in that church years ago. She is not unrooted from her home, unsure of the people around her, and most importantly, uncertain of herself. She has been planted not only by the people of the Backside, her friends at Iroquois High School, and the BLC, but also the hard work she put in to make the best of her situation.
She has now grown from someone who looked for help, to someone who gives it. She has blossomed into a role model and a person who people flock to for advice and friendship — a person they trust.
"I tell them all the time," said Cano. "If I'm able to help you, I will." 
Click here if you would like to volunteer at Backside!