Jasmin Bakery Review
Me and My Pitches, one of OTR's teams, set out to review a lesser known restaurant in Louisville. Read more to find out OTR's offical review of Jasmin Bakery European Bread.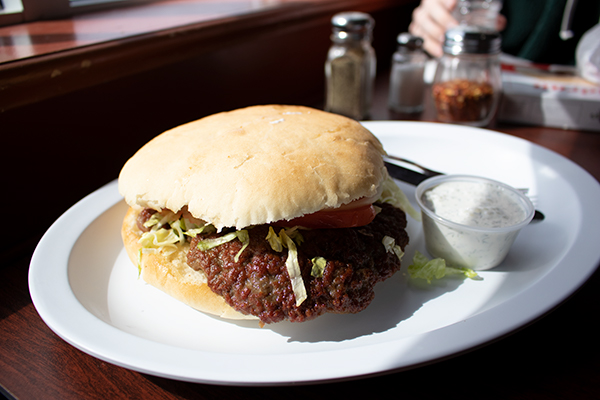 Restaurant: Jasmin Bakery European Bread
Location: 2205 Steier Ln, Louisville, KY 40218
Price: $ 
Phone: (502) 458-0013
Rating: ★★★☆☆
On an overcast Sunday afternoon, we (Lainey, Justin, Grant, Jacob, and Payton) made our way into Jasmin Bakery European Bread. To be honest, we didn't know what to expect. Our assignment was to go to a less popular local restaurant, and we found Jasmin's with a quick google search. They didn't have a website, but the Yelp reviews were great, so we came in feeling hopeful. 
Upon walking into Jasmin's, we immediately noticed the wall of fresh-baked bread and racks of European candy. Above the serving counter, there were four pictures of the items they served. None of the items were named or given a description, which made ordering pretty hard. 
We each ordered different things from the "menu" which we'll explain in a little bit. Ordering took a little while because there were only one or two people working, so we stood at the counter waiting. 
After placing our orders, we snagged a table in the back. A soccer game was playing on the T.V. and men chatted about the game, sandwiches in hand. Grant ordered bread, which he got right away. We couldn't resist cracking into it while we waited. 
The fresh-baked bread was a huge hit for all of us, but you really can't go wrong with bread. It was soft on the inside and could easily be broken into chunks. The outside was golden and flaky; needless to say, we made quite a mess with crumbs! To help hold us over a little longer as we waited for our food, we bought some candy to sample. Grant bought Jadrans, which were vanilla and chocolate wafers. Everyone really liked them and kept grabbing for more! Next, we tried the candy Payton purchased: Kinder-brand Happy Hippos ($2.00). These were shaped like little hippos and the inside was filled with gooey chocolate, but the outside was crunchy. These were also a hit, but they were the kind of candy where you only want one because it is so rich and chocolatey. Our last candy to try was something we didn't purchase ourselves –– when we were deciding what to buy, a man was so adamant about us trying the Jaffacakes that he bought them for us! They were wafers covered in chocolate with orange flavoring. No one disliked them, but no one really reached for seconds. Nonetheless, we were still grateful for the man who wanted us to be able to try something new. 
After around 30 or 45 minutes, our food finally came out. The taste of the food is where we started to have differing opinions of the restaurant, so we'll each share with you what we thought. 
Lainey: I don't consider myself a picky eater (certainly not as picky as some of the other people that went), but I am sometimes particular about food. I was hungry and wanted to try something, but the four options on the menu were all very meat-centered. I'm not a huge meat eater, but I'll have it occasionally. Jacob had mentioned that they might have a hamburger, so I had pointed to what resembled a burger ($7.00) out of the pictures on the wall. I did not really know what I was ordering because the cashier did not clarify when I asked what it was. I was apprehensive when he set my plate down on the table. It resembled a hamburger but the patty was thinner, and squishier when I took a bite. To be completely honest, I did not love it. It's not because the food wasn't prepared well… everyone else seemed to like what I had when they took a bite! It all came down to my food particularities that made me not love what I ate, but that is nothing against the restaurant. I did eat some of the bun off the sandwich/burger because it was buttery and soft, but Jacob ended up taking the rest of my meal home so it did not go to waste. Although I wasn't fully satisfied with what I ate, I went in with the mindset of getting to try something at a place I had never been to before, and left with a new experience trying something unfamiliar.
Justin: The European candy and bread that we got to try before our food came out made me really excited to try what I had actually ordered. The candies were different than what I was used to — especially the Jaffacakes which had an interesting orange flavor — but tasted great. After waiting a while, the food was finally brought to our table. Although we didn't know exactly what we had ordered due to the lack of a traditional menu, I figured, based on the reviews we had read before, that what I had was the Cevapi ($7.00); Cevapi is a southeastern European dish which has a sausage type meat on a bun. One of the first things I noticed about the food was how big it was. It took up the whole plate! My first bite was honestly a little underwhelming. I wasn't a huge fan of the sausage, but the delicious, buttery bun made up for it. Overall, I felt that while the food was not the best I've ever had, it was a great experience to get a look into a culture that I feel isn't talked about often within Louisville. 
Grant: I would consider myself a very picky eater (certainly more picky than some of the other people that went). I bought bread that seemed like a normal homemade loaf, but the airy bread and flakey crust made it much more appetizing and delicious. Additionally, I bought the Jadrans ($3.50), which made a delightful appetizer and light meal when combined with the bread. The bread was priced cheaply, considering how delicious it was, at $2.50 a loaf. It was a very laid back atmosphere which was relaxing, but also made the whole experience feel a little bit unorganized. I got thirsty while waiting for our food, so I went to quickly get a bottle of water, but waited for around five minutes to pay $1 with a long line forming behind me. My picky eating held me back from getting the whole experience of Jasmin's, but overall it was quite nice.
Jacob: I got there and was pretty excited because I really like gyros and similar styles of food, and the reviews for this place were really good. I ordered the gyro and was nothing if not impressed. The meat seemed very fresh, and the bread had the same fantastic homemade fluffiness that the loaf had. I'm not normally one for tomatoes or onions, but they were fantastic combined with the rest of the sandwich. The sauce was the standout piece, however, it never felt overpowering. It was the perfect medium of strong taste while blending with the rest of the sandwich perfectly. The atmosphere was very relaxed and cozy, and it was pretty clear the people there were regulars, which I personally plan on becoming. 
Payton: I am one of the picky eaters Lainey referred to in the group, so the four options I saw on the menu didn't exactly appeal to me. Fortunately, the fresh bread and variety of European candies we purchased as an "appetizer" to the main course did not disappoint. As I filled up on the Happy Hippos and the bread (which I couldn't tear my hands away from) I couldn't help but notice that it took up to 45 minutes for Justin, Lainey, and Jacob to get their food — a pretty extreme wait time for what looked to be a simple bakery. However, I snagged a piece of sausage from Justin's plate and thought it tasted pretty good. Though I wished I could've tried something new, the food was outside my comfort zone so I decided to play it safe. What struck me most about Jasmin's, however, was the ability it had to connect to eastern European culture in a homey, laid-back environment. Almost all the customers were European, some even speaking Bosnian. It's a culture that isn't really emphasized in our city, so it's exciting that the owner could bring it to Louisville. While I didn't break out of my picky mindset just yet with the food, the overall experience and environment made for a fun Sunday afternoon with my friends.
Overall, we enjoyed our experience at Jasmin Bakery European Bread. The fresh bread was a hit for all of us. While we can't promise all of us will go again anytime soon, we do recommend this restaurant if you enjoy hole-in-the-wall hidden gem bakeries and diners. Going out to lunch with a few friends is the perfect opportunity to try a new place and have fun, too!