Music Monday #10: Sky Carroll
Content Director Sky Carroll shares some songs that mean a lot to her. Discover a little bit more about her in the tenth (!!!) edition of Music Monday.
More stories from Sky Carroll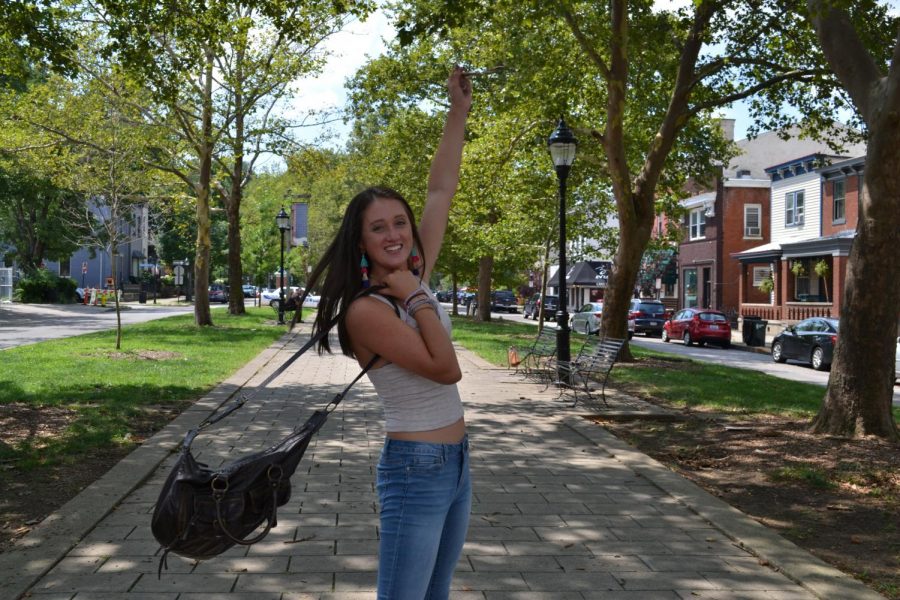 If you know anything about me, you know that I love music. Rather, I'm obsessed with music. There's almost never a time that I don't have something playing in the background. I'm constantly hunting for new tracks, whether that's by writing down a few lyrics I hear while out and about and searching for it later or scouring the depths of my friends' playlists. My friends make fun of me for it, but I'm a little proud of the fact that my music taste is so wide — it almost doesn't make sense. I like indie, pop, folk, bluegrass (thank you, Kentucky), country, rap, musicals, Spanish music, and definitely everything in between. I could've made a playlist of all the obscure and weird tunes I enjoy, but I decided to go with some of my all time favorites — here's a look into what's always playing in my head. 
"Great Divide" by Humming House
This song is in my top five of all time.  Whenever I hear the first few seconds, a smile immediately finds its way onto my face. It takes me right back to summer 2019 with two of my oldest friends — many of our nights are spent searching for songs we can scream at the top of lungs, windows down, driving through the park. As soon as my friend Molly played this one for us, we knew it made the cut. This song evokes feelings and memories of pure joy with its upbeat tune and optimistic lyrics, and reminds me what my summers are all about: taking risks and living in the bliss of a moment.
"Gaslighter" by Dixie Chicks
I screamed so loud when I saw that the Dixie Chicks had released a new song after no new music for 14 years, you'd think I'd just been stabbed. The Dixie Chicks manage to perfectly present music with bluegrass and country elements, and they somehow attract fans who aren't normally country fans. I know people say this a lot, but when I first heard this song, I played it on repeat for three days straight. Quite literally, it was the only song I listened to for several drives. The emotion. The vocals. The harmonies. The story. I'm still awestruck every time I hear it. I idolize the women in Dixie Chicks. After speaking out against the Iraq war and President Bush in 2003, many of their fans boycotted their music and shamed them for the stance they'd taken. Essentially, they were boycotted into silence. I admire them for sharing their truth, and now 14 years later, they're back, more impassioned and stronger than ever.
"My Only Child" by The Highwomen
The Highwomen is still a pretty new group, composed of country music singers and songwriters Brandi Carlile, Maren Morris, Amanda Shires, and Natalie Hemby. This group is a female powerhouse, and I needed these four ladies together a lot sooner than 2019. I'm a big Maren Morris fan, and a friend played "Loose Change" by the Highwomen one morning and I couldn't stop thinking how similar they sounded. Well, the singer actually was Morris and her new country supergroup. Their debut album "Redesigning Women," has songs and stories to empower and connect with women everywhere. However, "My Only Child" is definitely my favorite — I get chills every time I hear it. I can't urge you enough to listen to this masterpiece of music. Lines like "You mean more to me than branches to a maple" and the sheer, pained emotion in Hemby's voice leaves me in awe, waiting for the next melody and line.
"Lay It On Me" by Vance Joy
This has been one of my favorites for a while now.  Vance Joy is an Australian singer-songwriter, and most of his music identifies with the Indie pop genre. You'd probably know him from his first hit "Riptide." I got to see this song live at Forecastle Festival 2018, and it honestly was a moment of pure bliss. For me, this song provides feelings of peace, hope, and surrender to life's course. It brings familiarity and never fails to help me be mindful when life gets blurry and stressful.
"Dancin" (feat Luvli) – Krono Remix by Aaron Smith and Krono
This song makes me want to DANCE. I'm one of the worst dancers ever, but that doesn't stop me. Whether I'm driving, cleaning my room, or listening to this song while on my laptop, I can't help but get up and move. Every. Single. Time. The energy and positivity in this song goes unmatched to any party song I've heard. I first heard this song while on a service trip in South Dakota. We were working with kids at a camp, and the night concluded with a dance party on a roof, and this was the last song they played — all the kids went crazy because this was their favorite song to dance to. It's truly a moment I'll never forget, and I associate this song with it. It reminds me of those kids, innocence, and not being afraid to just let go, live, and have fun, even when people are watching.
"Classy Girls" by The Lumineers
I'm a sucker for a song with a story, and this one is no exception. The Lumineers have been one of my favorite bands ever since I heard their first song "Ho Hey" back in 2012. My love and fascination with the band never fails to renew when I hear some of their most popular hits like "Stubborn Love," "Flowers in Your Hair," and "Sleep on the Floor." This particular song just makes me smile — the tune and lyrics are filled with so much joy. It's the kind of song you'd listen to while speeding down a hill on your bike with a partner, or while you're dancing in a grass field with your partner. Every time I hear it, I can picture one man's fascination with a classy, respectable woman upon seeing her in a bar, and her ability to entrance him with her poise and self-worth. If you're in the mood to feel a little joy and innocence, give this tune a listen.
"Run the World!!!" by Dayglow
Simply, this song makes me feel like I can run the world. Although Dayglow is considered a band, "Dayglow" is the stage name of Sloan Struble, a college student at the University of Texas. Their music definitely falls into the Indie pop category, and they have songs to cater to your every mood, even with only one album.  I saw Dayglow with my best friends as the opener to Coin last November, and the three of us immediately fell in love with all of their music — there wasn't a song we didn't like. "Run the World!!!" has always been a favorite of mine with its super upbeat tune and extremely catchy chorus. It's the kind of song to listen to in the middle of summer, windows down, best friends by your side, without a care in the world.
"People Need A Melody" by The Head and the Heart
The first time I heard this song, I cried. I was listening to my Discover Weekly playlist on Spotify, and it was on in the background. I wasn't paying much attention to it, but then I noticed that there were tears in my eyes — I had been subtly overwhelmed by the purity of the song. It's not that the song is super sad, it's actually rather uplifting and hopeful. This is one of the most beautiful songs I've ever heard, which isn't unusual for this Indie folk band; they sing "Rivers and Roads," your classic parting ways song. If you're looking to further your appreciation for music and its way of connecting with people, PLEASE listen to this song and The Head and the Heart.
"Run" by COIN
I have a lot of favorite musicians and bands, but COIN is my absolute favorite and has been for most of high school. Simple as that. COIN is another Indie pop band out of Nashville, Tennessee with three current members. In many of their songs, it's hard to determine exactly what they're about. But that doesn't matter — COIN has a way of making their music an emotional, eye-opening, personal experience, no matter the mood of the song. In January, they released their latest album, "Dreamland," and their music just keeps getting better. I had so many COIN songs that I wanted to include, but this one will forever be my number one favorite. It's been with me since my freshman year, and it'll always hold a special place in my heart. If you're an Indie fan and haven't already, go listen to COIN!
"Young Blood" by Noah Kahan (acoustic version)
I had to put this song last because it means so much to me. One of my best friends, Ella Treinen (OTR's managing editor), showed me this song in either our sophomore or junior year. Immediately, I knew this was a song I'd never be able to get enough of. I listened to all of Noah Kahan's music, and he's become one of my favorite artists. He writes about things that are real. He writes about mental health, self-confidence, loss, home — things that are so personal for everyone. I listen to this song when I need to feel grounded. It helps me with anxiety, helps me find peace, and brings me back to a place of familiarity. If there is any artist or song I hope you listen to after reading about this playlist, it'd have to be this one.
I sincerely hope I've given you some songs and artists to check out. I spent two weeks on this collection, and it's certainly evolved since I first started. Music can be such a personal and emotional experience, so I encourage you to find your own sound.
Leave a Comment
On The Record relies completely on sponsorships, advertisements and donations to produce and distribute each issue. Please consider donating to our cause, and helping the student journalists of OTR amplify youth voices for years to come.