Music Monday #12: Payton Carns
Staffer Payton Carns shares a playlist of some of her favorite tunes.
More stories from Payton Carns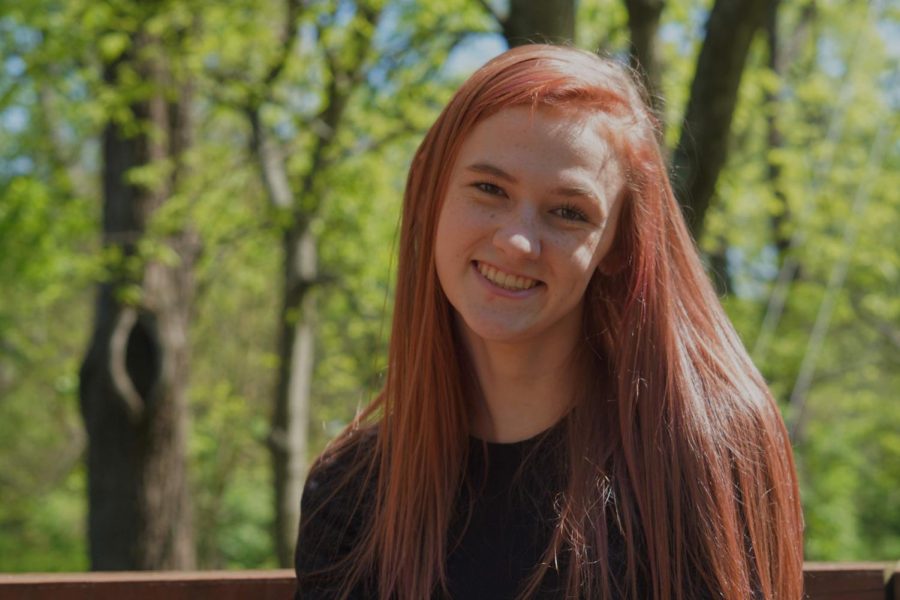 Happy Music Monday! If you asked my friends to describe my music taste, you'd hear one word: boybands. They aren't exactly wrong — I have a tendency to jam to One Direction a little too much or obsess over the new 5 Seconds of Summer Song. However, you can't define my taste to JUST that. From Indie/Alternative sounds all the way to Broadway musicals, I listen to pretty much anything besides rap and country. While I do lean towards Pop music, the songs I listen to really depend on the mood and situation I'm in. There are shower songs and driving songs — which I need to play as loud as possible — but there are also the songs I listen to with my headphones on while I sit in my room and do homework, and those are mostly somber and slow. To give you a better idea, here are seven of my favorite songs at the moment.
"Sunflower, Vol.6" by Harry Styles
This is what I would describe as a "feel-good" song. When I listen to this, it reminds me of summertime and driving with the windows down. I've been listening to Harry Styles since he released his first self-titled album in 2017 after One Direction broke up the year prior, and since then he's been one of my favorite artists. This song is on his second album "Fine Line" which came out in December 2019. I'm a sucker for anything relating to romance, so I love the happy, lovesick sound of "Sunflower." I'd definitely recommend giving this song and the entire album a listen; Styles managed to produce 12 different sounding songs that still tie together and tell a story.
"Not in the Same Way" by 5 Seconds of Summer
This is where my boyband reputation comes into play. I love listening to anything by 5 Seconds of Summer. This song is on their 4th studio album "CALM" which just came out at the end of March. The simplest way I can describe it is that it's a bop; the rhythm of the lyrics and upbeat instrumental makes me want to turn the volume up and scream the lyrics while I dance around my room. I saw 5 Seconds of Summer September 2018 in Nashville, and one of the reasons I would see them again is to hear this song live. Every now and then, I find a song that I can keep on repeat for hours and never get tired of — this is one of them.
"Grow as We Go" by Ben Platt
I first heard of Ben Platt when he was the star in my favorite musical "Dear Evan Hansen." After doing a bit more research, I found out he released his own album, "Sing to Me Instead" which came out 2019, and this was the first song I clicked on. "Grow as We Go" 100% goes on the shortlist of songs I would dance to at my wedding. The song is basically saying that whatever each partner in a relationship is going through, there's no need for them to go through it alone; a relationship is having someone you can share your highs and lows with, so the weight isn't all on your shoulders. The song's beautiful message has stuck with me, and will probably continue to stick with me in my life.
"Call it What You Want" by Taylor Swift
Taylor Swift music has been in my life ever since I listened to "Teardrops On My Guitar" off her self-titled album released in 2006. Swift is known for her heart-wrenching breakup songs, whether they're melancholic and emotional or vengeful and empowering. This song off her 2017 album "Reputation" stuck out to me because it was a love song after years of sad ones. My favorite thing about her songs is how meaningful the lyrics are; she writes all of them herself, so she connects to them in some way. In this song, it's like she finally found someone who truly loves her, which is cool to hear because it's like I grew up with her in a way.
"Heather" by Conan Gray
I first listened to Conan Gray in 2018 when he released the song "Crush Culture" and I've been hooked ever since. It's so amazing watching him grow so big over the years, especially since he just recently released his first album "Kid Krow." His lyrics are beautiful, sad, and relatable all at once — I feel like I'm living in whatever situation he's singing about. "Heather" made me cry the first time I listened because I felt so connected to it. It tells the story of someone desperately in love with someone who's in love with someone else, and no matter how much you want to hate the other person, you can't because you know they make the person you love happy. While I have never felt it to the extent the song says about it, I know what it feels like and I think a lot of people go through that but never talk about it. Gray tells the stories people are too afraid to talk about, which is so helpful and inspiring to people going through things and feeling alone or trapped. I highly recommend giving this song and his entire album a listen.
"Why Not Me" by Forrest and Biskwiq
I discovered this song last year when I heard it in the background of a Youtube video I was watching. After a few weeks of listening my like for it died down, but just recently I added it to my playlist again. Living in the middle of a pandemic can be pretty daunting; it's hard to see the light at the end of the tunnel. "Why Not Me" reminds me of what's to come if we stay safe and do what we're supposed to: a seemingly perfect summer where we can appreciate nature and friendships and laugh away the stress of school and social media. We know not to take these things for granted because we're currently living without them, and it's torture. I try to keep all the songs I listen to right now beneficial to improving me and my state of mind, or else I'll get trapped in the spiral of "what-ifs" in this uncertain time.
"Golden Hour" by Kacey Musgraves
Anyone who knows me knows I'm what you call a "hopeless romantic." I've watched "Call Me By Your Name" and "The Notebook" both about a dozen times and love a good romance novel; the same applies to my music. Getting lost in the fantasy of a good love song (even if they're wildly unrealistic) automatically makes my mood better. "Golden Hour" has such happy vibes because it's comparing a person you love to that sunny glow right before the sunset where everything's a little bit softer and redder; you fall in love with them when the timing is perfect, just like the small window of golden hour. It's a simple and beautiful way to describe love, which is the reason I'm obsessed with this song.
Leave a Comment
On The Record relies completely on sponsorships, advertisements and donations to produce and distribute each issue. Please consider donating to our cause, and helping the student journalists of OTR amplify youth voices for years to come.