You Are Not Alone: Life during Lockdown
One high school senior's experience during the COVID-19 pandemic.
My name is Mia Breitenstein. I'm the Photo Editor for OTR, a senior at duPont Manual High School here in Louisville, and this lockdown has been full of… all the emotions. Initially, I was a little hesitant to write this just because everyone's experiencing the same thing right now, so why bother? But I've noticed I've been watching "quarantine vlogs" on YouTube, just to see what other people are up to and how they're dealing, and to be comforted because everyone's experiencing the same thing. So, realizing I could maybe offer the same solace and relatability to those having a rough time during this lockdown, I got to writing.
Before I get too far in, I want to acknowledge my privilege during this pandemic: my biggest concern isn't not having enough food or a roof over my head and for that, I am so grateful. The toughest thing for me is just staying occupied at home.
I remember the day JCPS announced district-wide school cancellations; I was excited. No school for a month? That meant we could skip most of March, some of April, and get right to the fun part of senior year — prom, our senior trip to Kings Island, the senior picnic, and the thing every student looks forward to: graduation. The thing shown in nearly every single American teen movie. It would finally be my turn to wear the iconic cap and gown.
The first week of lockdown was actually one of the toughest weeks for me (funny, right?). I was bored, I felt unproductive, I realized I couldn't just text my friends to go to the park or get ice cream or pizza. This was my adjustment period. I remember thinking, geez, this is only week one? This is gonna be a loong month.
The following weeks, I started reading more (actual books… crazy) and I started painting! I've been flying through Stephen King books (The Eyes of the Dragon, The Stand, and Misery are some of my favorites so far).
I saw my friend had these paint by number kits and I wanted to try one out. They're like adult coloring books, but with acrylic paints. I got mine from Amazon and they come with a canvas, all the paint colors you need, and several brushes in different sizes. Each paint has a number, which matches numbered sections on the canvas. They're super fun, relaxing, and definitely rewarding! Here's the progression of the ones I've done so far:
I had developed a new daily routine that lasted about the first month, which I think really helped me. My mom made my brother and I get up at 9 every morning, I'd go for a run, make a smoothie, shower, chill for the afternoon (or tune into my government and politics Zoom lecture), read and/or paint, have lunch somewhere in there, (maybe) do some other school work, watch some Netflix or YouTube, dinner, and then go for a walk with my mom (weather permitting). I eventually decided it needed some shuffling around.
Now, nearly two months in, I'll wake up anytime between 10 and 11, have breakfast (brunch?), and get dressed — usually sweats or leggings and a hoodie, or if I wanna feel productive, a real shirt and maybe jeans. I'll hang around outside if the weather's nice and read a little. Late afternoon, I'll drag my brother to a park to get a few miles in and have dinner when we get home. I'll take a shower, do weekly check-ins with my teachers, and then chill for the rest of the night. I'm usually asleep by 1:30 or 2 a.m.
In early April, when JCPS announced schools would be closed through the end of the year, my heart sunk. I think I knew we weren't going to return to school this year, but to have it confirmed, to know that my fellow seniors and I weren't going to experience the things I know we've all been looking forward to since at least freshman year, it stung. The beautiful prom dress I was oh so excited to wear, the senior walk on the last day of school and all the tears that accompany that, and of course, the much-anticipated graduation all turned into things that seemed to have just evaded our grasp.
With all of the disappointment and sadness surrounding the cancellations, high school staff all over the county did something that managed to put smiles on (hopefully) all of the seniors' faces.
Manual's staff had yard signs not only printed, but delivered to every single duPont Manual class of 2020 graduate's yard. I woke up one morning, saw the sign from my bedroom window, raced down the stairs, yelling for my mom to come look. I was so excited!
That morning, I saw so many of my classmates posting about their sign on Snapchat and Instagram. It was a dose of sunshine that was very much needed, so: thank you so much to all the parents and faculty involved in making it happen. We love and appreciate everything you have done for us.
Another thing I've seen and even personally done to spread a little bit of positivity during these times is little deliveries. I had accidentally made too much edible cookie dough one day and decided to leave a little bit on some of my friends' doorsteps. After receiving my mom's approval to do so, I set out on a mini road trip around Louisville.
That day, I got to see my friends wave from their bedrooms and garages, and that was enough. Just seeing everyone's faces, seeing their smiles, seeing them in person — even if it was over six feet apart — was enough. Obviously I would have absolutely loved to give each and every one of them a giant hug, but safety must (sadly) come first and foremost.
Something I've noticed that really impacts my overall mood for the day is the weather. Grey rainy days make me feel slow and lazy, which is why I try to take full advantage of the beautiful, clear, sunny days we have. I'll sunbathe in my backyard or drive around to find a spot to watch the sunset from. The other day, I watched one of the most beautiful sunsets I've ever seen from Louisville.
That evening, I drove down to the Waterfront Park after dinner to get out of the house and to watch the sunset. I went alone, which is something I never would've done before, but I found to be really quite lovely. Initially I parked in the lot right under the ramp up to the Big Four Bridge, which actually blocked most of my view of the river. I decided to move parking lots, and wow. I had a clear view of the river and bridge with the sun setting right behind it. It was absolutely breathtaking.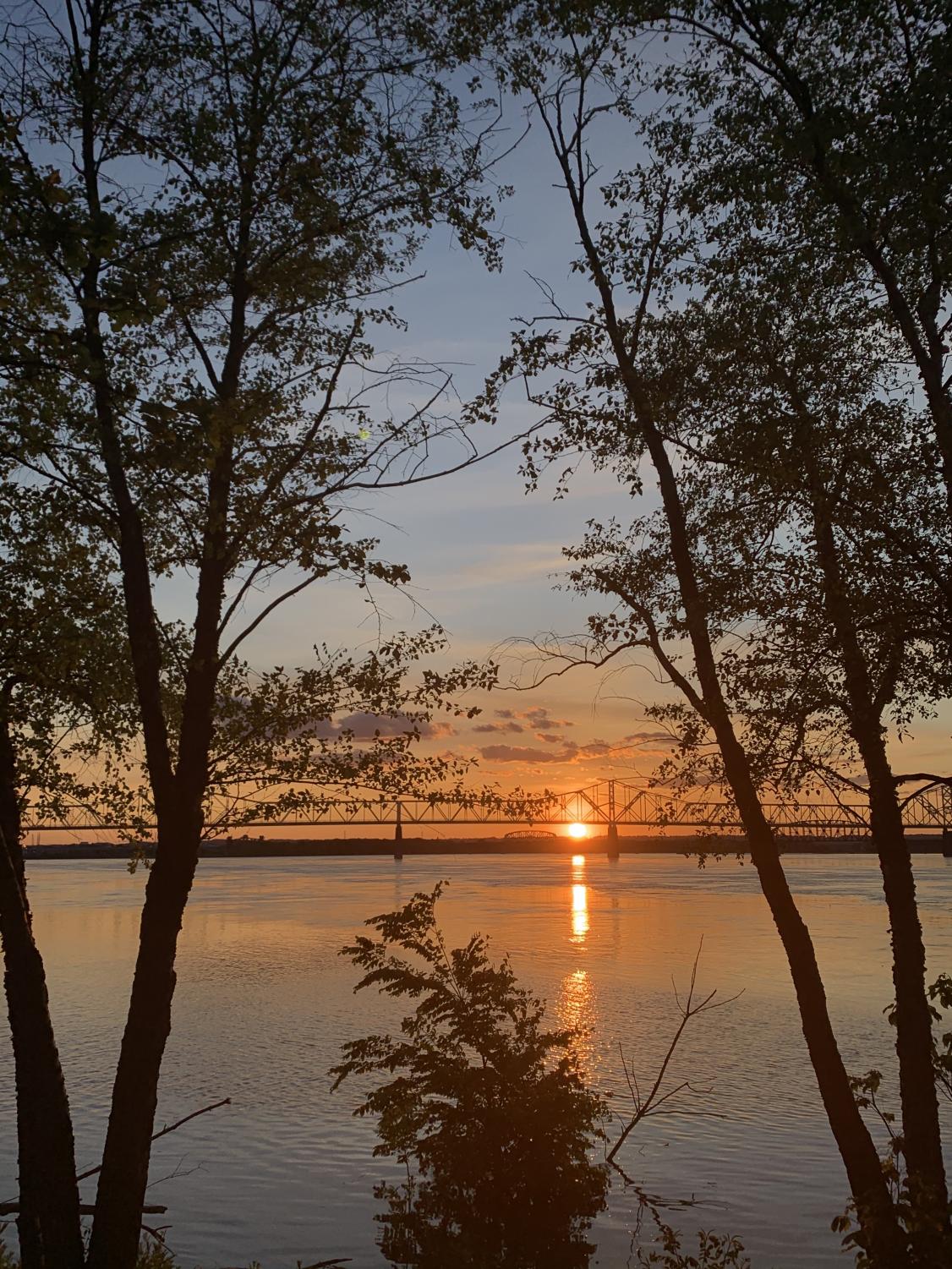 At this point, I'm sure a lot of you have heard about this, but if you haven't, something that's really fun and an excellent way to connect is Netflix Party. It's a Chrome extension that you can download on your computer that allows you and however many friends you'd like to stream a show or movie on Netflix at the same time with a chat box that runs up the side of your screen. I've done this several times and it really is a fantastic way to connect. Note that all members must have access to Netflix in order to join or start a Netflix Party. If you like psychological thrillers, like my friend and I, Snowpiercer, The Platform, and The Killing of a Sacred Deer were all very interesting.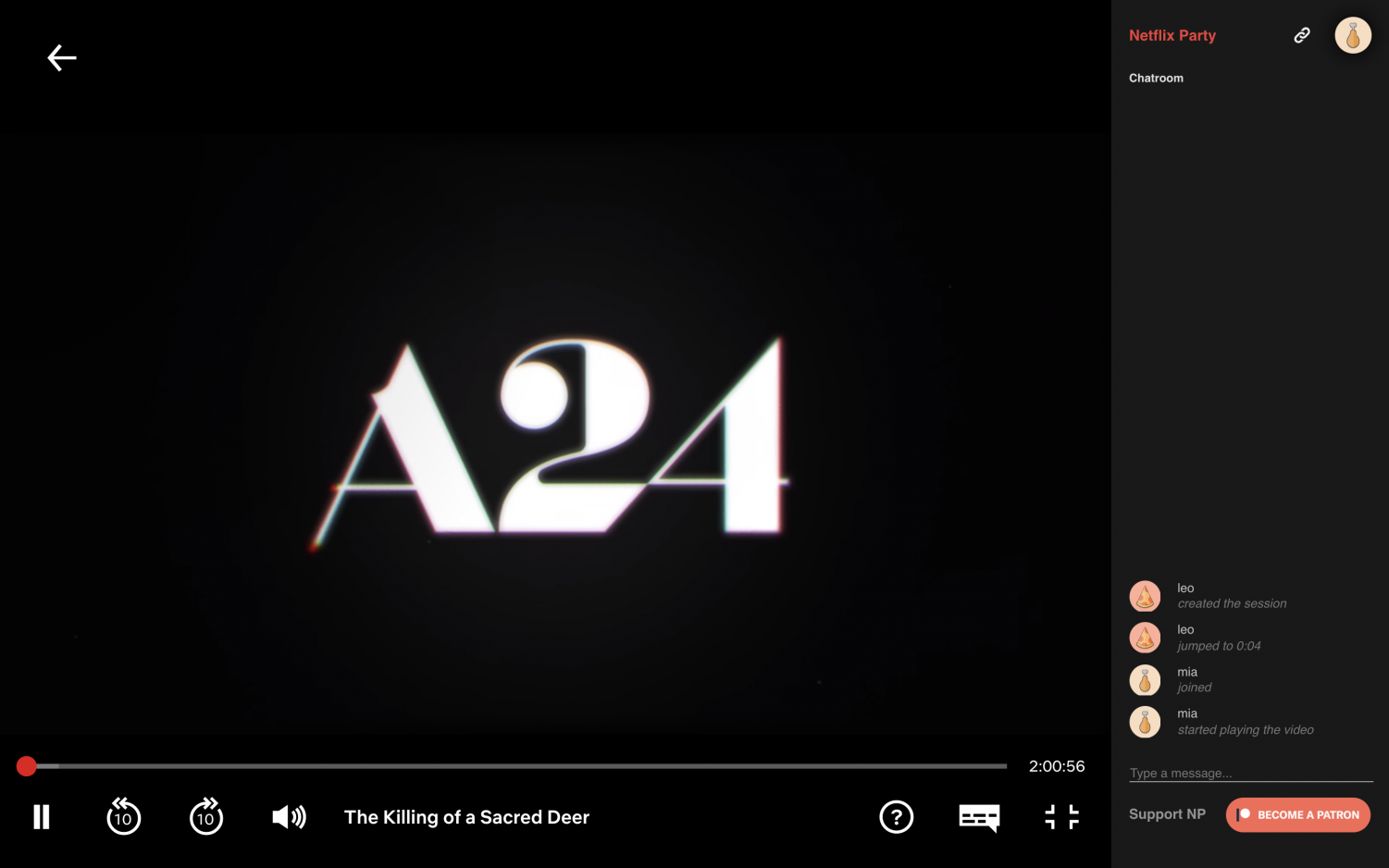 Another small, but really nice and really fun thing I've done is have a photo shoot in my prom dress. I asked one of my friends, in fact, a very talented photographer on staff, Lainey Holland, to meet me at the Waterfront Park and take some photos. We, of course, stayed six feet apart, which was so hard — I wanted nothing more than to give her a hug. Nonetheless, it was so fun to debut my dress and have some photos taken, not to mention we had the perfect evening with clear skies and a beautiful sunset.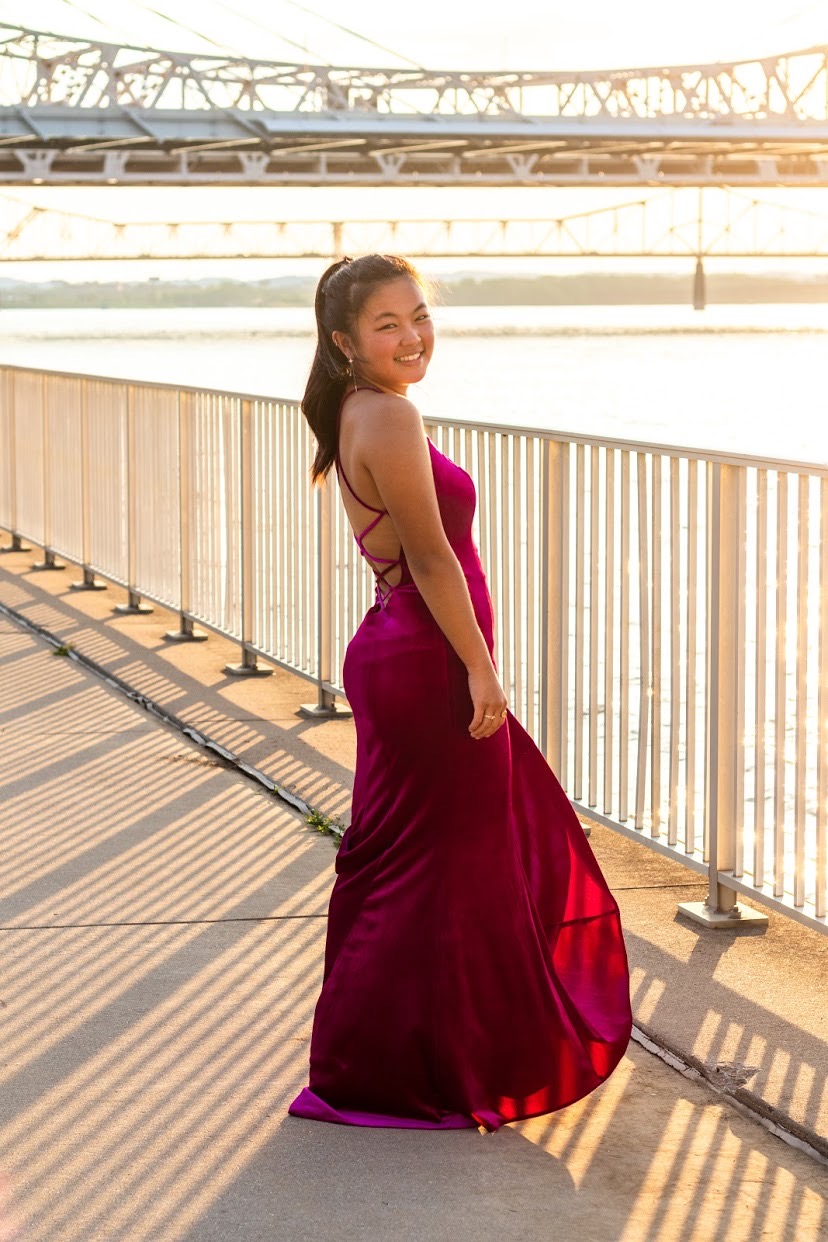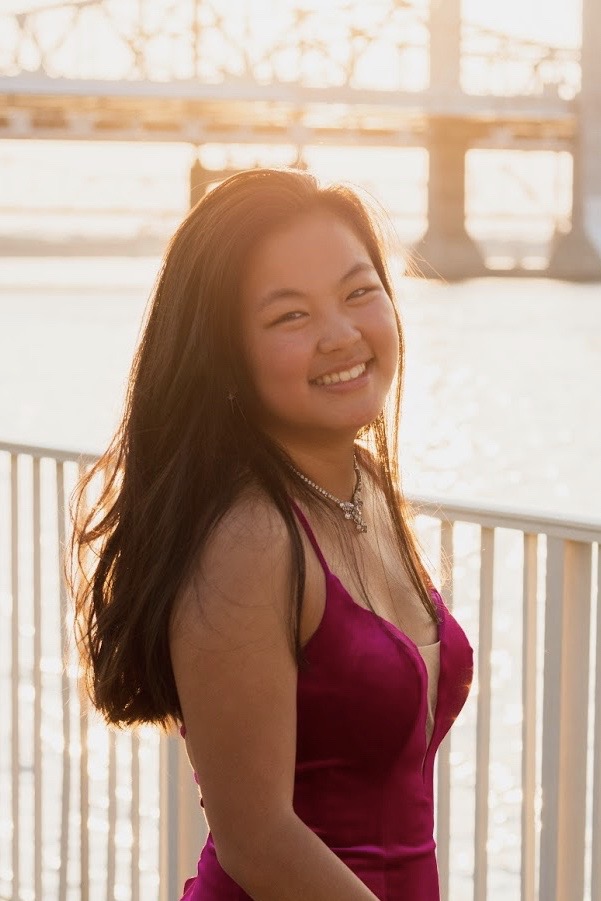 The most recent thing I've picked up is roller blading! I've seen roller skating all over my social media explore pages recently and was so close to buying a pair of skates. I had the website pulled up and they were in my cart when my mom told me she had a pair of roller blades somewhere in the basement. We went down to see if we could find them and sure enough! They fit me perfectly, so I laced them up, put on a helmet, and got to skating — er, blading.
I used my brother at first like a walker\; he'd walk and ahead of me and I'd hold onto his arms. I definitely looked silly, confirmed by seeing a few giggles from people in passing cars, but I was having so much fun. Not to brag, but I only fell twice.
On the particularly tough days I've had, like I'm sure we've all had, I've found solace in listening to music, writing, and reaching out. On the days where I've wanted nothing more than a hug or even just physical company, I'll turn on one of my playlists from last summer (which admittedly results in a kind of funny happy-sad). I'll Facetime someone or watch one of my favorite creators on YouTube: Ashley, better known as Best Dressed. If all else fails, I'll turn to my journal and just do a stream of consciousness-type thing.
As this pandemic continues on, colleges have begun to talk about how they plan to start the next school year in the fall, if online. So far, my school plans to stick to its originally-designated date, but updates are being emailed out as soon as things change. This part for me, the possibility that we not only missed the best parts of our senior year, but may not even get to start college on time, has been the most frustrating thing when I see some of my peers out with their friends. I won't get too much into this, but you can read more here, a wonderful opinion piece written by Lainey Holland.
So I guess once this does all end, because it will eventually, what's the world going to look like? What are social gatherings going to look like? How long will masks stay around? How has this pandemic shaped the world in the long-run? How has it shaped our generation? How will we use this globally-shared experience to shape our future world? There are so many questions we must ask ourselves as this crisis ultimately comes to an end, but I have faith that there's never been a more resilient, proactive, creative, and capable generation than ours to answer these scary questions.
All this being said, here are a few suggestions and reminders I want to offer:
You do not need to be "productive" every single day.
You do not need to be doing something at all times. Before this lockdown, I was running to the gym after school just to go back to school to pick up my brother from track, and then home to do homework or, earlier this year, college apps. So many college apps. Life was so fast-paced, I felt like I couldn't stop to catch a breath at times. I just want to tell you that it is perfectly okay to take some days to lay around in your pajamas all day, be a lump, watch Netflix, sleep, or just…be.
Balance.
On that note, I want to emphasize balance. It's important to take some days for yourself to catch up or start a new show on Netflix, but it's also important to think about your health — mental and physical. Do something that actively engages you and that you enjoy: take your dog for a walk, read a new book, have a photoshoot with yourself, write a song, bake, garden, discover new music, call your friends, get into crafting, clean out your closet, go for a bike ride, the options are truly endless. Just make sure it's something you actually enjoy.
Write.
Write a song, a poem, a short story, a play, write about your day. While this can be an amazing outlet during these times, I want to recommend that you also write about and record the good days, the moments of sunshine, the little things that make you smile. During such uncertain and unprecedented times, I can't emphasize how important it is to remember and acknowledge and let yourself have these precious moments of joy.
You are not alone.
When you're having a tough day, when you're feeling alone, when you're curled up in bed, when you feel like cabin fever can't get any worse, I want you to know that you're not alone. I want you to know that you're saving so many lives by staying inside. I want you to know that you're being so incredibly strong for so many people. I want you to know that this will eventually pass. I also want to thank you, so thank you for your selflessness and thank you for staying home.
A message for essential workers and healthcare professionals
I want to extend this thank you to you. Thank you for risking your lives every single day. Thank you for your strength and bravery. You all have not gone unseen during these times of uncertainty. Thank you for being real-life superheroes and lifesavers.
There is still good, there is still sunshine.
I would also like to offer some positivity, some reminders of the good. On a global scale, mother nature is healing during this time of global stagnation. NASA has been monitoring the environment from space and have noticed a significant drop in nitrogen dioxide levels, which result from burning fossil fuels. On a national scale, Kroger has bought and redirected dairy farmers' excess milk to food banks across the midwest and south. On a local scale, the New Zion Baptist Church here in Louisville has distributed over 150 meals to people in their community. For more good news, you can visit goodnewsnetwork.org.
As cheesy as it sounds, now more than ever, it truly is about the little things. Whether that be a new yard sign, leaving notes or cookie dough on your friends' doorsteps, or watching a beautiful sunset, it's these moments that are going to remind us that we will get through this together.