Music Monday #24: Emma "EP" Presnell
Hear from new OTR staffer, EP, as she shares her current favorite songs.
Hi everyone! My name is Emma "EP" Presnell, and I'm joining the On the Record Staff as the 2020-21 Social Media Director! I'm excited to bring you my Music Monday, which is a collection of headbanging heartbreakers, upbeat bops, personal ballads and every other collection of words that screams "you'll love the sound, but cry at the lyrics." My music taste is all over the place, from rock and metal, to pop and alternative, to the very rare bit of country that sneaks in, and I love how crazy it is. I hope you learn a little about me through this collection of songs and/or discover something new.
"Easy" by Troye Sivan
When this song came out just a few short weeks ago, I volunteered to write a Music Monday immediately because I love this song so much and needed to share it with people. I've been hardcore relating to Troye Sivan for about five years now and "Easy" is no exception. It's about him cheating (which I can't relate to) but the desperation of the lyrics, begging this person to stay because he craves that stability and normalcy is absolutely something I can relate to. I love the sound of this song and can't wait for his EP "In A Dream" to come out. 
"august" by Taylor Swift
So not only did Troye hit me with new music, Taylor Swift also wrote an entire album to destroy my heart. Although the entire album is worth a listen, "august" really hit me. If I'm correct, "august" is one of the perspectives of the love triangle that is featured in the album and it's written through the perspective of the girl the guy cheats with. Again, not something I can relate to personally, but there's this part and the lyrics are "Cancel plans just in case you'd call" and then later, "So much for summer lover, and saying 'Us' 'Cause you weren't mine to lose" and wow. Feeling like you have somebody as your own and loved but they never were yours in reality hits on a different level. It reminds me so much of "All Too Well" so get ready for a laid back song until it turns on you and makes you scream-cry the lyrics in your car. 
"Here You Come Again" by Dolly Parton
Let's take a little break from the heartbreak and jump into a fun song that reminds me of my favorite book of all time, "Red, White & Royal Blue," which I actually loved so much that my friend and I wrote an editorial about books like it. There's a certain scene where the main character Alex, his sister and their friend pull up to meet Henry, Alex's love interest and the other main character of the book, in a jeep in Texas and this is the song that is playing. It fits so well, those boys absolutely love each other and this song, about falling head over heels, unable to do anything else is so great. Dolly Parton is a national treasure and this is one of the few country artists I like so it's a great fit for my list. 
"I Wanna Get Better" by The Bleachers
This fits along the theme of book songs but is also a chaotic sounding song I can relate to. Right off the bat this song reminds me a lot of my friend Claire because she introduced me to  The Bleachers and the book the song reminds me of, "The Gentleman's Guide to Vice and Virtue." The song itself is about recognizing your problems and how some people have the urge to just ignore them and push them so deep down until you're finally forced to recognize the problems and face them. This is how I normally deal with issues and I've reached a point in my life where I feel I'm something worth fighting for and believing in, and I want to be a better person. The chaotic sound and the realistic lyrics fit perfectly together and makes the song all the more relatable. 
"Give Me A Sign" by Breaking Benjamin
I know what you're thinking, this was a total 180 and who are these guys, but allow me to open up a part of my childhood and one of my favorite bands of all time, Breaking Benjamin. They're a rock band who I've been listening to practically since birth and this song is in my top 10 of all time. This album, titled "Dear Agony" is a very deep and emotional album that deals with depression, death and battling with yourself. I grew up in complete awe of this song and I've turned to it when I needed it the most. Along with the theme of desperation and looking for guidance, this fits well on this list.
"Fade In/Fade Out" by Nothing More
Nothing More has gained a lot of popularity in the past 10 years in the rock world and I absolutely love their music and messages they portray. There are songs that talk about society, the media and the category this song falls under: family. "Fade In/Fade Out" tells the story of generations of a family how as one comes in, like a grandson, a generation moves out, like a grandfather and they move in and out of people's lives and the world. It reminds me a lot of my own grandparents since I lost the majority of them when I was younger. This is a wonderful song that showcases Johnny's softer vocals and the range the band has. 
"Truce" by Twenty One Pilots
I love albums and lists that have a clear finishing song, and this is the ultimate "ending" song in my opinion. Twenty One Pilots lays out their albums so well and this final, melancholy yet relaxing song hits me deeply. Messages of "stay alive" and "take pride" got me through some of the roughest times of my life and I remember seeing them live last summer and absolutely sobbing to this song because I made it through the lowest low I'd ever been in. This band means the world to me and my family so it's only right they close out my Music Monday.
About the Writer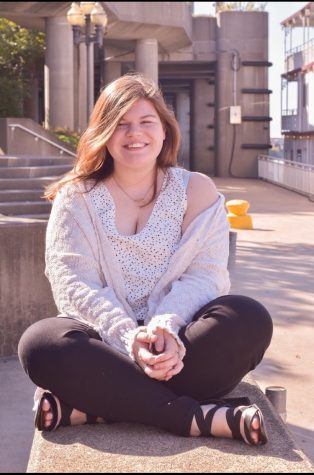 EP Presnell, Social Media Director
EP Presnell is a senior on On the Record and the social media director. She loves talking about her favorite books (let's be honest, only "Red, White...