REVIEW: Restaurants During the 'Rona
Two OTR staffers review Louisville restaurants that opened during the pandemic.
Today we ate a three-course meal from three different Louisville restaurants – all of which opened during the COVID-19 pandemic.
For our appetizer, we went to Cultured Cheese Shop, located in Louisville's East Market District, which opened in summer 2020. It's a quaint storefront on the corner of East Main and North Wenzel Street. We walked into an empty store, greeted by a neon yellow sign that read "Say Cheese," and just one employee behind the counter. Charcuterie boards (platters of meats, cheese, and other 'snacky' items) on the menu ranged from $8–$65. We ordered the $15 "Get Your Own" which comes with your choice of three cheeses, one charcuterie, and various accompaniments. We chose swi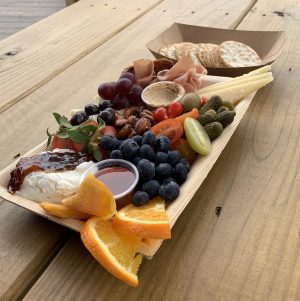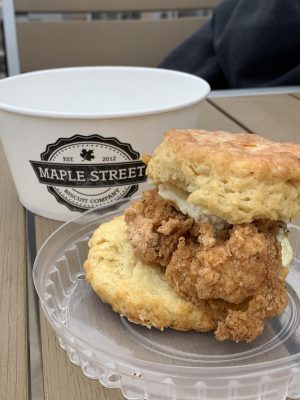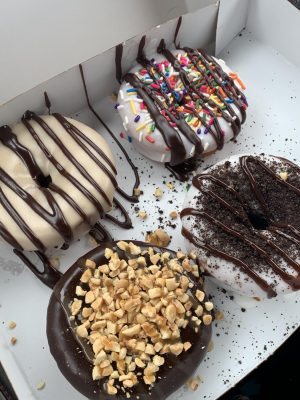 ss, kentucky rose, fromage blanc, and prosciutto. It took about ten minutes for our decadent board to arrive at our table on the patio. All three cheeses were enjoyable and we would order them again. Our favorite accompaniments were the rosemary salted almonds and the chocolate covered blueberries. If you aren't familiar with charcuterie boards, this is a great place to try them out; the board was the perfect size for our appetizer, as we had many more eats to come!
Next, we drove to the heart of the Highlands, and picked up our carry-out from Maple Street Biscuit Company, which opened in Jan. 2021. This bustling cafe on Bardstown Road was casual, affordable, and had friendly staff. We ordered the Squawking Goat: a flaky biscuit sandwich with fried chicken, a fried goat cheese medallion, and pepper jelly (featured on the Food Network), with a hash brown cake on the side. As we pulled our food out of the bag, we realized that the presentation likely would've been much more appealing served for dine-in. Nonetheless, we were satisfied with the sandwich we received. Although we called in our order 45 minutes prior to picking it up, the biscuit sandwich and hash browns were both warm. We enjoyed the texture and flavor of the biscuit sandwich, and agreed that the hashbrowns would have benefitted from a slightly crispier texture. 
Time for dessert! This new addition to Shelbyville Road Plaza has been busy since their opening day in Feb. 2021. All donuts are made-to-order, whether you choose to build your own, or try one of their featured combinations. All of the donuts we ordered were from the featured menu: chocolate caramel crunch, cookies and cream, peanut butter icing with chocolate drizzle, and "beach ball" (vanilla icing, chocolate drizzle, rainbow sprinkles). The staff seemed somewhat overwhelmed with the large crowd, but our order was ready in about five minutes. All of the vanilla cake donuts had a crispy outside and a fluffy, warm inside. Marjorie's favorite was "beach ball" and Amelia's was the chocolate caramel crunch (tasted like Snickers). The store had very limited dine-in options and no outdoor seating, so we enjoyed our donuts in the car. 
By the end of our excursion, we were both stuffed. Despite opening during a pandemic, two out of the three of these restaurants –– Maple Street Biscuit Company and Duck Donut –– seemed to be thriving. Cultured Cheese Shop seemed a little slow, as we were the only customers (although we did arrive promptly at opening time). If you haven't already, make sure to check out these new eateries, and many others that have opened in Louisville during the COVID-19 pandemic.