The HeART of Louisville
Young artists navigate Louisville's creative world while exploring their own craft.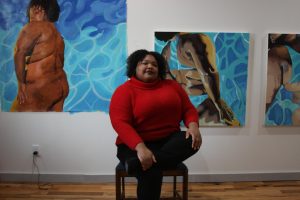 LaNia Roberts
LaNia Roberts (she/her) is a Louisville-based painter whose work is centered around her personal experiences and the people in her life. Roberts takes inspiration from her subjects, focusing particularly on shared personhood. 
"I feel like people who I see versions of myself inspire me the most in terms of who I want to spend 40 hours looking at and painting and really putting in time for," she said. 
Roberts highlighted it was through painting that she developed self discovery; art intertwined with the idea of self importance has been and is still at the core of why she loves being an artist. 
Self portraits are an important part of her body of work. Roberts makes use of this style to add representation that is often lacking in local art. 
"No one understood or comprehended the experience of going into a museum and never seeing anyone that looked like me and if I saw someone that looked like me, it was a skinny Black woman, you know?" 
Roberts is adamant about keeping her focus on empowerment. She wants others to be proud of themselves no matter who they are or what they look like and she wants them to do it without needing approval from anyone else. 
"Never stop believing in yourself. Please make the effort in your lifetime to become your number one fan because you deserve it."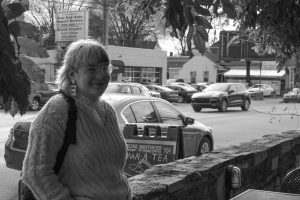 Bunny Morris
Bunny Morris (they/him) is a Louisville writer who primarily focuses on poetry, using their art as an outlet for personal expression. 
"It offers a means of piecing together your own thoughts, feelings, memories, and experiences … especially if you're a marginalized person, or somebody who deals with mental illness or PTSD," they said. 
Morris has a range of muses, taking inspiration from sources like community, art, and experimental video games. One significant influence found in their work is that of autotheory, a concept they describe as a feminist process of art making. 
"You're making feminist autobiographical art and sort of placing yourself into a broader scope of feminism by just speaking to your thoughts, feelings, and stories," they said. 
Classically trained in writing and composition, they still follow many of the things learned from college. Often, this formal training inspires them to push their own creative bounds. 
"I try to do this thing called ten by tens. Ten lines and ten syllables in each line. It's really fun to do because you are so limited that you have to think outside of the box and try to force yourself to work inside those limitations and it makes it really interesting. I think understanding form is integral to breaking form." 
Morris also holds a strong belief in community — collaboration being a driving force in their writing. Rather than being the "writer who is sitting alone at their desks at midnight spending hours and hours and hours writing," Bunny believes that workshopping is an important step on the way to community action. 
"It's impossible to create art that is important and impactful to broader communities unless you are actually doing actions outside of just pen and paper."
Bunny currently has a book called "Performance of My Ecstasy" along with many published pieces of poetry.
Doug Campbell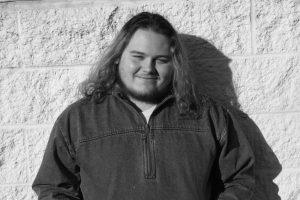 Doug Campbell (he/him) is a local musician who performs under the name, The Sleeping Bag. He primarily works in noise music and performance. 
Self-taught on many different instruments, Campbell began enjoying music at a young age. His dad was instrumental in expanding his repertoire by sharing his musical tastes from the 80's and 90's. During his teenage years, he continued to develop his musical palette by listening to other genres and attending punk rock shows. This diverse musical background has shaped his creative process.
"It's kind of like a collage… there's a couple of my favorite artists who do similar things, like a lot of electronic musicians. Squarepusher works like that and my favorite album of all time is Summer Teeth by Wilco and that's how they made that album." 
Being a musician keeps Doug busy, but he's also a college student. He knows that the music industry can be volatile so he's making plenty of backup plans for the future. 
"To do it as a career is almost never an option. But I'm trying to do that. And the advice I would give is to go to college," Campbell said. 
In addition to an album release out now, Campbell is continuing to develop new music and composition for the coming year. His next plans are to experiment with a unique style that he has yet to use. 
"Making music through programming — typing codes — is something that I really want to explore within the next two years, besides putting out a new album that is coming out next year called Until They Shut Us Down," he said. 
Campbell's newest album release is called "Can't Wait To Become Frozen."