Behind the Polish
Nail salons are more than just beauty establishments. At First Lady Nails, community is more present than ever. writing by Lily Cashman & Lin Tran | design by Amelia Jones & Lin Tran
The door slammed for the umpteenth time that day — a worker running yet another order to the cars outside. Standing behind the counter, I scanned the workplace. Customers were lined up one after the other, my co-workers were rushing around packing orders, and my manager was yelling at us to pick up the pace. This was what I applied for, right? To be in fast food, front-line, serving customers. But the only thing running through my mind at that moment was, "I want to go back to the nail salon. I need to."
After a few months of working in the fast food industry in an attempt to fit in with what my peers were doing, I realized that I wanted to work for more than just pocket money. Being Vietnamese in a predominantly white area, I wanted an environment with a community that I could call my friends — my family, even. I was provided with that opportunity when my mom told me to work at the nail salon of her friend, Nina Ta. I was wary at first, but right from the start, I felt the strong tug of community.
I used to work in reception, but after I gained experience doing my own nails, I got hired as a nail technician. To be honest, I was scared at first. Yes, I already knew the basics, but I was scared that the other technicians were going to treat me differently. I thought they were going to look down on me because of my lack of experience and age, but I was completely wrong. They took me in as one of their own, always offering help, even when I didn't need it. They were my community, my family. There was absolutely nothing to be afraid of. 
The history of nail salons is deeply rooted in Vietnamese culture, and I got to be a part of it. At the salon, I found my place.  
After the Vietnam War ended in 1975, a plethora of Vietnamese immigrants fled to the United States in search of a new life. Out of them, many Vietnamese women landed at Hope Village, America's first nonmilitary resettlement camp for Vietnamese refugees in California.
 A famous actress, Tippi Hedren, worked at Hope Village, where she helped Vietnamese refugees seek employment. While there, 20 of those Vietnamese women became fascinated by Hedren's elegant nails. Not only were they eye-catching, but refugees found doing them to be a desirable job opportunity and an art that could transcend the language barrier. To get by as nail technicians, they simply needed to learn a few English phrases.
Hedren invited her personal manicurist, Dusty Butera, as well as employees from the local beauty school to Sacramento to teach the 20 women how to do a perfect manicure. Hedren helped these women get licensed at Citrus Heights Beauty School and find employment in nail salons all around Southern California. As those women found jobs, they spread what they had learned to others in their community and passed the tradition down through generations. As a result, Vietnamese women began to take over the nail industry across the country. Now, according to the UCLA Labor Center and the California Healthy Nail Salon Collaborative, more than half of nail salon workers in the United States are Vietnamese.
Nina Ta, a Vietnamese nail salon owner in Louisville, began doing nails at her husband's salon nearly 20 years ago, and instantly fell in love with the job. In March 2018, she decided to expand, opening a salon of her own off of Eastern Parkway. The building, previously an old bank, instantly drew Ta in. Ta named the salon "First Lady Nails," a name she says symbolizes the strength and unity of Vietnamese women.
"Whenever I hear it, I think of feminism and how women dominate this industry," Ta said. 
The women that work at the salon have a strong bond.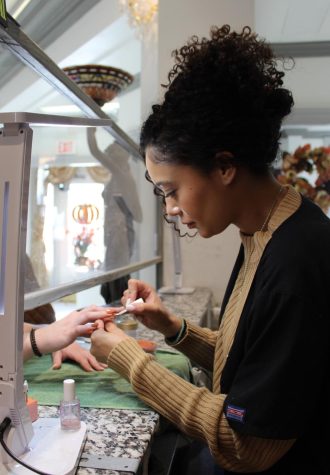 "Everyone is like a small family because we spend 10 hours each day together," Ta said. "The environment is so close-knit."
To us, working at the salon is more than just a job. This is a place where we all feel respected. There are no judgments surrounding race or gender — we are equal when we are here. Even Ta believes she is not above any of her workers.
"Even if I am the owner, I still view them on the same level as me," Ta said. 
The community within the salon extends beyond the front door of First Lady Nails.
"I guarantee you I know at least one person in every single salon here in Louisville. I have a lot of friends in the industry," Ta said.
Vietnamese-owned nail salons thrive not only in Louisville, but nationwide, as many employees are drawn in by the thread of community running through each salon. Nail technicians share a talent and passion for their work that radiates through the salon. As a technician myself, I can confidently say that we truly do love the work we are doing.  
Destini Rucker, a nail technician at First Lady Nails, enjoys bringing positivity to everyone she gets to work with. She never knows what her clients have been dealing with, so she is glad to bring a smile to their face. Rucker recalls doing one little girl's nails in particular. The girl was quiet when she initially walked into the salon alongside her aunt. Rucker worked mostly in silence as she gave the young girl a set of designed nails.
"When I finished, it was the first time I saw her smile. She was so happy," Rucker said.
The girl's aunt later told Rucker that her niece's father had died a few days prior. Rucker will always hold onto memories of clients like this one. Knowing that she is making a difference is what makes her job worth it, she explained.
"People that work here, like Destini, tell their friends and refer them here because they enjoy the place," Ta said.
That speaks to the culture she has built in the salon. It is one of love, and there is a push from all of us workers alike to succeed. This is the beauty of nail salons that go unnoticed to clients: the unconditional, true joy of knowing that you are accepted in your workplace.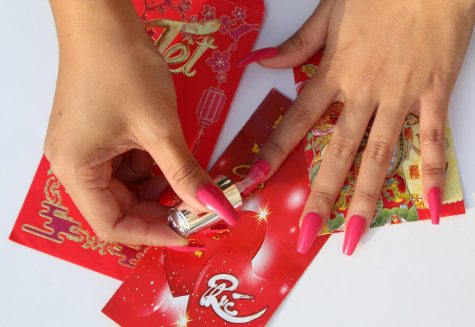 Tippi Hedren helped build the community that I am able to experience today and because of this, I am incredibly grateful. So many opportunities for Vietnamese people have opened up due to nail salons. Whether or not someone is a Vietnamese immigrant just coming over to America, or a Vietnamese-American resident looking for a new job, they can look to the salon to be a safe space.