Food Review: For Goodness Crepes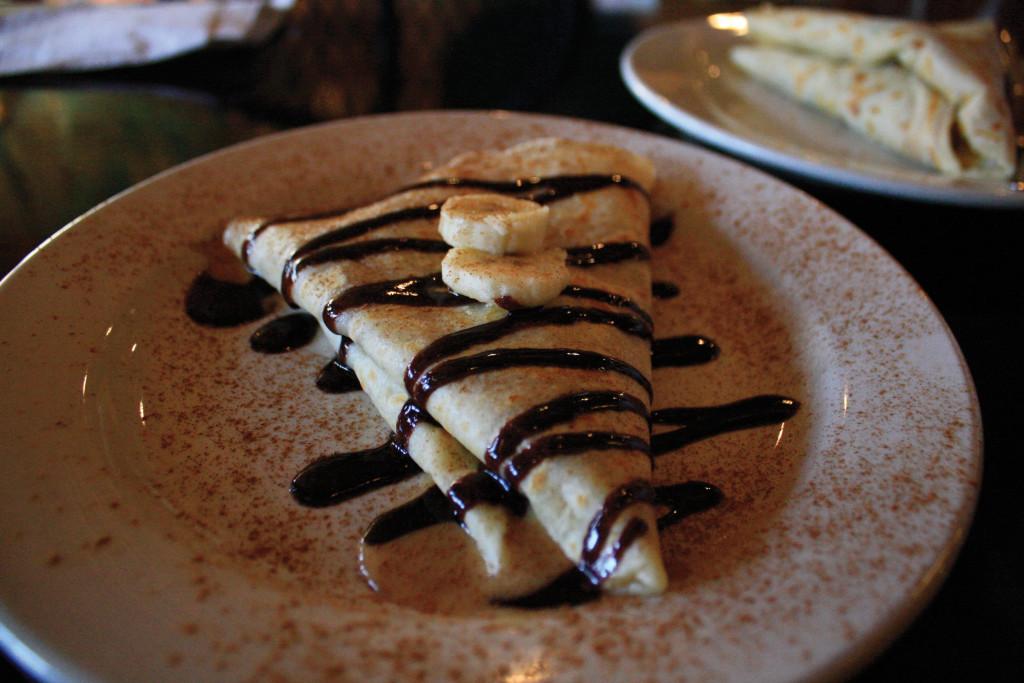 Words by Emily Cieminski
November 18, 2015
The smell of warm bread and sweet treats floats out the door of For Goodness Crepes on Baxter Avenue. While the restaurant is tucked into a row of other local businesses, it still manages to stand out.
A simple chalkboard with crepe puns scrawled on it sits outside on the sidewalk next to a few scattered outdoor dining sets. The trees that border the road and sidewalk are covered in green and blue streamers.
Walking inside gives way to more prolific decor. The walls are dressed like a Pinterest board, full of lovingly crafted DIYs and kitschy decor. The booths, chairs, and tables all boast unique patterns and are placed in random configurations. The restaurant is the perfect blend of the eclectic charm and cheerful atmosphere for which Louisville is known.
The store is owned and operated by Carrie Ramsey and Abby Peak who were inspired to create their business after visiting another crepe eatery on a girls' trip to Cincinnati.
The current menu features breakfast, lunch, and dessert crepes. Each specification has over 10 different concoctions to choose from. Breakfast crepes can range from spicy to fruity. The Southwest breakfast crepe, for instance, is packed with zippy jalapenos, red peppers, eggs, and tomatoes for a spicier start to the day. Meanwhile, the lunch menu provides several savory selections. The meal crepes are much thicker, filled with sauces and hearty meats. Finally, and arguably the best, are the dessert crepes. Most are filled with sweet sauces of peanut butter, cream cheese, or chocolate. My favorite is Elvis with a Kick. It is stuffed full of sweet peanut sauce and fresh bananas. If the preselected fixings are undesirable, customers are welcome to create their own opus. All the crepes fall under $10 and are perfect to eat alone or share. My recommendation would be to eat your own lunch or breakfast crepe and then share a dessert treat with a partner.
The restaurant is a flexible space that can be transformed to fit customers' needs. For Goodness Crepes can be a great place to study, a quick stop for a snack, or a cozy cranny to relax in. From the welcoming atmosphere to the mellow rock playing through the speakers, it is the perfect location. It is a step above the regular coffee shop because employees are invested in making their customers' experience the best.
If a quick bite is what you desire, the crepes come out quickly; however, there are only three crepe making machines, so you may have to be patient if there are large crowds. Usually the crepes come out steaming on a plate, but they can be packed in a to go box or scarfed down quickly. If a longer stay is what you desire, Peak and Ramsey invite customers to sit down and stay for a while. Besides if you stay a little longer, you would be able to eat another crepe or two.
Words By: Emily Cieminski 
Hours: 8 a.m. – 9 p.m., closed on Mondays.
Address: 619 Baxter Ave, Louisville, KY 40204
Phone Number: 502.690.7441
Website: www.facebook.com/For-Goodness-Crepes-724769590944997