Food Review: Check's Cafe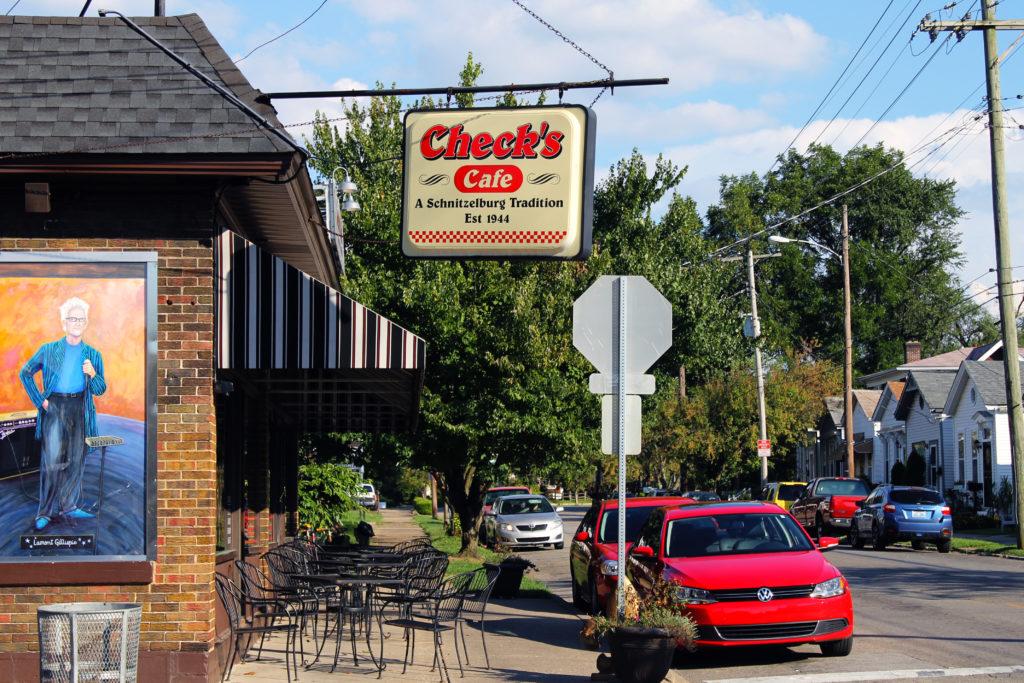 Words by Cameron Daniel
October 26, 2016
Surrounded by a quaint residential area and across the street from the duPont Manual High School football stadium, Check's Cafe is the definition of a neighborhood diner. The front patio has a welcoming family-diner feel, with a large checkered awning and multiple tables set up along the sidewalk. A large, old-school style sign reading "A Schnitzelburg Tradition"  juts out from the building, hinting at the diner's German roots. As I walked up to Check's Cafe, I noticed that the space looked small and humble on the outside. This led me to assume that the interior would also be underwhelming, but I soon found that I was wrong to judge this book by its cover.
Inside I discovered a relaxed community that teemed with the warm nostalgia of a family restaurant. The space was far from small, but the humble feel I got from the outside transitioned inside as well. When I walked in, a server greeted me with the words, "If you're happy it's all good!" I smiled and sat, taking a moment to glance around the space.
The wooden walls are covered in photos of sports players, musicians, and other Louisville legends. These pictures, combined with the checkered decor, gives the space a cool 1940s vibe. Despite the small exterior, there are plenty of seating options, with two large rooms for indoor seating as well as outdoor seating on the patios, which is great if you're looking for a place to hang out on a nice day.
The menu is quite typical of a diner scene, with the classic chicken fingers, cheeseburgers, and french fries. However, there are a few standout items for which Check's is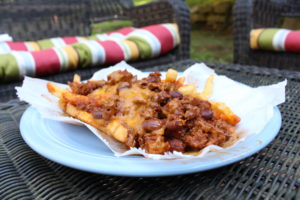 renowned. The restaurant is best known for its meaty chili, whether it's  served on a plate of spaghetti ($4.50), a hot dog ($6.95), or a bed of French fries ($6.95).
After going over the menu, I ordered at the bar and a server brought out each of my items before ten minutes had passed. The portions were much larger than I had expected. My server placed a towering portion of chili cheese fries in front of me, which I immediately knew I wouldn't be able to finish. The fries were so filling that they could be considered a meal.
I admit that I was expecting flimsy, McDonald's-esque French fries, but the fries in this dish were hand-cut and fresh, with a satisfying crunch on the outside. The chili was salty and hearty, and the whole meal was covered in cheddar cheese (which was my favorite part). I decided to pair the meal with sweet tea to balance out the saltiness, which was a perfect counterpart. But, if you're not a fan of extremely sugary sweet tea like me, you might want to skip on this one; personally, I'm always up for more sweetness.
My father ordered a cheeseburger ($4.95) dressed with lettuce, tomato, and American cheese, which I tried. It's likely that the burger was frozen previously: it wasn't incredibly juicy or tender. On the other hand,the lettuce and tomato were crispy and fresh, which I appreciated. Priced just under five dollars, it was well worth the cash.
If you want more of the traditional Germantown grub, Check's Cafe has plenty to offer. The Braunschweiger sandwich ($3.50) and the Bratwurst ($3.75) have been on the menu for years. If you want to be true to Schnitzelburg or are feeling a little adventurous, these are two items I recommend.
This restaurant is perfect for teens on a budget who want a place to stop for a quick bite. Because of the relatively low prices and relaxed atmosphere, this restaurant is a great place to stop before a Friday night game or just to hang out. On Saturdays, the diner is open until 1 a.m., so it's a great midnight snack dive for those late-night cravings.