Food Review: Butchertown Pizza Hall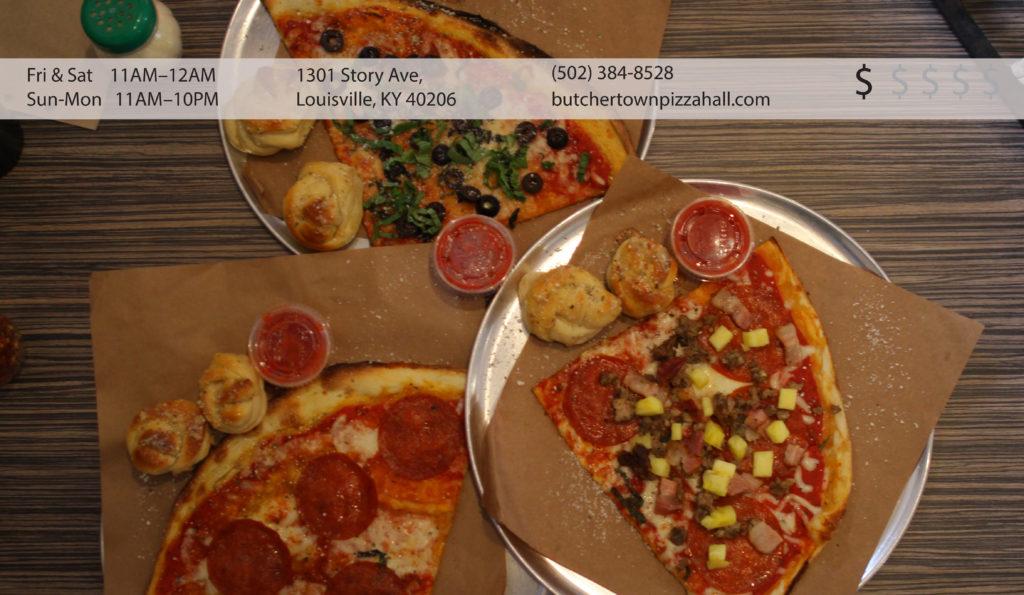 Words by Cora Kirby
June 11, 2018
Walking up to Butchertown Pizza Hall at 3 p.m. on a Wednesday afternoon, I had high expectations. Butchertown Pizza has a reputation for being a laid-back hangout with reasonably-priced and delicious food. I couldn't wait not only to dive into some fresh, hot pizza, but also to have a fun time with friends.
I opened the door and instantly smelled the scent of freshly-baked pizzas. My eyes were drawn to the various arcade games that lined the game room. The game room at Butchertown Pizza Hall is part of what gives the venue its unique, playful atmosphere that people of all ages come to enjoy.
We were one of only two tables of customers dining in on that afternoon. The room was full of available seating and lots of space for the busier hours of the day. The server behind the counter directed us to the menus and told us to order at the counter whenever we were ready. As a group of three, we were a little unsure of whether or not we should all order individual pizzas or one big pizza to share. We decided to each get the lunch combo deal which included one slice of pizza, two garlic knots, and a fountain drink. This was by far the best deal on the menu at only $6.99.
The background music was not too loud, allowing easy conversation while we waited for our food. Fewer than five minutes after we ordered, the server brought us our trays. When I ordered, I was concerned that my one slice wouldn't be enough. But to my delight, a single slice was equal to a quarter of a regular, shareable pizza.The garlic knots sitting beside my pizza were no joke either.
I couldn't wait to dig into my personal "build your own" spin on a meat-lover's pizza with sausage, bacon, and pineapple.
The pizza was steaming hot and made exactly to fit my order. I felt my stomach growl from just looking at my platter. I couldn't wait to take my first bite. I picked up my slice of pizza covered in all of my favorite ingredients. The chef was not shy at all with the toppings – almost too much for the crust underneath – as meats and pineapple spilled onto my plate (but I didn't mind).
The combination of the buttery garlic knots and the fresh pizza was just what I needed. All of my expectations were definitely met — even exceeded.
Butchertown Pizza Hall is a great option if you are looking to grab a quick, cheap bite with
some friends.