Despite teacher protests, Kentucky House Bill 525 advances through committee
Despite a statewide teacher sickout, HB 525 is moving on to be heard in the House of Representatives.
FRANKFORT — After hundreds of teachers across Kentucky called in sick in protest, Kentucky House Bill 525 passed through committee with an 11-5 vote Thursday afternoon. KY120 United, the teacher advocacy group that had organized the action, called on teachers to return to school on Friday following the vote.
Teachers from across Kentucky participated in a "sickout" in order to protest House Bill 525. Despite their efforts, HB 525 passed in a legislative committee and is moving on for a vote from the Kentucky House of Representatives.
Nema Brewer, the founder of the grassroots organization KY 120 United that supports teachers and state workers in every county, called for the sickout. It caused several school districts to close for the day, including Jefferson County and Fayette County, Kentucky's two largest school districts.
"The importance is that when you show up and you show that you are united, then it's hard to drown out our voices," Brewer said.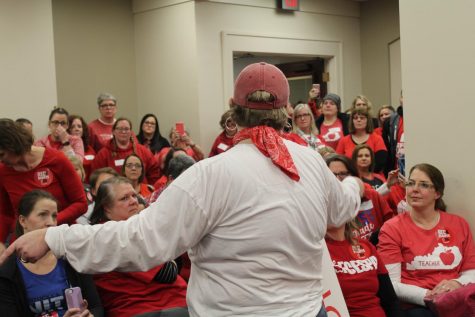 HB 525 seeks to reorganize the Kentucky Teachers' Retirement System (KTRS). KTRS handles Kentucky teachers' pensions, a retirement fund created by setting aside money from paychecks.
It aims to change the total number of board members from 11 to 13. Currently, the Kentucky Education Association (KEA) has seven spots on the board that they nominate. To be nominated, nominees don't have to be members of KEA. A major concern among teachers and representatives is why the legislation will attempt to change a successful board that has worked for 78 years.
"One of the things I'm really concerned about is that I don't see where the system that we have now needs such a drastic overhaul. It seems to be working and it's got a 75 year history of success," Representative Joe Graviss (D-District 56) said.
The bill would also allow other statewide teacher organizations to nominate and elect people to KRTS. Moreover, Governor Matt Bevin is allowed to appoint two people to the board, and this bill would extend that number to three. Some feel that this will give Bevin more power on the board, worrying many because "he's a governor who clearly wants to pass pension reform," Representative Patti Minter (D-District 20) said.
Teachers responded with silent waving hands and thumbs ups of support and agreement when Graviss said, "I have been appointed to boards by governors and I felt a lot of pressure as an appointed board member to basically do what that governor wanted."
When several representatives posed questions asking Upchurch if the bill would indeed give Bevin more power, he responded with "I don't think so."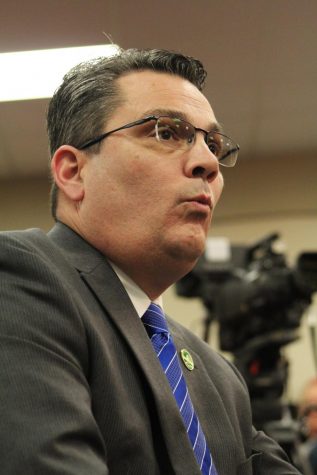 Others are worried that Kentucky be subjected to the same fates as other states dealing with pension issues.
"If you go into what happened in the pension crisis in Rhode Island, everything you see here happened in Rhode Island first. They took over the pension board, they were giving big tax breaks to corporations and rich people and then they say 'Oh we don't have any money for pensions,'" Ivonne Rivera, teacher at Wilder Elementary in Jefferson County, said.
Representatives in favor of HB 525 defended their stance by claiming the bill offers more seats at the table for educators when dealing with pensions.
"What I've heard is that educators want to have more of voice in the process. The intent of this bill is to give them what they've been asking for. A larger voice, more control over their future," said Representative Ken Upchurch (R-District 52), sponsor of the bill.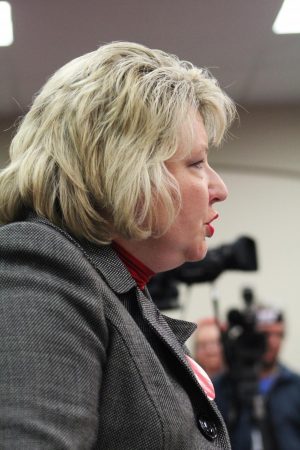 When Upchurch presented the legislation to the committee, he began by apologizing to all the parents and students of Fayette and Jefferson County for the sudden cancellation of classes due to the widespread "sick out." He then continued with his reasoning behind filing the bill, saying that teachers across Kentucky will be more adequately represented if more organizations can elect people to KTRS, rather than just KEA. Representative Jason Nemes (R-District 33) supported the idea of having more teacher organizations be able to elect to KTRS because he felt this would provide wider representation of teachers.
However, Stephanie Winkler, a teacher in Madison County and president of KEA, argued in her testimonythat KEA already represents all teachers throughout Kentucky, and Minter agreed.
Minter explained how although she is a member of KTRS and a university faculty member, she isn't a member of KEA, and yet she feels represented and trustful of the organization.
During the committee, there were two failed motions: one to kill the bill, meaning it would have to be refiled, and one to keep the bill in committee for further discussion. After roughly two hours of discussion and debate and Chairman Jerry Miller hushing the impassioned teachers in the room, HB 525 passed the committee and is moving on for a vote in the House of Representatives. Teachers say they aren't ready to give up.
"They can't drown our voices out here and they cannot stop us from fighting back," Brewer said.