Things To Do on The Avenue (Frankfort Avenue)
The first installment in "It's a Beautiful Day in the Neighborhood", a series focused on places teenagers can go in different neighborhoods around Louisville.
We went to cafes and shops on Frankfort Avenue searching for things for teens!
Where? 2341 Frankfort Ave, Louisville, KY 40206
What is it? A cute, local cafe. Specialties include their caffeinated beverages and their ~famous~ chocolate chip cookie.
Their milk options include: whole, percent, almond, coconut, and soy.
Environment: While very cozy, there is limited seating, so on crowded days it may be difficult to stay a while. It has a very "hipster" feel.
Audience: Anyone! Just make sure to not be too disruptive when people are hard at work.
Price Range: $3-$8 (if looking for just one item)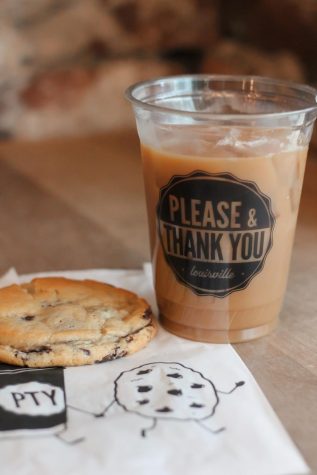 Walking up to the cafe, we noticed hearts drawn on the window, a contrast from the rest of buildings surrounding, and we could tell we were about to enter a cute place. Aside from the charming exterior, the inside is equally picture-worthy. On the right side of there are large chairs that look like what you would see in a hair salon, with mirrors above each chair on the wall of exposed brick; on the other, a counter along the window with stool seating along with more comfortable chairs accompanying it. They really pride themselves on their chocolate chip cookie, outside the cafe there is even a sign that advertises the baked good as "Kentucky's BEST Chocolate Chip Cookie".  After taking a couple of (okay, a lot) pictures of our food, I was dying to bite in. I was not disappointed. The cookie was so soft that it was like I was eating cookie dough that was warmed up, and there was an abundance of chocolate, just right for me. I had the Thai Iced Coffee and I was pleasantly surprised. I'm an iced-coffee gal, no matter the season, so I just ordered the first iced option I came across, and I did not regret it. My friend and photographer, Lainey, got a Mexican Hot Chocolate made with almond milk. She had only positive things to say. Our meals of a cookie and a drink each totaled up to $6.61 and $6.86, and their full menu with prices listed can be found on their website. I knew that I would be back soon enough, even just to grab a cookie.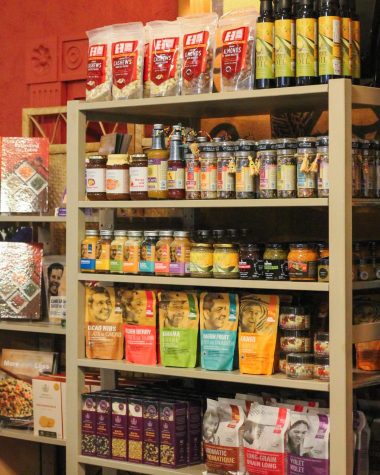 Where? 2722 Frankfort Ave, Louisville, KY 40206
What is it? An 'international fair-trade marketplace' with items from over 45 countries
Environment: It is a relatively quiet place; when we were there (an hour or so before closing), we were the only shoppers, so we tried to not make too much noise.
Audience: This shop has something to match the interests of anyone, of any age, even though you are more likely to find older people shopping there.
As soon as we stepped in to Just Creations, we saw a beautiful array of items made in countries from all around the world. On almost every tag, you can find a story about the creation of the product and the producer, along with the country it is from. Just Creations is a non-profit company and they are 100% fair trade. Fair trade is a sort of arrangement between developing countries and developed countries that allow producers in developing countries to achieve better, more fair trading conditions. I bought two scrunchies that were colorful and clearly well-made. They were only three dollars each, a good price for scrunchies, especially with their popularity nowadays. All products in the store are priced fairly, especially for them all being hand made, and it helps to know the money is going to a good cause. I also purchased a candy bar on impulse, and it was well worth it. At the checkout, there are options to donate money to benefit fair trade organizations. After walking out of Just Creations, we didn't feel bad after spending our money; we felt like we were actually using our power of the dollar to make a difference.
Matt Anthony's Record Shop/Louisville Rock Shop
Where? 2354 Frankfort Ave, Louisville, KY 40206
What is it? The record shop has chill vibes and a wide range of records from all genres and time periods. The rock shop also has chill vibes, but in a different way…
Experience: It was a fun time! The records made me want to purchase a record player and jam out ASAP.  We did not expect the additional store, but I wouldn't be opposed to checking it out again sometime.
Audience: People mature enough to appreciate some records and some reiki!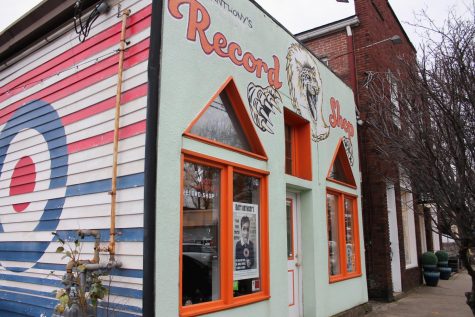 The record shop is a laid-back place, and it made me feel like kind of a poser since I didn't have a record player myself; though I was tempted to get one after my visit. This store definitely has a great aesthetic, and just being in there made me feel significantly cooler. Big and small records are available for purchases are records, along with band t-shirts/other merchandise and miscellaneous music-related items. Though we did not purchase anything, it is a good place to pick out vinyls from whatever genre you like, and maybe widen your taste in music while you're at it!
On the stairs, there is a sign that says something along the lines of "upstairs for rock". We thought going up there we would see some classic rock bands such as The Rolling Stones or Pink Floyd, so it's safe to say it was a surprise to the both of us when we ascended the staircase to find a separate store filled with actual rocks— and a lot of them. There was a woman sitting up there on the phone, and her document certification hanging up on the wall told us she was a Reiki practitioner. If you don't know what Reiki is, it's okay— we didn't either. Turns out, Reiki is a sort of energy healing process that originated as a Japanese technique for stress reduction and relaxation. The shop gives you the option to book Reiki sessions that cost from $33-$45, or just look at, and maybe purchase, some crystals/rocks. Though we didn't plan on visiting this destination, it was interesting to learn about, and I'm curious to know if it is effective.
Where? 2235 Frankfort Ave #104, Louisville, KY 40206
What is it? A Louisville gift-shop
Experience: Allows people to browse a collection of not only locally-made products, but also products that remind people how awesome Louisville is!
Audience: Anyone! As good for the adults as it is for kids but great for teens!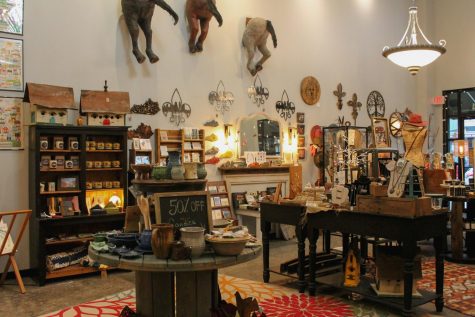 As much as "cute" is an overused word, it's hard to describe this place without using it. The shop is full of one of a kind, locally-made, Louisville souvenirs. If you're ever at a loss for a gift idea, this place has what you need, with things including, but not limited to, candles, lotions, sweets, bourbon, t-shirts, scarfs, jewelry, and Louisville-themed/made accessories. Along with those, the shop sells treats for some of your favorite furry friends! Similar to when shopping at Just Creations, we were the only shoppers at the time, so we tried to not be too disruptive, but we did not feel like we needed to whisper. I would definitely recommend this place to anyone who needs some more Louisville spirit in their lives, or to those who are just appreciative of their city.