The person Behind the Page
A deep dive into the popular Andy Beshear memes for social distancing teens Facebook group
Through all of the unknowns going on around us, it can be hard to laugh. Every time we turn on the news or look at Twitter, we're reminded of the scary circumstances we are all living through. Everything feels so dire, like a plot in some big-budget Hollywood thriller. But even through such darkness, people have banded together in many unexpected ways. All for one goal: to make people smile.
"Andy Beshear memes for social distancing teens" have taken Kentucky by storm in recent weeks. It is a popular Facebook group that shares homemade memes celebrating Beshear's response to the COVID-19 pandemic. And when I mean popular, I mean popular. Currently with 226,227 members, it's been rising in popularity so quickly that I have had to change this number four times while writing this.  It has even started to spread nationally, truly making it a social media sensation. 
I remember the first time I heard about this page. I was on my late-night Criminal Minds binge, which has become a daily ritual thanks to COVID-19, and I suddenly heard my mom burst into laughter. She was looking through the feed of the Facebook group, and pretty soon we turned off the TV and just scrolled by laughing at the memes together. It was one of the first times I had truly laughed since quarantine started. After that night, I knew that I wanted to reach out to the person who started the account, I was so curious how it got so big and what his reaction to it was. And if nothing else, just to thank him for making people's days a bit brighter.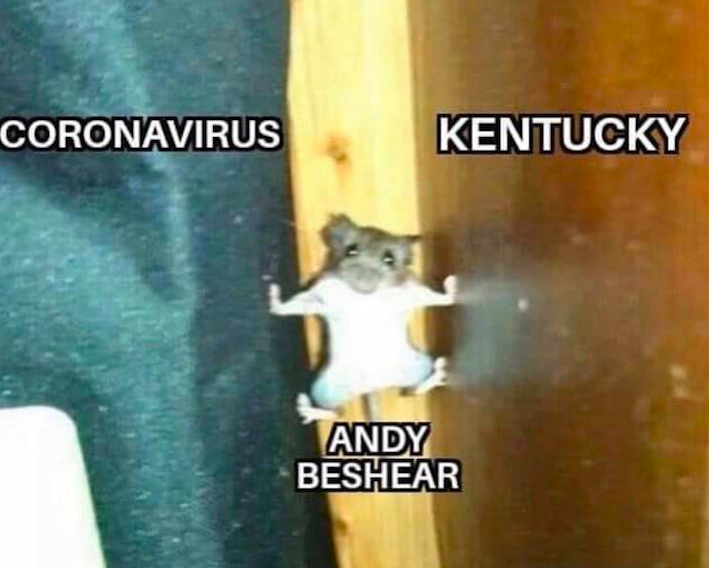 Jeremy McFarland, a local Office Manager at the Fairness Campaign, started this account at 12 p.m. on a Friday, and by that evening it had already gotten 1,000 followers. 
"I really didn't expect it to get any attention. I figured it might end up with a couple dozen members by the end of the pandemic, but I was really pleasantly surprised by how much it seemed to resonate with people," McFarland said. 
Something that had started as almost an inside joke had begun to cheer people up, and it would not slow down anytime soon. At the time I'm writing this, the group has had 195 new posts today and 10,000 posts in the past month. With that much interaction, it can be very time consuming to vet each post, to make sure that it complies with the community guidelines. 
"When James Line (my co-admin) and I first started the group, it really was a 24-hour workday, at the expense of our real jobs," McFarland said. "Thankfully, we have since added an awesome mod team of about 10 people who work hard to moderate and approve posts." 
The administrators of the group have created a set of rules — kind of like a mini constitution for almost a quarter of a million people. The number one, most important rule listed: be kind and courteous to one another. In that same regard, bullying or hate speech is strictly prohibited. Making sure that users are appropriate and respectful not only to other members, but also to Gov.  Beshear's staff and family, is very important to the admins.
 As a member of  Gen Z, I have mastered the art of using humor to combat feelings of hopelessness and am a self-titled meme connoisseur. And that's what I liked about the group. A classic Kermit the frog meme here, an Adam Driver one there, all praising Gov. Beshear. It was such a creative way to get people to smile; McFarland even sent me his favorite meme. But as it started to grow, it shifted. Instead of just focusing on humor, it became a positive space for people to share personal stories and know that others would be there to hear them. It could be positive, like a photo of a little girl finally being able to have an easter egg hunt after recovering from COVID-19. But it could also be sorrowful, like the story of a daughter saying goodbye after losing her father to COVID-19. The replies to these posts are overwhelmingly positive and supportive, letting the user know that they are heard and feel their pain. This space has become more than just a creative outlet, it has become a space that unifies people of different ages and backgrounds. It has become a space where people are learning to survive through this chaotic time by connecting and supporting one another. This community of people are showing the nation what a strong Kentucky identity looks like.