COVID-19 College Search Survival Guide
College visits… through a computer?
I began, and still largely am, as far as you can get from an expert on the topic of preparing for college — especially during this weird time we live in. Pre-pandemic, I encountered no resistance planning out my college dreams, trying to attach a visit to each national locale my family and I would happen to visit. Now, I'm trapped at home merely clinging to my same ambition. I can recall countless moments during my "covid college search" when I've been absolutely terrified and completely unsure of my next steps.
Picture this: a young, wide-eyed rising junior Sam Watkins stares at the ACT sign-up webpage with absolutely no clue on how to progress. Where do I go to take the test? What's this about a writing portion? And should I send my initial scores to every school I'm interested in or none of them? As my testing date arrives, I trudge into my nearest Catholic school offering the test in person, and fill out this life-altering exam for six hours. My eyes glaze over sets of questions on all kinds of subjects while I frantically doodle in the corresponding maze of bubbles, maintaining an aura of mild panic.
For the longest time, I carried that same frazzled mentality into the idea of picking between colleges as well. Countless emails from my school and solicitations from colleges' admission boards flood all of my email inboxes day by day, most of them never catching a second look from me. So, while I was submerged into the complete boredom we've all become too familiar with throughout this pandemic, one of these emails yanked me from my hourly TikTok binge as its notification jumped down the top of my screen. Tagged as "LATE NOTICE" in all caps by my counselor, and from a college I was really interested in, it grabbed enough intrigue from me to be worth a click.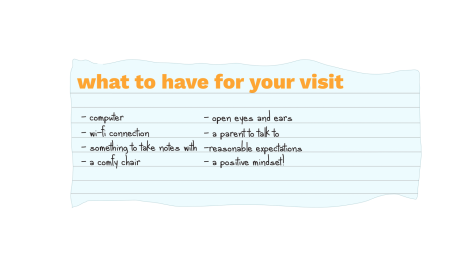 Upon a closer read, I discovered that I'd be able to attend a virtual event in a mere couple of hours. It only took filling out a quick secondary form explaining my potential majors and interests before I found myself idling in a Zoom waiting room for a meet and greet with the staff at an elite school. Pushing through and rationing off that extra hour of time was instantly rewarding, as I was quickly ushered into an informative hour-long presentation followed by a Q&A session. The current student from the college's program was super intelligent and insightful as she answered everyone's questions, and the admissions officer speaking was similarly kind and courteous. The experience felt so much more human and rewarding than perusing a wall of college stats on a screen.
That gratification had me hooked: I was so tired of pressing through all the dreadful news and dead time of pandemic isolation. I wanted to know what other options the pandemic created in regards to preparing for my future. I wanted to see what my classmates and peers were doing to get ahead of the game as well. I didn't want to just survive the college hunt — I want to take charge and thrive.
When I first reached out to my peers and others about their college searches during the pandemic, it was clear that many were struggling. For example, Sarvesh Babu, a senior at duPont Manual, ultimately felt like the pandemic hindered his college search.
"To be honest, I feel really trapped," he said. "It's been near impossible to visit colleges, so I've used limited online resources and mostly friends."
Despite the available steps, the idea of preparing for the future during such an uncertain time was still daunting for many, especially with motivational issues from non-traditional instruction and non-traditional college searches that cause crashes and burnout. Gardner Layne, a junior at Trinity, agreed.
"We're all just trapped on the device. There's no creativity that's able to happen," Layne said.
Indeed, many of my peers said that they had done very little research at all about their college choices, despite their desires to go. Others, even with the increased accessibility, still lack the tools in order to perform a consistent college search online, nevertheless resorting to an in-person visit. The pandemic has affected everyone's already different lives in radically different ways, making it even more difficult to create a one-size-fits-all solution for future career planning.
This makes the transition to virtual college searches a two-way street. On one hand, it seems to be boosting the outreach of many schools, as well as bolstering the accessibility for students that might not have been able to visit campuses otherwise. However, many also voiced support for the common adage that it's best to physically visit a college campus before you decide you're set on attending a school.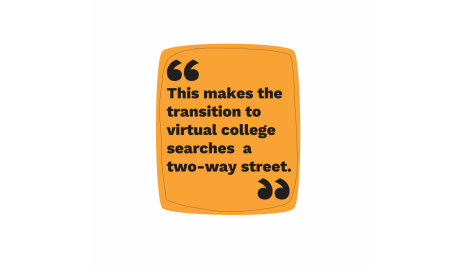 "It's difficult to accurately envision yourself somewhere you've never been," said Catherine Willis, a junior in the Youth Performing Arts School (YPAS) magnet at duPont Manual High School.
Schools are currently offering these in-person tours on a very sporadic basis, mostly only for in-state students. That's where all the virtual options come into play. Without the option to host potential students, colleges are scaling up their online resources to grab students' attention.
"Their websites have gotten a lot more organized and detailed. They've put a lot more onto their websites now that COVID is a thing and you can't go visit some of the schools," Layne said. "I really think there's more stuff out there than there was a year or two ago."
The handling of the pandemic has impacted the college search in less evident ways as well, with some students looking at how schools are working through the crisis as another factor affecting their interest.
"Learning online isn't an easy thing to do. But when colleges are talking about what they're doing in their classes to keep their students' attention and keep the students safe, it shows how much they care about the students going there," Layne said.
Much like my peers, when I started planning my own virtual college conquest, I went with my usual first step for researching anything: the Internet. It didn't take long to discover a multitude of tools accessible for anyone looking. YouVisit was consistently referenced by both my peers and articles from pros alike as one of the best vehicles for virtual tours, with 600 college tours searchable and filterable by state, size, and tuition. On the website, a virtual tour guide that has been shrunk-down into the bottom-right corner of your screen guides you through a series of photos and 360 degree panoramas of each school, giving you an extensive street view of the campus from your computer.
But that's not the only way to experience colleges, and it shouldn't be the only part of your arsenal. A majority of colleges have tons of content about each facet of the experience uploaded to YouTube by students themselves, touring their dorms or walking you through a day in their life on campus. These videos can often give you a really authentic look into what college life looked like before the pandemic hit, and what it will likely look like once things resume in-person.
Then, there's the live offerings that schools seem to be putting a lot of emphasis on during this age of Zoom. Events like the meet and greet that I attended are commonplace — your school counselor likely has information on what's available, but on a school-by-school basis, the information is all a couple Internet searches away. Many schools are providing live Zoom tours of campuses on a consistent schedule, in addition to virtual information sessions that give you an easy way to digest a lot of research while asking personal questions with some of the school's staff.
"I was a little nervous at first, but I've found that school admissions offices really appreciate when you interact with them," Willis said. "Log on with questions, a pen, and paper!"
The vast majority of these options are free online and just a few clicks away, accessible to all students who might not have the opportunity of going on full campus tours in-person. Even after this pandemic, the online infrastructure that colleges have set up for prospective students will persist long after our society's return to "normal." That's why — if you've been worried about planning for what's ahead, and sitting in similar shoes to my own — you should know that there's a wide array of tools available to help you get started. Aim high and follow your dreams to the best of your ability, and if you're ever struggling, know that your friends, classmates, and teachers are still there to support your success — even if from six or more feet apart for now.