Royals Chicken: Worth the Crown?
Exploring the Royals experience, food items, and what the restaurant has to offer.
Royals Hot Chicken, the "best chicken in Louisville," according to a few of my friends, is a place I've been wanting to try out for a while. The original restaurant was established by Ryan Rodgers in 2015 on East Market Street, and their second location, established in 2020, is on Shelbyville Road. Another location was opened on Taylorsville Road in 2019, but closed a mere 17 months later due difficulties stemming from the Covid-19 pandemic, the owner said.
As I turned the corner onto East Market Street a unique looking building with neat patterns caught my attention. The Royals logo, a yellow crown with a chicken inside of it, was plastered on the front window. The entryway was open, and the white tile floors and traditional brick walls made me feel right at home. It was a Tuesday afternoon around five p.m., and I was surprised to see only one other diner there. Because it was basically vacant, I got service immediately. 
The waiter greeted me with a smile, then took my order behind the bar. The menu didn't have a ton of options, which is what I expected for a place so focused on chicken. They had chicken tenders, varieties of sandwiches, tacos, salads, and even a chicken mac & cheese plate. I wanted to try out a bulk of the menu, so firstly I ordered a regular fried chicken sandwich which comes with pickles, lettuce, and mayo ($9.49). For a side I decided to try out something new and got the broccoli bacon salad. Second, I got a four piece tender, three flavored 'some heat' and one flavored 'hot' ($10.18). The meal came with mac and cheese and I got an Ale 8 ($3.00). By signing up for rewards, which earns you points with every in-store purchase, I also got a complimentary pink-lemonade slushie.
After my order was completed I migrated from the bar to a booth. About two minutes after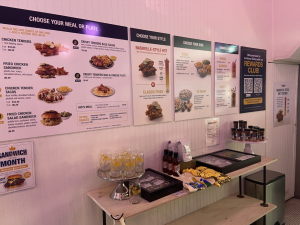 I sat down, my waiter came over with all of the food. The smell of fresh chicken put a smile on my face and I couldn't wait to dig in. Everything was plated very nicely except for the mac and cheese, which seemed to be crammed into a small plastic bowl. Other than that, the meal was more than aesthetically pleasing. 
I started with the 'some heat' chicken tenders and right as I put my fork in I knew it was going to be good. My first tender was exceptional. The chicken was a good size and perfectly crispy on the outside. I proceeded to eat a second piece and it was just as good as the first. I then tried the hot wings and was underwhelmed; it was soaked in sauce, which messed up the texture. It tasted very similar to the first tender, with a heat that lasted slightly longer. Next I tried the mac and cheese and it was definitely the weakest point of the meal. Nothing negative stuck out about the texture, but it definitely lacked taste and originality.
Lastly, I tried the regular chicken sandwich and the broccoli bacon salad. Unfortunately, the sandwich led to more disappointment. It tasted very bland and it was not very crispy. On the other hand, the broccoli bacon salad was out of this world. The sweet initial bite complemented the heat—both temperature and spice—from the chicken, and made for a fantastic side. During the meal I drank my pink-lemonade slushie which was also very good— but I would definitely suggest signing up for the rewards, because the price was originally $5.99.
My meal ended up being $28.84, including a $5 tip. I think that the meal was slightly overpriced, but overall I was very pleased with the service and what I got. If I were to go back I would definitely get the 'some heat' tenders and the broccoli bacon salad again. If you want to support a local restaurant and don't mind paying a few extra dollars, then Royals is the perfect place for you.