Food Review: Top Round Roast Beef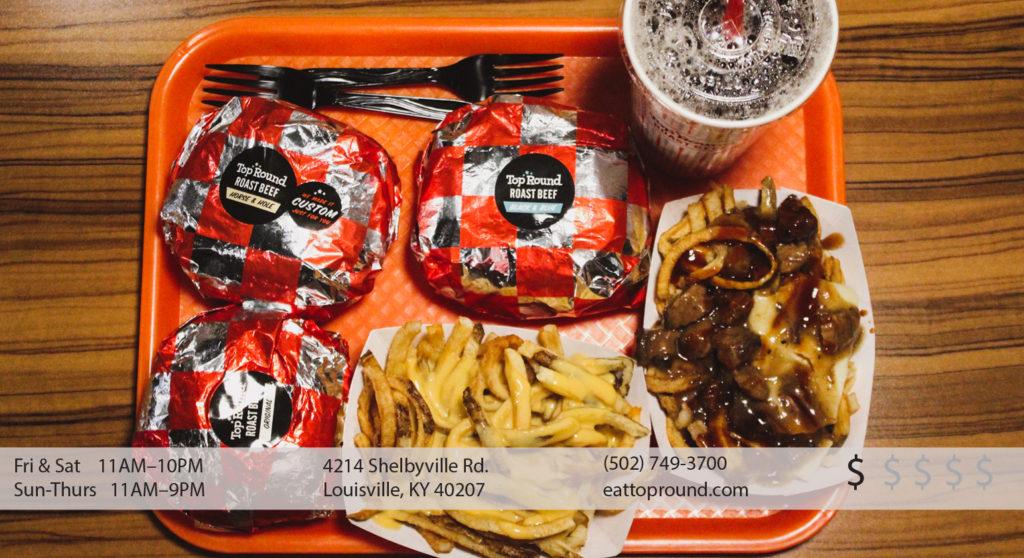 Top Round Roast Beef, with its bright orange roof, made us feel welcome as soon as we pulled off of Shelbyville Road. With a drive-through that wraps around the back and a fairly large parking lot, we thought Top Round would be like any other fast food restaurant. But as we pulled open the door, our preconceived notion was immediately proven false.
Inside, Top Round reminded us of Pop's Diner from the hit TV show, "Riverdale," with its hanging lights, petite exterior, and warm color scheme. The only thing that seemed to be missing were booths we could slide right into. On a Friday night around 6:30 p.m., we were surprised by how few people were there. Like your typical Arby's or Burger King, you place your order at a walk-up counter. The food, however, is all freshly prepared in the restaurant's kitchen, their motto being "chef-driven fast food."  
The menu offers a wide variety of food options, including roast beef sandwiches, ice cream and custard, and fries. They also offer vegetarian options like grilled cheese and the veggie "CALI."  After scanning the menu for a couple of minutes, we ordered the beef and cheese sandwich, the Horse and Hole sandwich, "dirty" fries, and cheese fries. Then, we filled our brightly-patterned cups with fountain drinks and took our seats at the back of the restaurant next to an older woman and her son.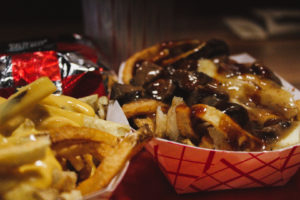 After about ten minutes our server brought us our food, set it down on our table, and proceeded to kindly apologize for the wait. The aroma of mouthwatering, melted cheese and fresh roast beef traveled through the tinfoil of our sandwiches. Hungry and hopeful that Top Round would live up to the rave reviews we had heard, it was time to dig in.
We immediately reached for the "dirty" fries ($4.49), gravy-drizzled curly fries with Top Round's signature "round sauce" and provolone cheese. It ended up being our favorite dish. The combination of the sweet sauce and the savory fries dusted with salt was a hardy beginning to our meal.
The cheese fries ($3.49) were a simpler version of the "dirty" fries, lacking a few decadent toppings.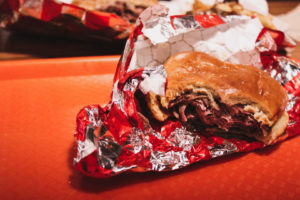 The beef and cheese sandwich ($7.49) was more than enough to satisfy one person, especially with a side of fries. The freshly cut roast beef smothered in their signature Wizz sauce proved true to the Top Round motto.
The Horse and Hole sandwich consisted of roast beef, horseradish cream, and provolone cheese, all on a sesame seed bun (we decided to hold the mushrooms). The tender roast beef with the horseradish sauce made for a flavorful combination. Both of the sandwiches put a new spin on the classic roast beef sandwich that left us wanting to come back again.
When we thought our stomachs couldn't hold anymore, our server asked what we'd like for dessert. As we reached for our wallets, he told us that they were on the house, due to the ten minute wait for our food. The other group at our table was also treated to free custard and sandwiches.
With outstanding service, affordable prices, and an atmosphere that radiates positivity, Top Round is the perfect spot to stop by with a craving for classic roast beef. The friendly servers and customers made for a memorable and delightful experience, putting Top Round at the top of our list for fresh fast food.
About the Writer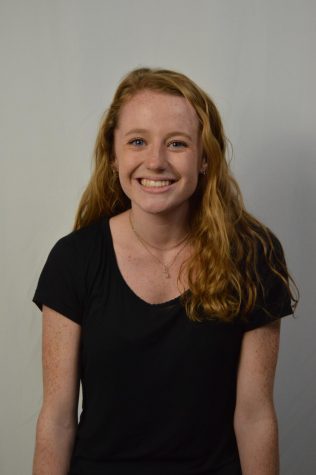 Ella Treinen, Managing Editor
Ella Treinen is a senior and the Managing Editor of On the Record. She loves to uncover the stories of absolute strangers and hopes to pursue storytelling...