Opinion: By and For the Gays
As we celebrate Bi Week, it's important to make sure we support queer stories and their creators; especially the LGBTQ+ ones.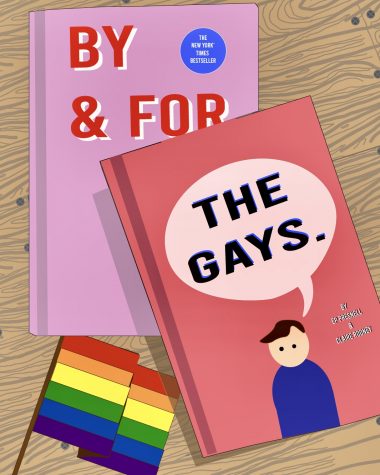 In the midst of Bisexual Week, we decided to share our opinion about how some LGBTQ+ stories are better than others.
Claire's Experience
Over the summer, some of my friends and I made a pride reading list and tried to finish as many as we could. Spoiler alert: I only read two of them.
However, it was enough to judge the books and movies I'd experienced in the past, like "Love, Simon," "San Junipero" (the "Black Mirror" episode), and some "Steven Universe" episodes. Admittedly, I hadn't watched or read a lot of LGBTQ+ media up until this summer. It's not as prevalent in mainstream media and I wasn't involved in the community as much. But the books I read this summer … they impacted me deeply.
First, after the paperback was shoved into my arms by EP, I read "Red, White & Royal Blue" by Casey McQuiston. It was an amazing love story between Prince Henry of England and Alex, the First Son of the United States. I cried, multiple times, and finished it within 36 hours. Something else I loved about it: it's written by an LGBTQ+ author. McQuiston was writing from at least a little bit of experience and it shows in how she deals with Henry and Alex's relationship. It wasn't just a straight romance that happened to be between two guys. It's written from Alex's perspective, who has this amazing coming out story where not only does he come out to his family and friends — he comes out to himself.
There are about 10 pages in the book where Alex goes through what my friends and I like to call "The 10-Page Bisexual Crisis," which I'm sure most bisexuals can relate to. Alex goes back and forth with whether or not he likes guys, and it's fantastically written and relatable.
Even though I hadn't read many LGBTQ+ books before "Red, White, & Royal Blue," about two years ago, I read "Simon vs. The Homosapien Agenda" by Becky Albertalli — better known as its movie counterpart, "Love, Simon." It was probably one of the best books I'd read freshman year, but it didn't elicit the same "ohmigod this is the best book ever" feeling that came after reading "Red, White, & Royal Blue." It's a cute love story, but the book felt a little lackluster.
Why?
Simon comes out to his family and friends, he faces his fears as he gets outed to the whole school. He has a female best friend and two sisters who support him. He falls in love. What makes the stories different? Why did Henry and Alex make me cry while Simon just made me say "aww" and then move on?
There are a lot of reasons, but one that comes to mind is that Becky Albertalli is a straight woman with a loving husband. Casey McQuiston is a single, bisexual queer woman. That could have something to do with it. Remember that "10-Page Bisexual Crisis" I was talking about? McQuiston was inspired by her own experience as a bisexual person.
"I write queer fiction for the same reason straight people write straight fiction: because I'm a queer person, and that's the world I live in and the experiences I draw from and relate to," said McQuistion in an interview with Book Page. "I wanted to show something that was relatable to me and to a lot of other queer people out there who may not have seen that particular kind of representation before," McQuistion said.
"Red, White, and Royal Blue" wasn't the only LGBTQ+ book I read over the summer. I also sat down with "The Gentleman's Guide to Vice and Virtues." Though it wasn't quite as impactful as "Red, White & Royal Blue," the novel had a really good adventure story with a side romance. The main character, Monty, is on a journey of discovering himself as he goes on a literal adventure around Europe in the 18th century. The discussions of his own sexuality and his crush on his best friend, Percy, that he keeps avoiding, are beautifully written to display his inner conflict.
Mackenzi Lee, the author of The "Gentleman's Guide to Vice and Virtues," is bisexual herself, as she stated in a tweet in 2018. Her depictions of questioning one's sexuality are kind of like a "200 Page Bisexual Crisis."
These two books opened my eyes as to what queer stories could be, complete with an impact that will last for (hopefully) a long time. I want everyone to read "Red, White, & Royal Blue" and fall in love with the characters like I did. I want everyone to understand how some LGBTQ+ people actually feel, not just a teenage love story that happens to be between two guys. I'm really glad I read those two books, and I hope I can read more in the future.
EP's Experience
While Claire only read two of those books on her pride reading list, I managed to start and finish a few more over the summer. I started the summer reading "Red, White & Royal Blue" and then quickly handed it over to Claire after the emotional three days it took for me to read it. Though after that, I had to find something to fill the void that the book had left in my heart.
Luckily, it didn't take long for me because I was able to return to a graphic novel that I was just starting to grow to love before I had read "Red, White & Royal Blue" — an adorable and heartwarming comic called "Heartstopper" by Alice Oseman.
Oseman is a 24-year-old author from the United Kingdom who has been writing novels since she was 17. Her first book "Solitaire" was published in 2014 and since its release, she has created a universe in which all her characters are connected including two other books and her online comic, "Heartstopper." Her books do a great job of showcasing a variety of sexual orientations and genders.
"Heartstopper" follows Charlie Spring as he goes through his Year 10 after meeting a Year 11 student, Nick Nelson, in his form group, similar to homeroom in the U.S. The story follows the classic strangers to friends to lovers trope but in the best ways possible. The story follows Charlie as he deals with believing Nick is straight and his own depression and self-worth. On the flip side, the story also follows Nick as he attempts to figure out his sexuality and develops a crush on Charlie which calls for a relatable and heartbreaking experience as readers watch him sit and cry over the pure confusion and chaos in his — and Charlie's — minds.
I fell deeply in love with "Heartstopper" quickly after I had read it the first time. Charlie and Nick have the cutest relationship ever and I can't help but smile every time I read it again. It made me so happy that I even subscribed to Oseman's Patreon to get a new page every day. I also read it going through a really tough time and it always managed to cheer me up.
Before "Heartstopper" I had read a couple of other LGBTQ+ comics and graphic novels including another ongoing online comic called "Check Please!" from Ngozi Ukazu. "Check Please!" follows a college student named Eric Richard Bittle, or as he is commonly referred to in the comic, Bitty, who is just about your average closeted boy from South Carolina— in love with baking and Beyonce and at one point figure skating, but has since turned to hockey for college. The comic follows him as he too falls in love in a strangers/enemies to friends to lovers trope with a fellow hockey player who goes on to play in the NHL.
Let me establish first that "Check Please!" is a good comic, and by no means am I attempting to discredit the story when I say what I'm about to say, but something lost me with "Check Please!" after I started reading "Heartstopper." At first, I thought it was because "Heartstopper" updates almost three times quicker online than "Check Please!" does, but then it made sense. "Heartstopper" is written by someone who identifies as a member of the LGBTQ+ community while "Check Please!" relies on research and interviews to construct its characters, drama, and storylines.
While Ngozi is a minority (both her parents are Nigerian), she has never identified as queer or anything under the spectrum of LGBTQ+ which takes away a little from her storytelling. Ngozi spent a long time making "Check Please!," and has poured her heart and soul into it through the art and telling real experiences through fictional characters, but there's something about Oseman identifying as an LGBTQ+ author that makes "Heartstopper" feel more authentic and in some instances better.
Why does it matter?
Honestly, if you haven't totally caught on yet, here's what we're saying: queer stories need to be told by queer creators.
Authenticity is an important aspect of any story no matter what's being created. Whether it be a novel, a show, or a movie, creators should approach stories with a viewpoint that they relate to, to create a story that's genuine. In addition to the plot, relating to the story in a personal way helps avoid writing stereotypical gay characters (uhh hello Damien from "Mean Girls?").
Stereotypical gay characters tend to be cookie-cutter versions of the Flamboyant Gay™️, the Sassy Gay Best Friend ™, or the Butch Lesbian ™ who exclusively owns flannel button-ups and converse.
When people don't know anything about LGBTQ+ people, the only interaction they've had is that stereotype. They've only known the Sassy Gay Best Friend or the Butch Lesbian, or a number of other tropes clouding their view of actual real-life queer people.
When writers rely on these tropes to create a story, especially something as delicate as sexuality, they end up just not writing about the things that LGBTQ+ people need to hear. In "Love, Simon," Simon knows he's gay from the very beginning. There's no deep explanation for how he discovers this, there's no "10-Page Bisexual Crisis" for him to obsess over. Becky Albertalli didn't write that because she doesn't know how. She hasn't experienced it first hand like Casey McQuiston had.
Having these experiences and moments where characters figure out they're LGBTQ+ are extremely helpful to the audiences that are viewing these stories. Some younger teens especially may find themselves relating to a character figuring out their sexuality and it may bring them comfort when they're freaking out because they don't know what's happening to them. This was the case for both of us.