Recap: JCPS Virtual Student Assignment Summit
What is JCPS going to do regarding equity for West End students? Read this recap of their proposed plan to find out.
On Wednesday, June 10 at 6 p.m. JCPS released a video on their Youtube channel about their student assignment plan for middle and high schoolers who reside in the West End of Louisville. In the video, a series of changes are proposed which the Board of Education will vote on. These introduced changes include:
New interest-based magnet schools and programs

Replicating popular magnet schools and programs

Eliminating school-initiated student exits 

Centralizing the magnet lottery admissions process

Closer to home option for west Louisville students to end forced busing
The bulk of the video was focused on the last point, a push to expand equity in the JCPS district.
"Choice is something students in our satellite area of West Louisville haven't had for decades," said Dr. Marty Pollio, superintendent of JCPS. 
He stressed that it is inequitable that students in the West End have to travel outside of their neighborhood to attend school, something the new plan hopes to fix. Because of this, new schools will need to be built in the West End –– two new middle schools and one new high school, in addition to the renovation of the Academy at Shawnee. 
For context, he clarified that the last high school built in the West End was the new Central in 1956. 
"It's time that we invest in our students, and that our buildings reflect how we see them in their futures," Pollio said.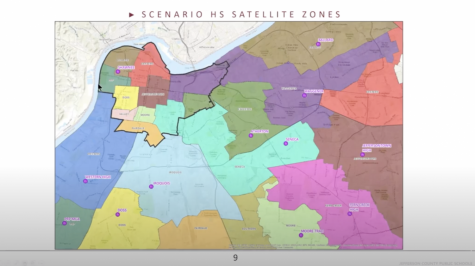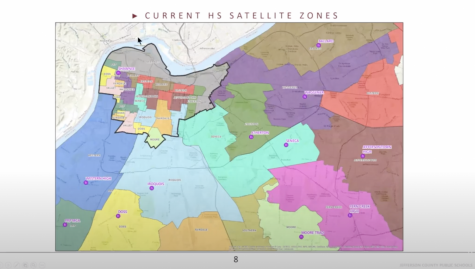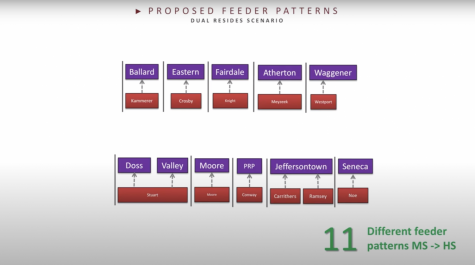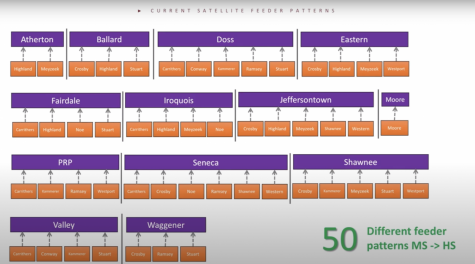 The district also made changes to the county's current middle and high school satellite zones. The West End is divided up into almost 30 "zones" meaning a certain area of the West End is assigned to a specific middle school, which then feeds into its corresponding high school.
Currently, there are 50 different feeder patterns for middle and high schoolers in the West End (pictured to the right). For example, a student assigned to the Highland Middle School zone would feed into Atherton High School. 
The plan, if approved, would give students the option to choose between a school close to home in the West End (one of the newer schools being built) or their satellite school, farther from home, and its feeder high school that they are assigned to. The satellite plan would go from there being 50 feeder patterns to just 11 feeder patterns under a dual resides scenario. This would also mean that the West End would go from having almost 30 satellite zones to less than 10. 
If this plan is approved it would be implemented in the 2021-22 school year to just 6th and 9th graders, phased into more students over three to four years. 
JCPS stressed a need for feedback and commentary on this plan. To do so, they created a Google form where families, staff, and community members can provide feedback on the plan.