What 2020 Should've Been
2020 may have been chaotic, but we've learned valuable lessons along the way.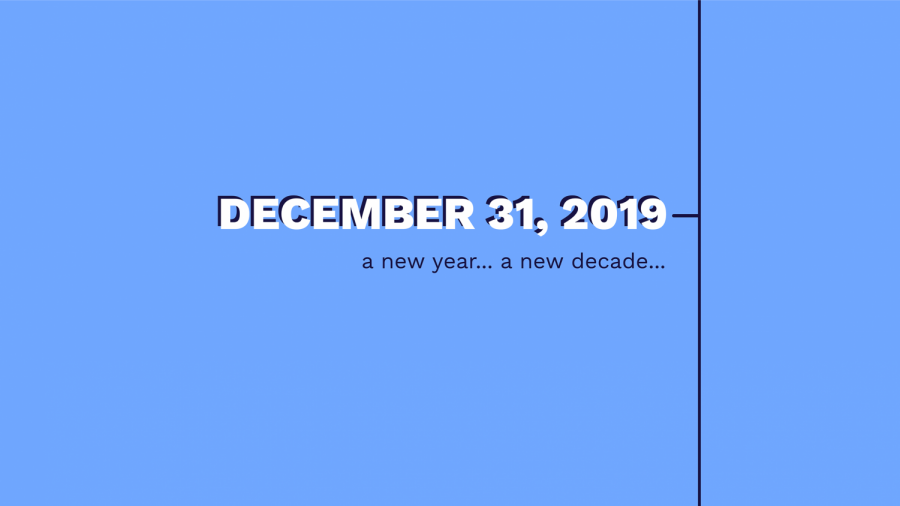 December 31, 2019.
As the clock turned from 11:59 to 12, the crackle of fireworks filled the night air. Around the country, people toasted to the end of the year and made resolutions for the next. It was a night of hope, celebration, and new beginnings.
As my family and I sat around our TV watching the ball drop in Times Square, I couldn't help but think about the long list of exciting plans I had lined up for the new year. Producing more print content for On the Record, going on my first out-of-state Y-Corps trip, camping at music festivals — the list goes on.
But even more than all of those things, the new year brought new beginnings. 2020 would be the end of my sophomore and beginning of my junior year, when grades and extracurriculars matter the most. I knew I needed to work harder in school and start focusing on the future – most notably, college. For me, 2020 was a chance to start over and focus on what truly mattered to me. It was a new year. A new decade.
We were all so excited.
"I was at a party for New Years, actually. It was traditional, just hanging out with friends," said Baxter Keith, a junior at Walden School.
Just like a lot of kids in Louisville, Keith celebrated the start of 2020, a year he had high hopes for, with his friends.
"That's something that's very different than what's going to happen this year," he said.
Keith was ready to start 2020 off strong. He had lofty goals for the new year, especially with his track and cross country seasons. On top of other big milestones, Keith was hoping to reach a five minute mile. After years of training, he wanted his junior year to be one to remember.
But running wasn't the only thing Keith had planned for the coveted 2020. He was looking forward to a spring break trip to Florida, as well as attending all three days of Forecastle, a music and arts festival and annual staple for many Louisvillians. Even small, mundane things seemed exciting at the start of the year.
"Just getting to go out and go to the movies or go shopping. You know, even go to the park and play sports," Keith said.
Although we didn't know it yet, those small, mundane things would come to mean the most this year.
For Sarah Schroll, a senior at Bellarmine University, something as simple, yet exciting, as her college graduation was a big source of anticipation for the new year. Walking with the rest of the senior class after working hard for years in college is something just about every college student looks forward to, and Schroll was certainly no exception.
But the end of her college career wasn't all celebration; in order to make sure she would have a job in the coming months, Schroll spent her final days in college preparing for her future.
"I was pretty excited, a little nervous because it was going to be my last year of college, so going through my last two semesters and making sure to go through interviews so I'd have a job in 2021," Schroll explained.
Aside from preparing for her upcoming graduation and career, Schroll was excited to travel more in the new year. She'd studied abroad in London the previous year, which grew her love of traveling and exploring new places. With the money she'd saved since, she planned on travelling more in 2020, in the US this time.
"Obviously, that did not happen. We didn't even get to the planning stage," she said, referencing the drastically disappointing year that followed.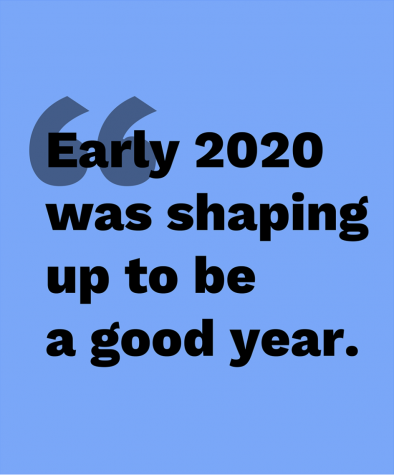 For me, getting my drivers license might've been the thing I was looking forward to the most. I'd gotten my learner's permit the previous November, but getting my restricted license would finally give me the sense of freedom I'd been anticipating for so long. I'd even written down my 60 required hours of driving practice, my mom's signature scrawled next to each date. Finally getting my restricted would be a moment I'd looked forward to for years.
Early 2020 was shaping up to be a good year. With sports seasons, vacations, graduations, and countless other milestones just around the corner, anticipation and excitement prevailed in Louisville and the rest of the nation.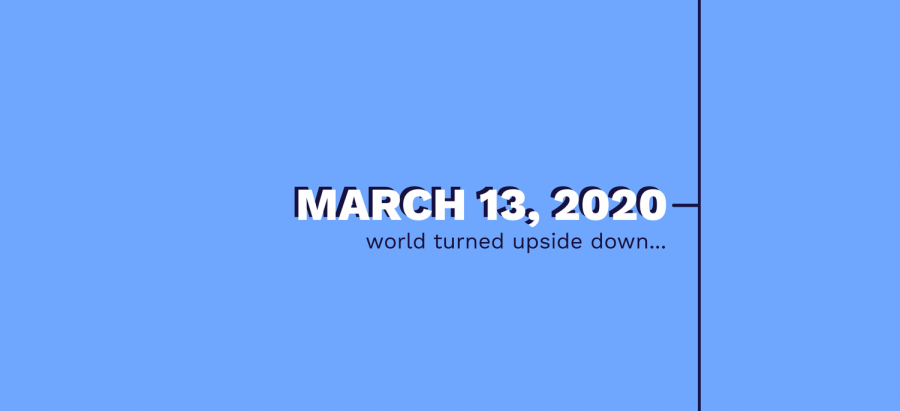 March 13, 2020.
"Happy long spring break!"
"See you guys in three weeks!"
"This is so, so crazy."
Just like every day our sophomore year, my friends and I gathered around the same tree in the same spot outside our school, waiting for our buses to arrive. Even in the dead of winter, we stood outside, our coats zipped all the way up. Friday, March 13, was no exception. The five or six of us stood in our familiar circle, complaining about schoolwork, quoting the latest TikTok trends, and joking about how relaxing the three week break would be.
And although everything felt the same, a certain tension hung in the air. Even though none of us wanted to say it, we were all thinking one thing: what if this is it?
Earlier that day, I'd joked with some friends about the possibility of it being the end of our sophomore year. I hugged a friend of mine at the end of third period, knowing but not able to admit that it was a real possibility.
"This won't be our last day of sophomore year," I said. "I promise."
We all made a lot of impossible promises that day.
In my planner, I'd stuck a post-it note titled "In Case We Don't Come Back," above a list of assignments teachers had piled on top of our already insane workload, on the off chance that school didn't resume after our "long spring break."
But as days turned to weeks and weeks turned to months, school was still on hold. We were forced to grapple with the reality that we'd attended our last day of in-person school that year.
And school wasn't the only thing to fall victim to the COVID-19 pandemic. One by one, everything was lost to the virus. Sports seasons were called off, public places were closed, and any events involving more than a few people were cancelled. Even the DMV was shut down, meaning I'd have to wait several more painfully long months to get my restricted license. The world slowed to a stop as the nation began working from home and avoiding simple handshakes at all costs.
Time seemed to freeze and every day began to feel more and more like the last as we slipped into monotonous routines of nothingness.
And, on the same day that Louisville's public schools closed indefinitely, Breonna Taylor was shot and killed by Louisville police officers in her own apartment.
Although the tragedy would not be felt immediately by the city, the death of George Floyd in Minneapolis in late May sent shock waves through the nation. Louisville mourned the loss of our own Breonna Taylor and her name became a rallying cry as people took to the streets in protest.
As some of the biggest protests in the nation erupted mere minutes from my house, I couldn't help but think,Oh my god. This is really happening.
Despite Louisville being Kentucky's largest city, it was rare for us to make the news for something other than basketball or the Derby, so when our city made the front covers of national newspapers, our impact finally felt real. It was our chance to show the world that our voice is powerful, and we will not stop demanding change.
"The art here, the diversity here, the social justice that already lives within Louisville… It was perfectly positioned to be able to protest and fight against these unjust systems, and I'm glad the spotlight really showed Louisville its potential in being able to step up to that plate and address the issues," said Ari Tulay, a sophomore at Northern Kentucky University.
On top of being a college student majoring in political science and philosophy, Tulay has been involved in Louisville's social justice movements since early in high school. Although protesting in the Black Lives Matter movement was nothing new to her, in early June, she immediately joined the thousands of protesters marching for racial justice in downtown Louisville.
In the following days, driving through the outskirts of downtown Louisville felt surreal. Broken glass lined the sidewalks, police barricades blocked major intersections, and protesters filled the sidewalks around the clock.
In a time of extreme isolation, our community came together. If there was ever an example of "justice anywhere is a threat to justice everywhere," it was Louisville, KY in June.
Seeing Louisville's community come together and fight for change was certainly inspiring on its own, but what stuck out to me was the youth involvement, both on and off of the front lines. When we weren't actively protesting, our generation did what it does best – take to social media. The flood of virtual support from youth, especially on Instagram, was overwhelming. Information and educational posts were spread faster than ever. Youth protesters coordinated rides to and from protest hotspots. Photos and videos all helped spur support for the movement and get more people involved.
But youth involvement certainly didn't stop at social media, either. Out on the streets, youth led chants and marches through the streets of downtown. "No justice, no peace" and "Black lives matter" could be heard blocks away from youth-led protests in front of the Hall of Justice. Youth were right there alongside adult community leaders, fighting the same fight.
And with real protests came real danger. Youth were not exempt from the rubber bullets and tear gas shot ruthlessly at protesters. Tulay, a college student, was even arrested in the heat of the protests. For her, though, it was worth it.
But, Tulay pointed out, for every scary, traumatic experience at protests, there was an equally inspiring, beautiful moment.
"When things began to die down and Justice Square Park really became the pillar that it was, marches were beautiful. Every night at eight o' clock, there's a group of people who will gather and we would go to different locations that Breonna had been," Tulay said. "There was so much community. Everyone had each other's back."
She also added that while the media largely portrayed protests as violent and destructive, there was also a strong sense of community at the protests and beyond. The protests weren't just broken windows and buildings set on fire; they were a time for a hurting community to come together, mourn, and fight for change.
"I think that's one of my favorite things about the Black community, and just social movements in general. Even when fighting against these injustices, there's always love and community and trust for one another, because we know how hard it is to continue that work," she said.
Tulay was far from the only young Louisvillian fighting for the Black community this summer. Arianna Maltese, a junior at Sacred Heart Academy, was inspired to get involved for the first time this summer after learning more about the issues being protested.
"I decided to become more involved because I realized how little I knew about systemic racism in this country. Reading current events and history, and listening and asking questions to other Black people has helped open my eyes tremendously," she said.
After educating herself on topics like redlining and systemic racism, Maltese attended a birthday memorial for Breonna Taylor. She joined many Louisville youth doing sidewalk chalk art, handing out food and water, and writing birthday letters to Breonna. Becoming involved in the movement opened her up to challenging conversations, but for her, it was worth it.
"I can't describe in words how her memorial felt. It was really amazing seeing people from different backgrounds come together in support of Breonna and her family," she said.
This summer's social justice movement showed that whether you've been involved in activism for years like Tulay or you're just learning about important issues like Maltese, it's our collective responsibility to educate ourselves and make progress going forward.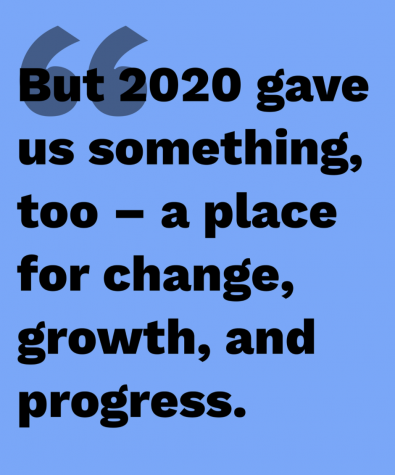 "The power of the people is integral, but there's still a lot of work to be done," Tulay said, reminding us that the fight we started in 2020 is far from over.
And the power of the people certainly didn't stop after the summer's protests. In the 2020 presidential election, the U.S. saw a record voter turnout – the highest in more than a century. In some states, nearly 80% of eligible voters cast a ballot. Kentucky's number was about 60%, not high enough to break records, but still proof that our state has an undeniable voice.
This year was one of progress, but that progress is just beginning. 2020 opened the door for us to finally challenge the status quo, but unless we want to make real change, we cannot stop fighting now.
2020 took something from all of us – sports seasons, music festivals, graduations. But 2020 gave us something, too – a place for change, growth, and progress. It's easy to get caught up in what we lost, but we can't let that overshadow what we gained. So instead of looking back on what 2020 should've been, don't forget about all the progress we've made along the way.