Meet the Seilers
How one family is doing their part during a pandemic.
Words by Ysa Leon, Editor-in-Chief
April 15, 2020
"I didn't think it was going to blow up," Marcia Seiler said.
Marcia and her family started making and selling cloth masks just days ago, and it's already flourished into a small family business.
Marcia sews the fabric after her youngest daughter, Kate Seiler (18), lays out the seven by 10-inch rectangles on their kitchen table. Her oldest, Anna Seiler (23), comes later in the evening after work to help package. Michael Seiler, Marcia's husband, deals with all things tech, hunched over the computer organizing their spreadsheet of orders.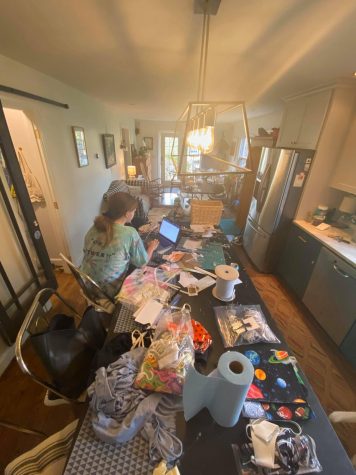 "It took over our kitchen!" Kate said, explaining the sprawl of fabric and Ziploc bags at home.
In just days of operation, the Seiler family has sold around 650 masks, raising over $5,000 that they give to employees at local restaurants and coffee shops. 
They sell masks to family, friends, businesses, and any Louisvillian who wants to stay safe during the COVID-19 outbreak. Masks are a good measure to slow the spread of the virus if you are unknowingly carrying it, but not necessarily to protect you from others that are infected. However, since early April, the CDC recommends wearing a mask when you have to go in public for groceries or other necessary trips. 
It started out with orders from family and friends, but word got around quickly, and Marcia was receiving pleas from friends in the neighborhood asking how they could help.
"It turned into a community project," Marcia said.
Once orders started to ramp up, the Seilers decided they needed to streamline their process. So they made it official with an order form linked to their spreadsheet, which you can access here!
Marcia began making a few for their family with no charge, but she recognized the potential when folks started donating money to cover supplies.
"I didn't want to personally make any money off of it," Marcia explained. 
They decided to divide the money they made into envelopes of $50 to donate to local servers and baristas at restaurants and coffee shops like Game, Nancy's Bagels, Heine Brothers', Safai, and Quill's. Each envelope holds cash and an encouraging note for employees working the shift. 
"It was a gift that Marcia showed up; the timing was serendipitous," Mike Mays, Co-founder and President of Heine Brothers' Coffee said.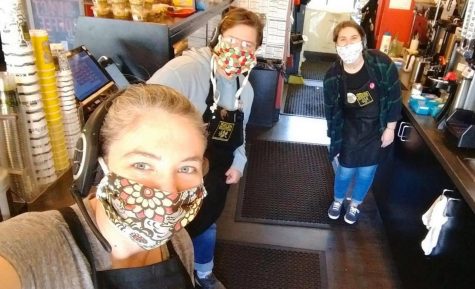 Mays heard about what Marcia and her family were doing after he got a text from one of his locations; a nice lady had ordered coffee, left $100 in tips, and offered to make masks for the employees. They've known each other for years and their kids had gone to preschool together, but he said that Marcia has lit a spark in him.
"There's something we can all be doing," Mays said. "We have to be thinking proactively."
Mays has purchased 125 masks for his in-store employees, and plans on ordering more as the need arises. 
The owner of Nancy's Bagels also promised to pay it forward by donating bagels to healthcare employees at Baptist East Hospital. 
Marcia currently charges $10 for standard cloth masks and $20 for masks made of vintage Lily Pulitzer fabric. Each mask also has a guaranteed warranty! Marcia says if it breaks, she'll replace it for free. 
All pickups are non-contact; Kate assembles them in a basket and places them on the Seiler's front porch, or ships them right to your door, usually within 24 hours.
Although the Seilers have been working long hours (typically 8 a.m. to 10 p.m.) to supply masks, Marcia said her family has felt the reward of doing something good during a time of fear. 
They've also been able to donate masks to healthcare workers and local Courier-Journal reporters, all of whom have major responsibilities in their field during the pandemic. 
Marcia says she started making masks to do her part; she took her hobby of sewing and turned it into a way to help the community. In the future, she says she's looking into using her photography business to help the class of 2020 get graduation pictures amid the postponement of many commencement ceremonies.