Music Monday #26: Mia Leon
Mia Leon shares her "roller coaster" playlist of some of her favorite songs.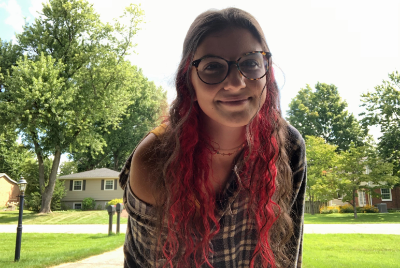 Words by Mia Leon, Staffer
August 24, 2020
Hey, it's Mia Leon! I am a designer and photographer for On the Record and I am beyond excited to be doing this week's Music Monday. Get ready for a roller coaster, because my music taste is all over the place. That's the fun part, right? You don't have to pick one type of music. We can all find ways to connect to every genre. Artists always seem to find ways to put our confusing emotions into words, or create new emotions we have never even felt before. Hopefully the songs I share with you can produce some of those emotions for you. 
"Looking out for You" by Joy Again
"Looking out for You" is what I would call a "vibey" song. This song is one of my favorites to jam out to in my room; the perfect song to sing into your hairbrush at the top of your lungs. Sachi DiSerafino, who started the band, described the group as "extremely aware of the world around them, dangerously smart and super mature without leaving behind that playfulness that a lot of people lose once they start adult life." This song is very upbeat and playful, but also a mature love story, which is why it is so appealing. If you are a secret admirer, this one's for you.
"Sunday Candy" by Donnie Trumpet & The Social Experiment
I was introduced to this song by my sister, which is where most of my music taste comes from if I'm being honest. "Sunday Candy" has been one of my favorite songs since middle school. It is such an upbeat song that gives you an instant rush of serotonin. Not only is this song catchy, but Chance the Rapper, the main artist, uses metaphors in the lyrics to express his love for his family. This makes the song more sentimental, which is one of the reasons why I love the song so much.
"Hey There Delilah" by Plain White T's
This is my all time favorite song. Plain White T's are one of my favorite bands and I love all of their songs, but this one is definitely my favorite. This song has one of the most interesting stories behind it (also quite funny). Delilah is actually a real person who lives in New York City. However, she had a boyfriend… that was not the lead singer for Plain White T's. Tom Higgenson, the writer and lead singer, had been introduced to Delilah by a friend and was smitten. He told her that he was going to write a song about her. She thought he was joking and simply being flirtatious. Years later, when the song became a hit, she found herself hearing the song everywhere she went. I don't know about Delilah, but I wouldn't mind hearing a love song about me written by THE Plain White T's. 
"White Ferrari" by Frank Ocean
Frank Ocean is one of my favorite artists, so it was hard to pick one song as my favorite. Frank Ocean recently revealed that there were 50 different versions of this song and he did not choose his younger brother's favorite version because it "didn't bring him peace yet." He also mentioned that this song is heavily influenced by The Beatles and The Beach Boys. This song has so many interesting layers behind it that make it even more interesting to listen to. The song is a metaphor for fast moving love. "White Ferrari" is full of mind twisting lyrics and metaphors, but my favorites are in the outro. Frank Ocean sings, "Your dream of walls hold us in prison; It's just a skull, least that's what they call it; And we're free to roam." I'll let you try to figure that one out yourself. 
"Cigarettes on Patios" by BabyJake
To put it simply, this song feels like the last days of summer vacation. You and your friends are trying to soak up the last days of freedom and fun before school starts. It is very upbeat and fun. This is the best song to blare in the car, windows down, wind blowing your hair everywhere. This song feels like summer and generates amazing vibes. I will pay you to listen to this song. 11/10.
"Boredom" by Rex Orange County and Tyler, The Creator
This song is perfect for the times we are in right now. The pandemic has forced everyone to try to find new hobbies to pass the time. This song is all about finding the time to do something when you are bored. The lyric "boredom's got a new best friend" is so relatable in times like this when everyone's schedules have been narrowed. Not only is this song empathetic, it is also very catchy. I mean what could go wrong when Rex Orange County and Tyler, The Creator collab?
"Introducing Me" by Nick Jonas
What's a good playlist without a Disney song? This song is from Camp Rock 2, one of my favorite movies. It is super catchy and gets stuck in my head a lot, but I'm not mad about it. "Introducing Me" is my go-to song when I'm feeling down because it instantly spreads good vibes. Plus, Nick Jonas was my biggest childhood crush, so I am in love with his voice. This song can be for people of all ages! Everyone needs a little Disney in their lives.